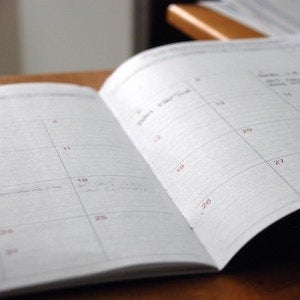 Find the Course and Date
Review the class schedule and find the course section you want and the date you want to attend. Click on the "Register Now" link and it will take you to the appropriate registration page for your class.
If you need assistance
For more information or questions about a class, please call our office at 512-475-8100.
Upcoming Courses
---
Strategic Planning and Performance Measures

Online

Oct 05, 2023 to Oct 06, 2023

Register >
---
Working It Out

Online

Oct 05, 2023 to Oct 06, 2023

Register >
---
Management Development Program

Online

Oct 10, 2023 to Oct 12, 2023

Register >
---
Building Effective Teams

Online

Oct 17, 2023

Register >
---
Developing a Construction Acquisition Manual

Online

Oct 18, 2023 to Oct 19, 2023

Register >
---
Strategies for High Impact Presentations

Online

Oct 18, 2023 to Oct 19, 2023

Register >
---
Construction and Contract, Audits and Compliance

Online

Oct 24, 2023 to Oct 25, 2023

Register >
---
Managing Personal and Organizational Change

Online

Oct 24, 2023

Register >
---
Facilitation Strategies

Online

Oct 25, 2023 to Oct 26, 2023

Register >
---
Project and Construction Management

Online

Nov 01, 2023 to Nov 02, 2023

Register >
---
Management Development Program

Online

Nov 14, 2023 to Nov 16, 2023

Register >
---
Strategic Planning and Performance Measures

Nov 14, 2023 to Nov 15, 2023

Register >
---
Managing the Construction Change Order Process

Online

Nov 20, 2023 to Nov 21, 2023

Register >
---
Emotional Intelligence and Leadership

Online

Nov 28, 2023

Register >
---
Project Management

Online

Nov 29, 2023 to Nov 30, 2023

Register >
---
Problem Solving and Decision Making

Online

Jan 09, 2024 to Jan 10, 2024

Register >
---
Management Development Program - Austin

In person

Jan 16, 2024 to Jan 18, 2024

Register >
---
Building Effective Teams

Online

Jan 23, 2024

Register >
---
Construction Law and Contracting with CMAR Additions

Online

Jan 23, 2024 to Jan 24, 2024

Register >
---
Strategies for High Impact Presentations

Online

Jan 24, 2024 to Jan 25, 2024

Register >
---
Project Management

Online

Jan 30, 2024 to Jan 31, 2024

Register >
---
Managing Personal and Organizational Change

Online

Feb 01, 2024

Register >
---
Facilitation Strategies

Online

Feb 07, 2024 to Feb 08, 2024

Register >
---
Strategic Planning and Performance Measures

Online

Feb 13, 2024 to Feb 14, 2024

Register >
---
Basics of Construction Purchasing

Online

Feb 14, 2024 to Feb 15, 2024

Register >
---
Management Development Program

Online

Feb 20, 2024 to Feb 22, 2024

Register >
---
Developing a Construction Acquisition Manual

Online

Feb 27, 2024 to Feb 28, 2024

Register >
---
Working It Out

Online

Mar 12, 2024 to Mar 13, 2024

Register >
---
Construction Delays

Online

Mar 13, 2024 to Mar 14, 2024

Register >
---
Building Effective Teams

Online

Mar 19, 2024

Register >
---
Facilitation Strategies

Online

Mar 20, 2024 to Mar 21, 2024

Register >
---
Project and Construction Management

Online

Mar 20, 2024 to Mar 21, 2024

Register >
---
Problem Solving and Decision Making

Online

Mar 26, 2024 to Mar 27, 2024

Register >
---
Project Management

Online

Apr 02, 2024 to Apr 03, 2024

Register >
---
Emotional Intelligence and Leadership

Online

Apr 04, 2024

Register >
---
Management Development Program - Austin

In person

Apr 16, 2024 to Apr 18, 2024

Register >
---
Construction Law and Contracting with CMAR Additions

Online

Apr 24, 2024 to Apr 25, 2024

Register >
---
Strategies for High Impact Presentations

Online

Apr 24, 2024 to Apr 25, 2024

Register >
---
Problem Solving and Decision Making

Online

May 01, 2024 to May 02, 2024

Register >
---
Facilitation Strategies

Online

May 07, 2024 to May 08, 2024

Register >
---
Emotional Intelligence and Leadership

Online

May 09, 2024

Register >
---
Management Development Program

Online

May 14, 2024 to May 16, 2024

Register >
---
Basics of Construction Purchasing

Online

May 15, 2024 to May 16, 2024

Register >
---
Managing Personal and Organizational Change

Online

May 21, 2024

Register >
---
Strategies for High Impact Presentations

Online

May 28, 2024 to May 29, 2024

Register >
---
Construction and Contract, Audits and Compliance

Online

May 29, 2024 to May 30, 2024

Register >
---
Developing a Construction Acquisition Manual

Online

Jun 04, 2024 to Jun 05, 2024

Register >
---
Strategic Planning and Performance Measures - Austin

In person

Jun 05, 2024 to Jun 06, 2024

Register >
---
Management Development Program - Austin

In person

Jun 11, 2024 to Jun 13, 2024

Register >
---
Working It Out

Online

Jun 20, 2024 to Jun 21, 2024

Register >
---
Senior Management Program

In person

Jun 25, 2024 to Jun 28, 2024 and Jul 23, 2024 to Jul 26, 2024

Register >
---
Building Effective Teams

Online

Jul 02, 2024

Register >
---
Project Management

Online

Jul 09, 2024 to Jul 10, 2024

Register >
---
Project and Construction Management

Online

Jul 10, 2024 to Jul 11, 2024

Register >
---
Managing Personal and Organizational Change

Online

Jul 11, 2024

Register >
---
Management Development Program

Online

Jul 16, 2024 to Jul 18, 2024

Register >
---
Managing the Construction Change Order Process

Online

Aug 01, 2024 to Aug 02, 2024

Register >
---
Problem Solving and Decision Making

Online

Aug 06, 2024 to Aug 07, 2024

Register >
---
Management Development Program - Austin

In person

Aug 13, 2024 to Aug 15, 2024

Register >
---
Emotional Intelligence and Leadership

Online

Aug 20, 2024

Register >
---
Construction Law and Contracting with CMAR Additions

Online

Aug 21, 2024 to Aug 22, 2024

Register >
---
Working It Out

Online

Aug 27, 2024 to Aug 28, 2024

Register >
---
Construction Delays

Online

Aug 28, 2024 to Aug 29, 2024

Register >