Innovation Bound 2019 highlighted research on European diplomacy, the use of plutonium as a source of energy, economic theory, immigration, nonprofit studies, trust in government, nonprofit social capital, women's jail facilities and much more.
Core to the LBJ School's mission is "getting it done" — developing solutions to policy problems through scholarship and public discourse. Every year, faculty and students take on research that melds the theoretical and the practical, exploring the world through hands-on field work and data analysis to address issues critical to the health of American democracy and global society.
Innovation Bound celebrates the impact, quality and range of the published works of our distinguished scholars.
This year's Innovation Bound continued the tradition begun in 2018 with a poster session featuring some of the latest and best research by LBJ's Ph.D. students and master's students in several ongoing Policy Research Projects (PRPs). Topics include residential solar panels and how people decide to use them, emerging policy practices in Latin America, aging policy, post-earthquake home construction in Nepal, immigration and refugee integration in Mexico.
Later that evening, the school hosted Innovation Bound's signature event to celebrate both faculty and student published works spanning from January 2018 to March 2019.
Below are the Innovation Bound faculty and student authors and their respective publications featured in this year's celebration.
---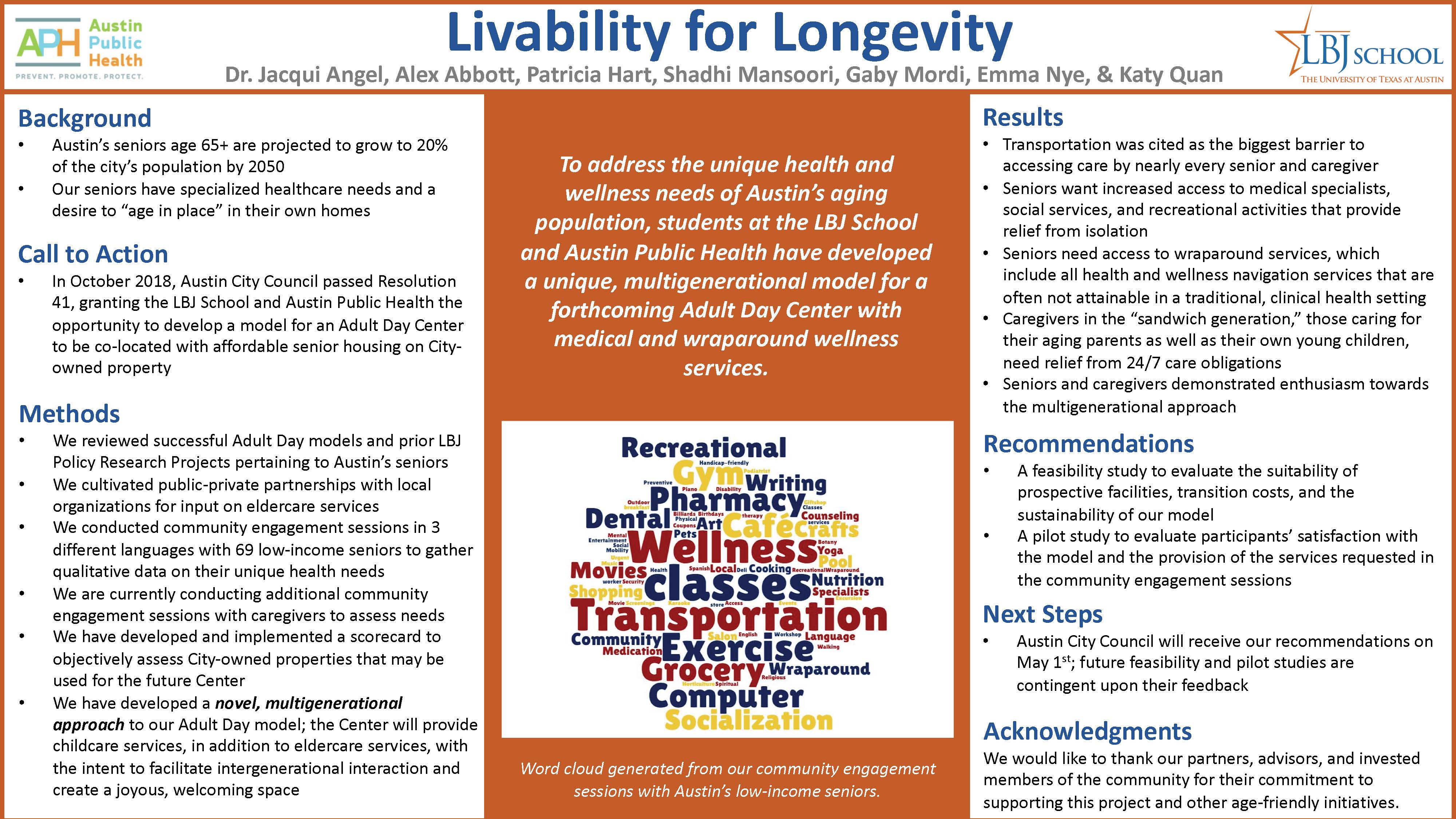 POSTER: Livability for Longevity by Alex Abbott, Emma Nye, Patricia Hart, Gaby Mordi, Shadhi Mansoori, Katy Quan & Jacqui Angel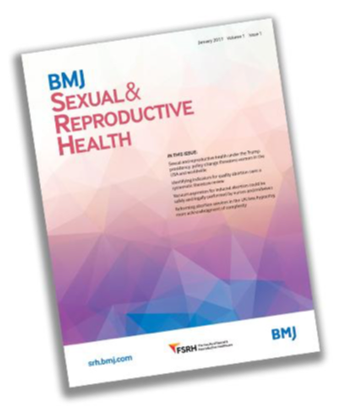 JOURNAL ARTICLE: Motivations and Experiences of People Seeking Medication Abortion Online in the United States by Abigail R.A. Aiken, Kathleen Broussard, Dana M. Johnson & Elisa Padron
Published in Perspectives on Sexual and Reproductive Health
This paper examines online routes to accessing medication abortion pills outside the formal health care setting in the United States. An increasing number of state-level policies restricting access to abortion in the clinic setting has prompted people to seek alternative options outside the clinic and to self-manage their own abortions at home. The research presented here is the first to examine how people use the internet to seek medication abortion pills online, as well as their experiences with the information and products they find.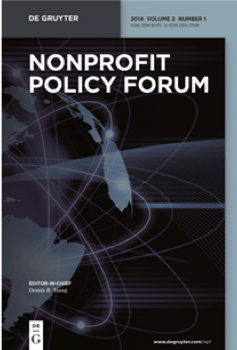 JOURNAL ARTICLE: Nonprofit Social Capital as an Indicator of a Healthy Nonprofit Sector by R. Patrick Bixler & David W. Springer
Published in Nonprofit Policy Forum
This article emerged from interaction among leading nonprofit scholars as part of the 2017 Symposium on Public Policy for Nonprofits and subsequently published in the Nonprofit Policy Forum's special issue on a Nonprofit Health Index in 2018. The article makes a key conceptual contribution as to why social capital is important in the nonprofit sector, as well as approaches for measuring different dimensions of nonprofit social capital at both an organizational and group level. This framework is informing new research at the LBJ School examining interorganizational networks on nonprofits in the Austin metropolitan region.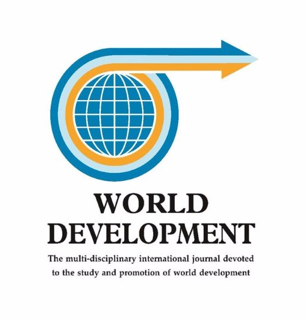 JOURNAL ARTICLE: In harm's way: Climate security vulnerability in Asia by Joshua Busby, Todd G. Smith, Nisha Krishnan, Charles Wight & Santiago Vallejo-Gutierrez
Published in World Development
Asian countries have among the highest numbers of people exposed to the impacts of climate-related hazards and, thus, at greatest risk of mass death. Floods, droughts and storms have always tested civilian governments and international humanitarian aid agencies. However, climate change threatens to make the problem worse by increasing the intensity and possibly the frequency of climate-related hazards. Humanitarian emergencies potentially upend and reverse progress on development priorities, making improved spatial awareness of likely hot spots a priority for adaptation and preparedness.
This article presents the findings of the effort to map subnational "climate security vulnerability" in 11 countries in South and Southeast Asia. Climate security vulnerability is defined as areas where large numbers of people are at risk of death due to exposure to climate-related hazards and the follow-on consequences of exposure, including but not limited to conflict. The Asian Climate Security Vulnerability ModelVersion 1 (ACSV V1) found that Bangladesh, parts of southern and western Myanmar (the Ayeyarwady region and Rakhine state), and parts of southern and northwest Pakistan (Sindh and Khyber Pakhtunkhwa provinces) were the most vulnerable from a climate security perspective. In terms of absolute numbers, the largest numbers of people who are exposed to climate hazards are in India followed by Bangladesh. Model results are compared with a geo-referenced version of the EM-DAT Disaster Database and by creating alternative model specifications informed by a survey of 18 regional experts.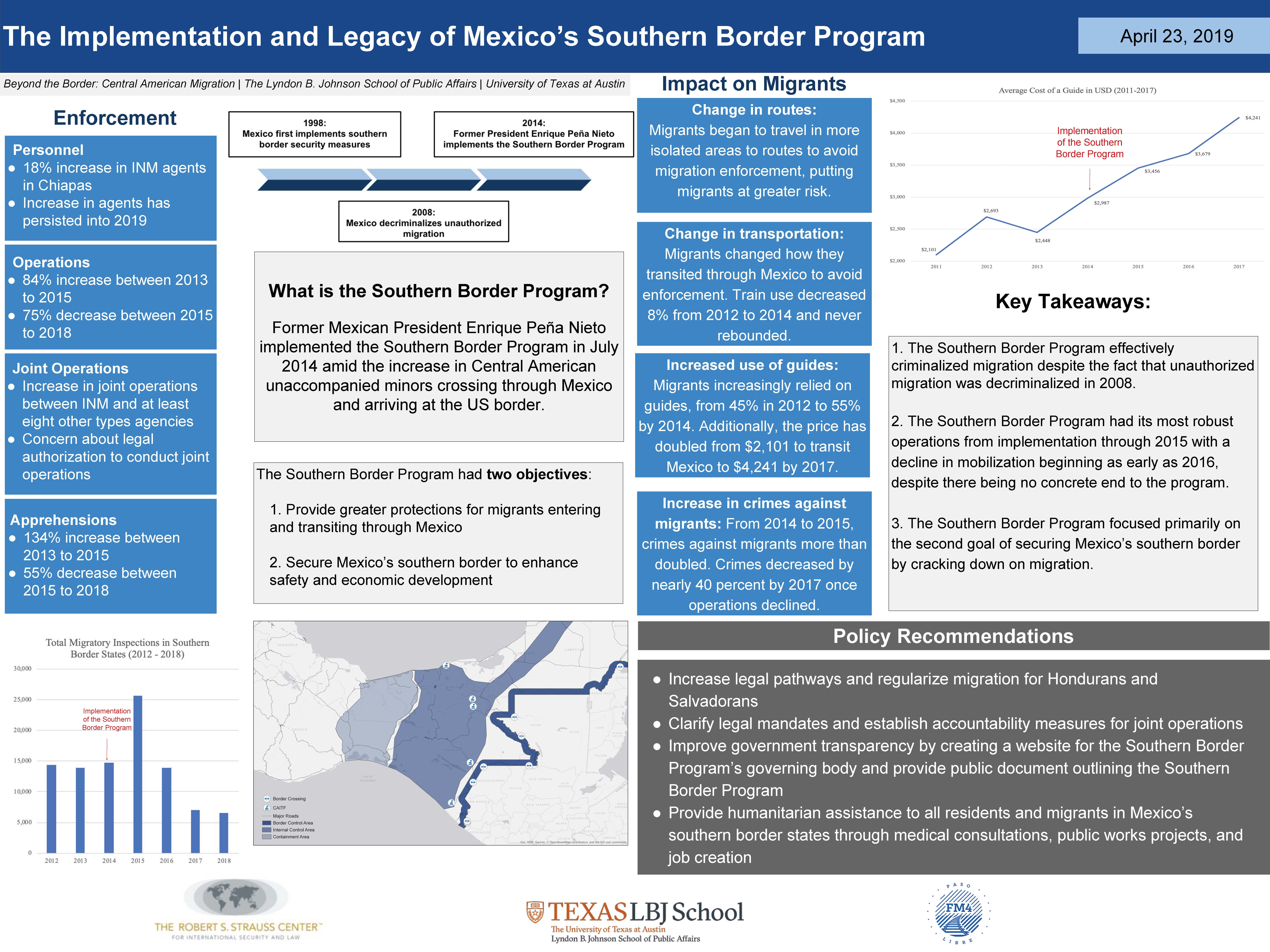 POSTER: The Legacy of Mexico's Southern Border Plan by Holly Buttrey, Victoria Rossi, Sarah Spalding, Omar Araiza & Stephanie Leutert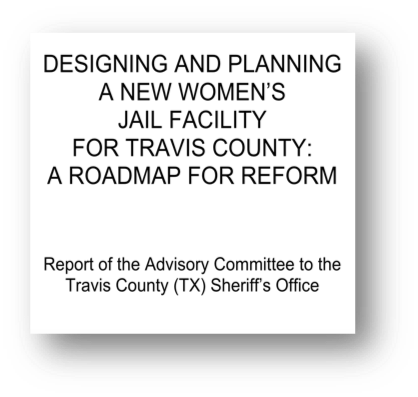 REPORT: Designing and Planning a New Women's Jail Facility for Travis County: A Roadmap for Reform by Michele Deitch et al.
By the Advisory Committee to the Travis County (TX) Sheriff's Office
This report was written on behalf of the Sheriff's Advisory Committee on the Women's Jail, chaired by Michele Deitch. Travis County Sheriff Sally Hernandez charged the committee to advise her and her leadership team on how to develop a model women's jail facility for Travis County based on national and international best practices. This report will be used to inform the county's plans to develop the new women's jail. It explores the question of how to design and operate a jail to be more responsive to the needs of women, more trauma-informed, and more rehabilitative. It examines issues related to design, operations and programming. Several recommendations in the report have already been implemented by the Sheriff's Department to improve the treatment of women in custody in Travis County. Deitch has testified about the report before the Travis County Commissioners Court, which read the report and will vote on the proposed women's jail in the coming months.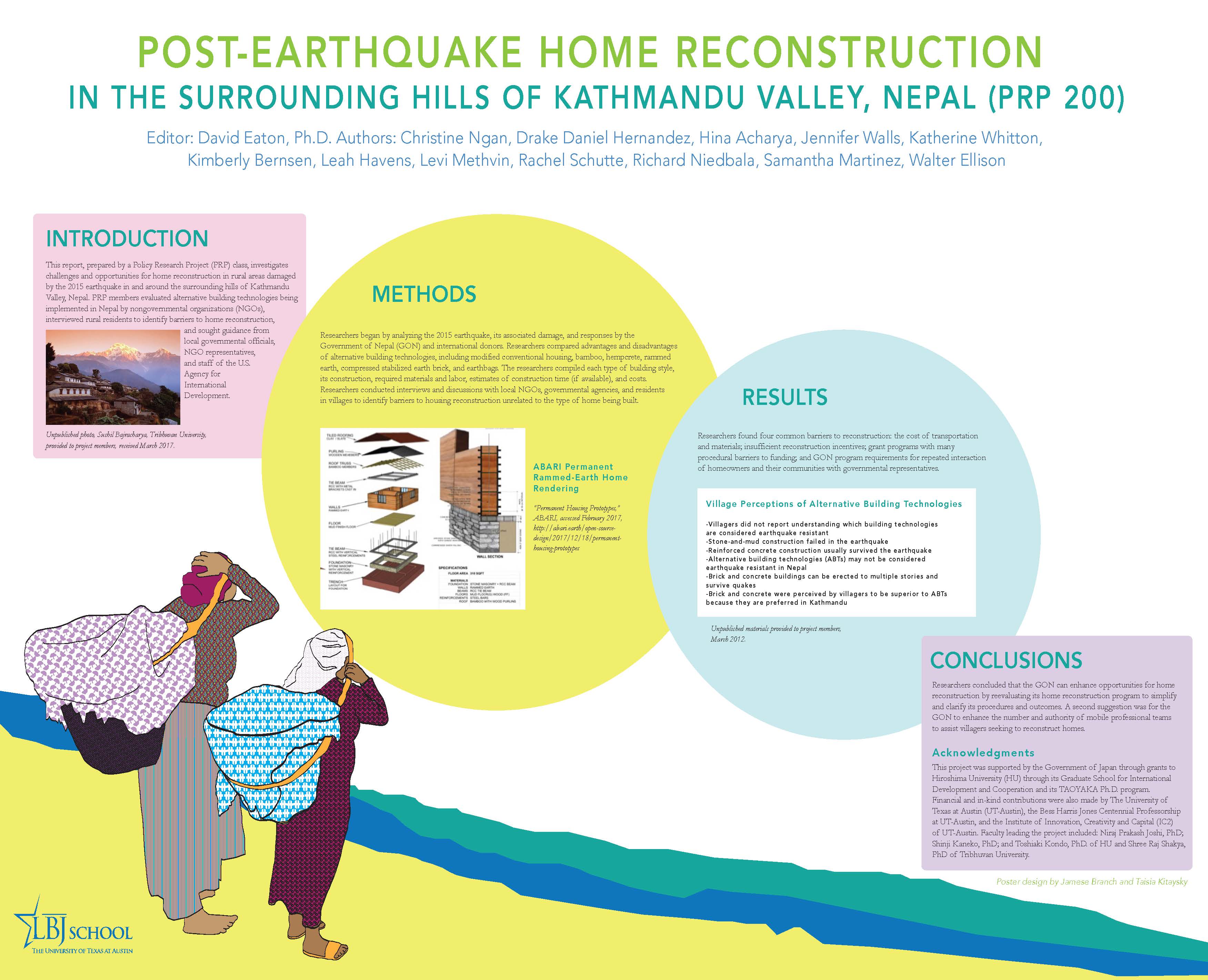 POSTER: Post-Earthquake Home Reconstruction in the Surrounding Hills of Kathmandu Valley, Nepal, PRP 200 by David Eaton & Niraj P. Joshi
The report describes students' field investigations in Nepal, background research on alternative building technologies for home reconstruction, and recommendations developed through consultation with rural residents, other stakeholders and technical advisers. One chapter describes the earthquake and its associated damage and the response of the government of Nepal (GON) and the international community.
A second chapter discusses alternative building technologies, including modified conventional housing, bamboo, hempcrete, rammed earth, compressed stabilized earth brick, and earthbags. The report describes each type of building style, its construction, materials and labor required, estimates of construction time (if available) and costs, along with comparative advantages and disadvantages versus other construction materials.
A third chapter describes the results of interviews and discussions with local NGOs, governmental agencies and residents. Village residents discussed barriers to housing reconstruction unrelated to the type of home being built. Researchers found four common barriers to reconstruction: the cost of transportation and materials; insufficient reconstruction incentives; grant programs with many procedural barriers to funding; and the need for repeated interaction of homeowners and their communities with governmental representatives.
One suggestion to Nepal was to evaluate its home reconstruction program to simplify and clarify its procedures and outcomes. A second suggestion was to enhance the number and authority of mobile professional teams to assist villagers seeking to reconstruct homes.
Students:
Christine Ngan
Drake Daniel Hernandez
Hina Acharya
Jennifer Walls
Katherine Whitton
Kimberly Bernsen
Leah Havens
Levi Methvin
Rachel Schutte
Richard Niedbala
Samantha Martinez
Walter Ellison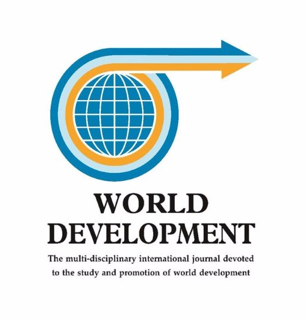 JOURNAL ARTICLE: The Price of Persecution: The Long-Term Effects of the Anti-Rightist Campaign on Economic Performance in Post-Mao China by Zhaojin Zeng & Joshua Eisenman
Published in World Development
The Price of Persecution was chosen for two reasons. First, it is an example of a fruitful collaboration in a top development journal between an LBJ professor, Joshua Eisenman, and a UT Ph.D. student, Zhaojin Zeng; and second, its finding — that abusing human capital for political reasons has long term deleterious effects on productivity — is uniquely salient at this moment.
Using an original county-level dataset from Maoist China, Zeng and Eisenman demonstrate a strong and robust negative relationship exists between the scale of repression of intellectuals in China's Anti-Rightist Campaign in 1957–58 and economic productivity decades later. This fall in economic output is caused by the loss of already scarce human capital resulting from the political campaign. Until at least 2000, significant and robust negative correlations exist between the percentage of victims in a county and its populations' level of educational achievement and economic performance. This study is the first to use quantitative methods to demonstrate the often-overlooked long-term negative economic effects of political repression under authoritarian regimes.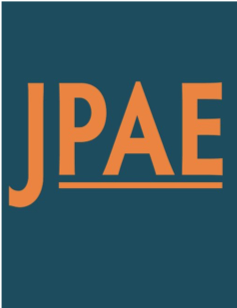 JOURNAL ARTICLE: The Crisis of Policy Education in Turbulent Times: Are Schools of Public Affairs in Danger of Becoming Irrelevant? by Angela M. Evans, Jenny K. Morrison & Matthew R. Auer
Published in the Journal of Public Affairs Education
Public administration education historically has been focused on giving future public officials practical skills, much like a law or medical school, that would help them do their jobs as bureaucrats. The pressing policy challenges of today, however, demand the attention of agile, deft leaders who are relentless in their pursuit of solutions. Now, perhaps more than ever before, our nation needs public sector leaders who are adaptable, nimble and impactful in rapidly changing times. If universities do not return attention to building the higher-order competencies required to lead our nation, public administration education will become increasingly irrelevant. This article provides a call to action for public affairs and policy schools, as well as proposes a set of core value orientations to lead curricular reform efforts nationwide.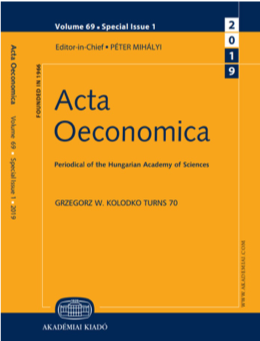 JOURNAL ARTICLE: The Pragmatism of John Kenneth Galbraith by James K. Galbraith
Published in Acta Oeconomica
The Affluent Society was published in Russian for the first time in 2018. I provided a brief preface, and marked the occasion by giving lectures on my father's life and work in Moscow at MGIMO (the foreign affairs university), at Moscow State University Lomonosov, at the Russian State University for the Humanities, and at the Urals State Economics University in Ekaterinburg. These lectures were published in the Russian sister journal of Scientific American, in a special issue of Acta Oeconomica, the journal of the Hungarian Academy of Sciences, and in the Mexican journal Ola Financiera.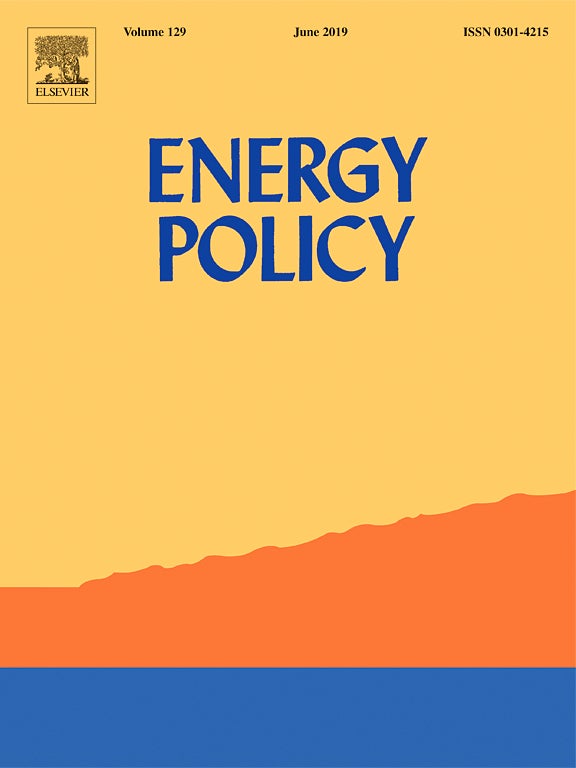 JOURNAL ARTICLE: Local demand-pull policy and energy innovation: Evidence from the solar photovoltaic market in China by Xue Gao & Varun Rai
Published in Energy Policy
This paper addresses the question: Is local demand essential in inducing local innovation? The findings suggest that whether local demand is an essential precondition to local industry development depends on technological characteristics and the nature of associated learning processes, highlighting the need to open the "technology black box." Demand-pull policy could be an important strategic element in the local policy mix of developing green industry, particularly, for technologies that have a significant local nature. Our results also suggest a viable mechanism for the bottom-up approach to renewable energy governance, wherein subnational policy actions could be voluntary and interest-driven.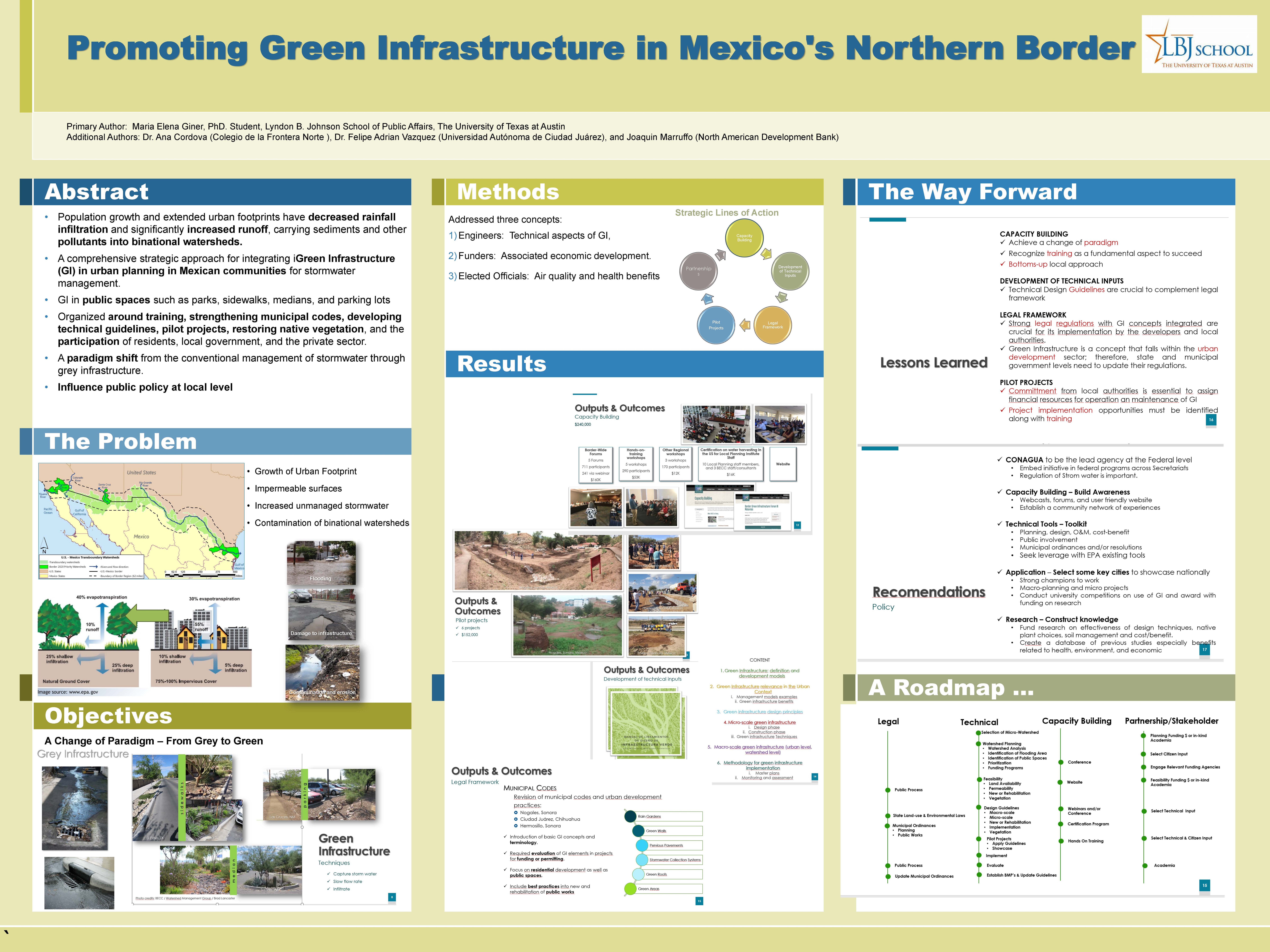 POSTER: Promoting Green Infrastructure in Mexico's Northern Border: The Border Environment Cooperation Commission's Experience and Lessons Learned by Ph.D. student María-Elena Giner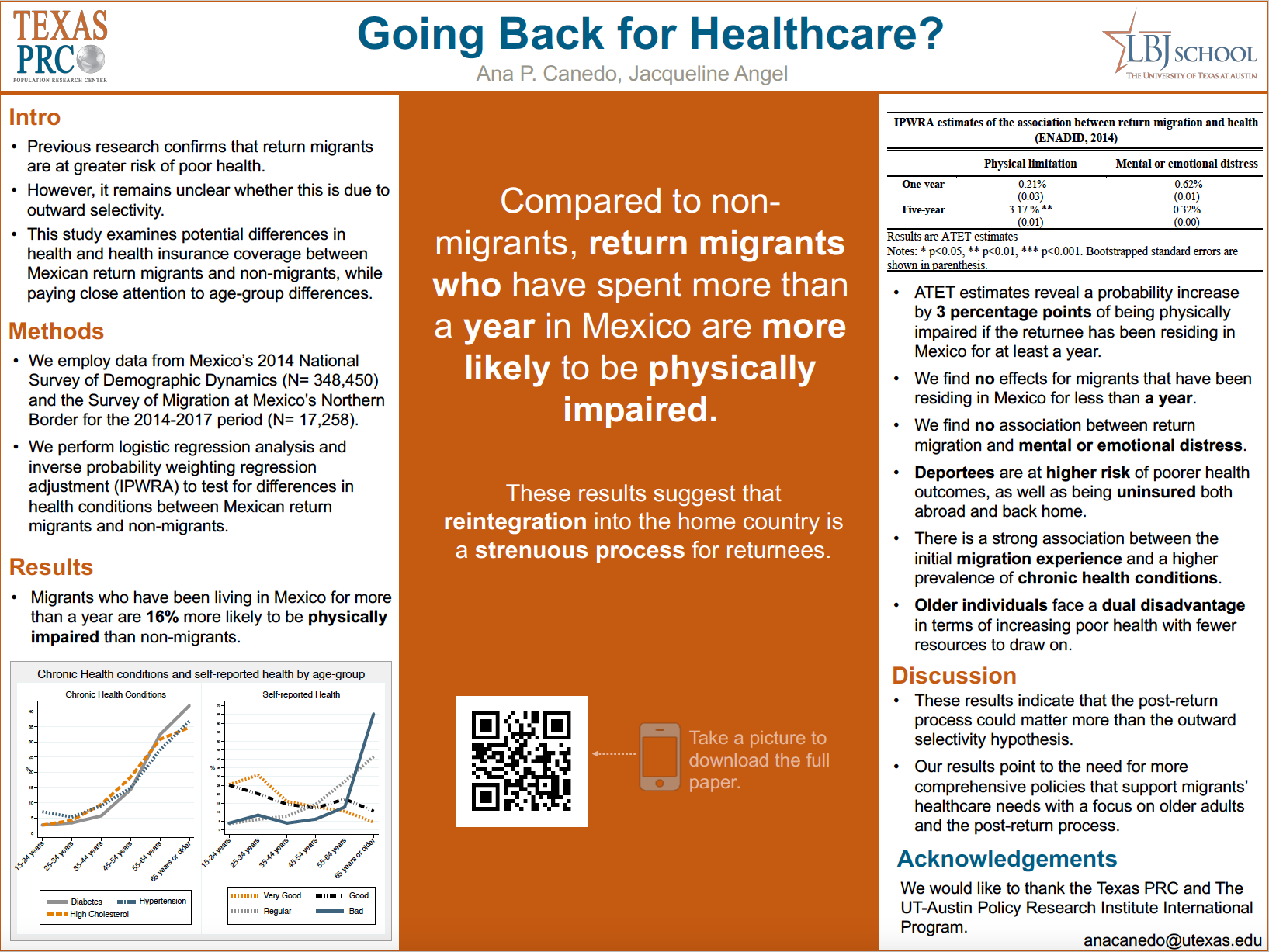 POSTER: Aging and the Hidden Costs of Going Home to Mexico by Ph.D. student Ana Canedo Guichard & Jacqui Angel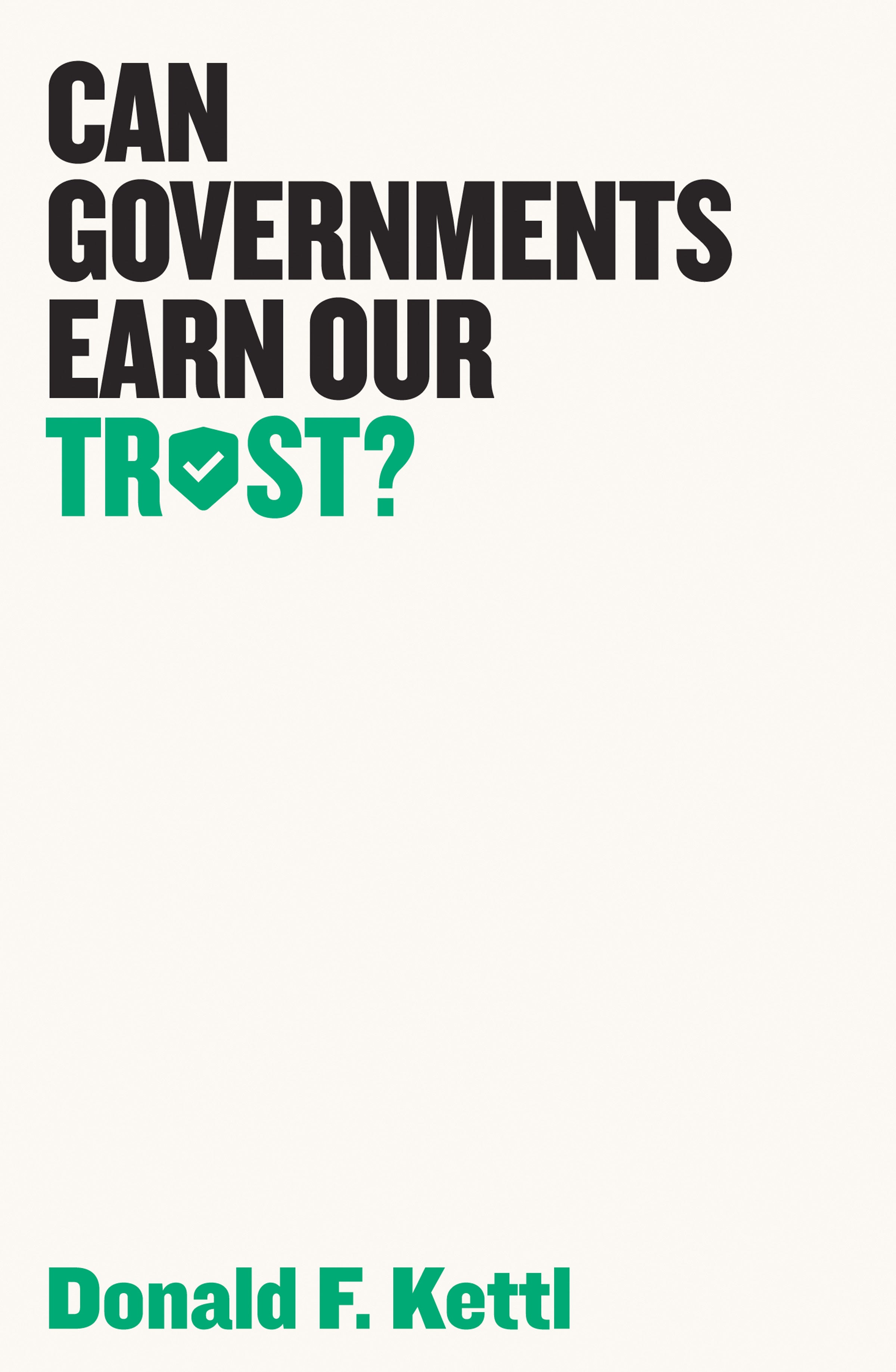 BOOK: Can Governments Earn Our Trust? by Donald F. Kettl
Published by Polity Press
Some analysts have called distrust the biggest governmental crisis of our time. It is unquestionably a huge problem, undermining confidence in our elected institutions, shrinking social capital, slowing innovation and raising existential questions for democratic government itself. What's behind the rising distrust in democracies around the world and can we do anything about it? In this lively and thought-provoking essay, Donald F. Kettl, a leading scholar of public policy and management, investigates the deep historical roots of distrust in government, exploring its effects on the social contract between citizens and their elected representatives. Most importantly, the book examines the strategies that present-day governments can follow to earn back our trust, so that the officials we elect can govern more effectively on our behalf.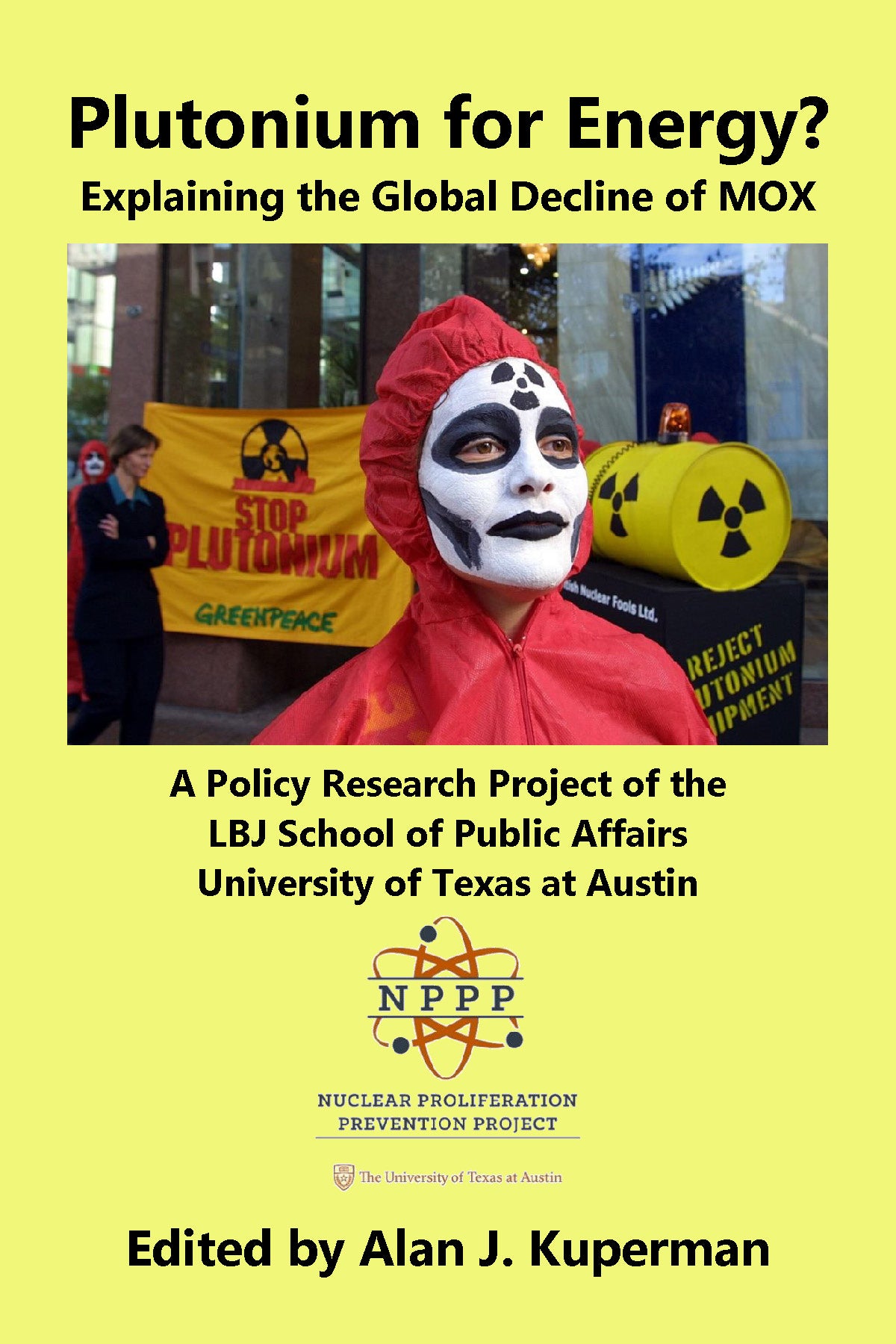 BOOK: Plutonium for Energy? Explaining the Global Decline of MOX by Alan J. Kuperman (Ed.).
Plutonium is a controversial fuel for three reasons: It causes cancer, may be used in nuclear weapons, and is very expensive to obtain and process. Yet relatively little information has been publicly available about the attempted commercialization of plutonium fuel around the world in the last several decades. This book is the first comprehensive global study of "plutonium for energy" — the use of mixed-oxide (MOX) fuel in light-water nuclear power reactors that traditionally had used uranium fuel — and is based on field research in all seven countries that have engaged in the commercial production or use of such fuel.
This book finds an industry in rapid decline, as five of the countries already have decided to phase out commercial MOX activities, while five of the world's six commercial production facilities for such MOX fuel have closed prematurely after underperforming. The retreat is attributed to plutonium's three inherent downsides — safety, security and cost — which make MOX fuel significantly more expensive, dangerous, and unpopular than traditional uranium fuel. The book includes chapters on Belgium, France, Germany, Japan, the Netherlands, Switzerland and the United Kingdom. Its introductory chapter highlights the lessons from these historical cases for countries that are currently contemplating the initiation or expansion of using plutonium fuel — including China, India, Japan, Russia, South Korea, the United Kingdom and the United States.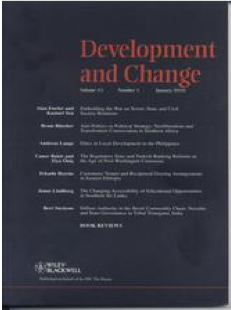 JOURNAL ARTICLE: The Invisible Hand that Rocks the Cradle: On the Limits of Time Use Surveys by Erin Lentz, Rachel B. Kerr, Raj Patel, Laifolo Dakishoni & Esther Lupafya
Published in Development and Change
A substantial body of research shows that women's work, and especially work related to caring for others, is undercounted and undervalued. Time use surveys, the gold standard tool for capturing how people spend their time, aim to correct this. Time use surveys ask respondents to list how they spent the past 24 hours. Not only are these surveys are onerous and expensive, but also our research shows that time use surveys themselves often systematically undercount women's care activities. As a result, women's work may be more undercounted than we had originally thought. By drawing on qualitative cases, we show that time use surveys systematically miss the many ways that care work happens. Care work is often squeezed in around other activities. For example, a mother might feed her baby in several short bursts between cooking, cleaning, and watching over other children. Women underreport these short bursts of care. Addressing these gaps through quantitative measurement, such as time use surveys, add difficulty and burden to respondents and enumerators. Instead of tweaking and expanding time use surveys, we may be more successful at understanding how women and their families spend their time by drawing on other, more qualitative approaches.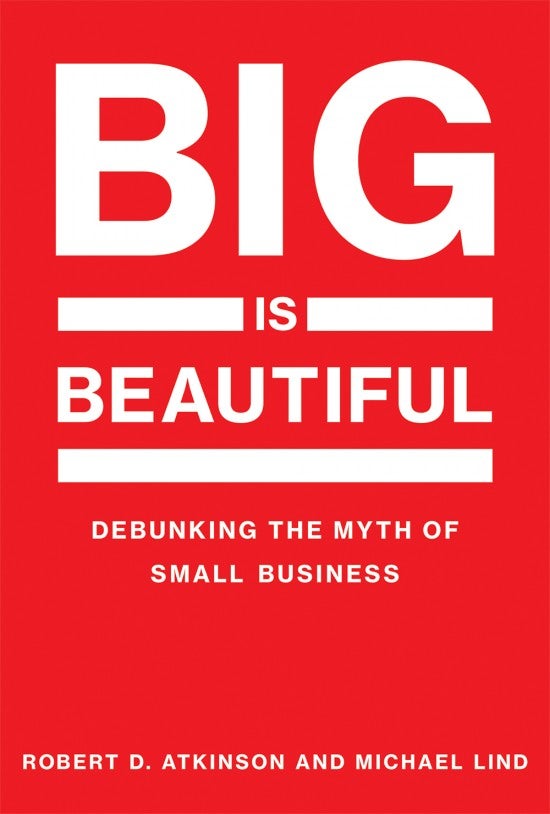 BOOK: Big Is Beautiful: Debunking the Myth of Small Business by Robert D. Atkinson & Michael Lind
Published by The MIT Press
In this provocative book, Robert Atkinson and Michael Lind argue that small business is not, as is widely claimed, the basis of American prosperity. Small business is not responsible for most of the country's job creation and innovation. American democracy does not depend on the existence of brave bands of self-employed citizens. Small businesses are not systematically discriminated against by government policy makers. Rather, Atkinson and Lind argue, small businesses are not the font of jobs, because most small businesses fail. The only kind of small firm that contributes to technological innovation is the technological startup, and its success depends on scaling up.
The idea that self-employed citizens are the foundation of democracy is a relic of Jeffersonian dreams of an agrarian society. And governments, motivated by a confused mix of populist and free market ideology, in fact go out of their way to promote small business. Every modern president has sung the praises of small business, and every modern president, according to Atkinson and Lind, has been wrong. Pointing to the advantages of scale for job creation, productivity, innovation, and virtually all other economic benefits, Atkinson and Lind argue for a "size neutral" policy approach both in the United States and around the world that would encourage growth rather than enshrine an anachronism. If we overthrow the "small is beautiful" ideology, we will be able to recognize large firms as the engines of progress and prosperity that they are.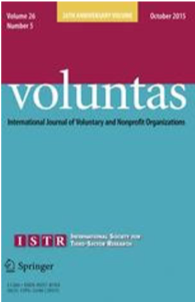 JOURNAL ARTICLE: A Century of Nonprofit Studies: Scaling the Knowledge of the Field by Ji Ma & Sarah Konrath
Published in Voluntas
As an interdisciplinary and emerging research field, nonprofit and philanthropic studies faces many critical questions for developing this research field further. How to define this research field? What is its history? How to periodize its development? Has this research field produced enough knowledge that can help the formation of its academic identity? This paper responds to all these questions. It systematically reviews the development of nonprofit and philanthropic studies in the last century (1925–2015). It employs advanced analysis methods and extensive domain knowledge. Since its publication in November 2018 in a leading journal in this research field, the paper has already been downloaded over a thousand times. It was selected as the Leading Article and Editor's Choice Free Article by the journal editors, and it also is cited for defining "nonprofit studies" by Wikipedia.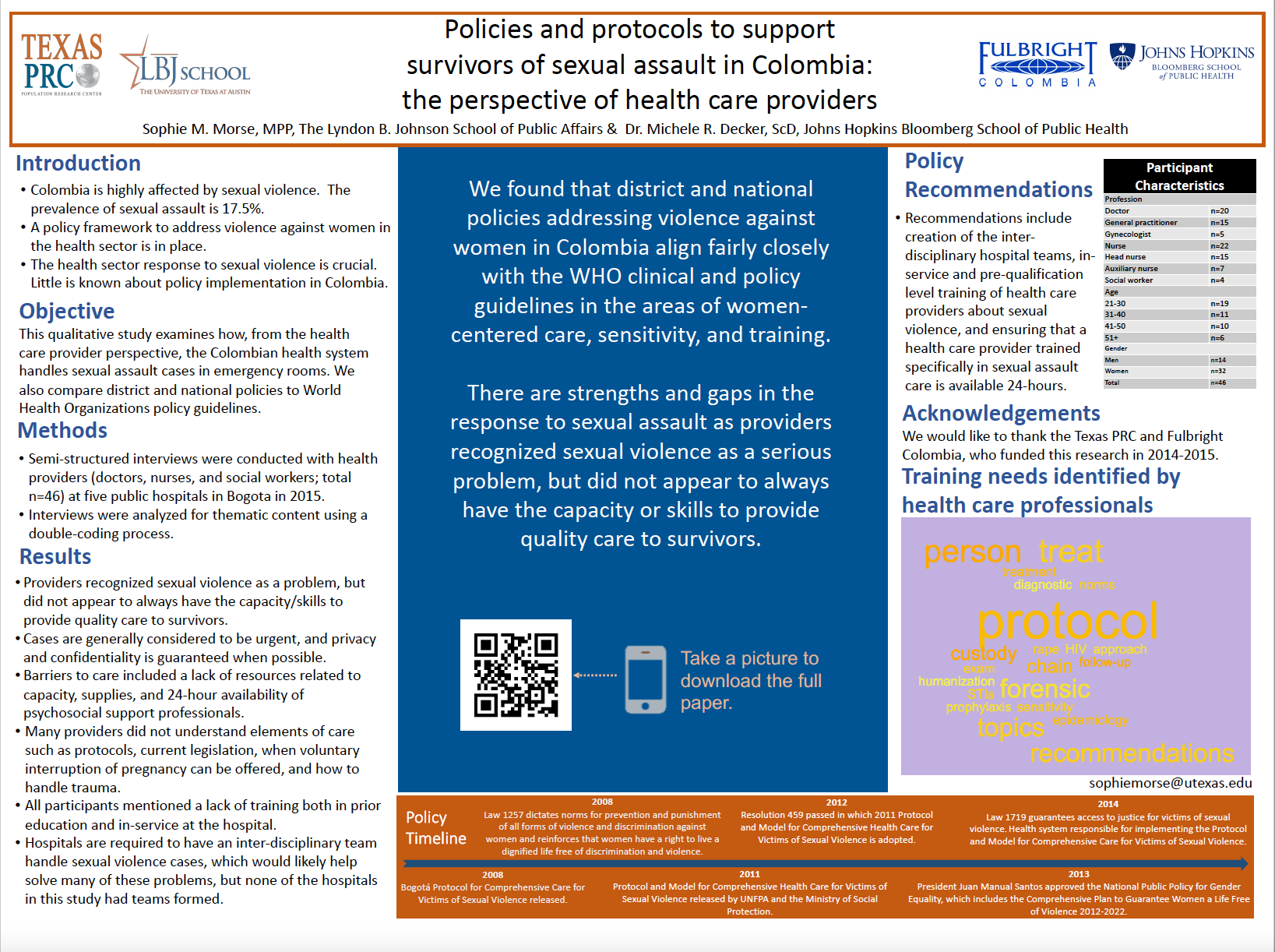 POSTER: Policies and Protocols to Support Survivors of Sexual Assault in Colombia: The Perspective of Health Care Providers by Ph.D. student Sophie Morse
POSTER: The Hidden Costs of Work and Economic Empowerment: An Exploration of Intimate Partner Violence in Mexico by Ph.D. student Sophie Morse & Ph.D. student Ana Canedo Guichard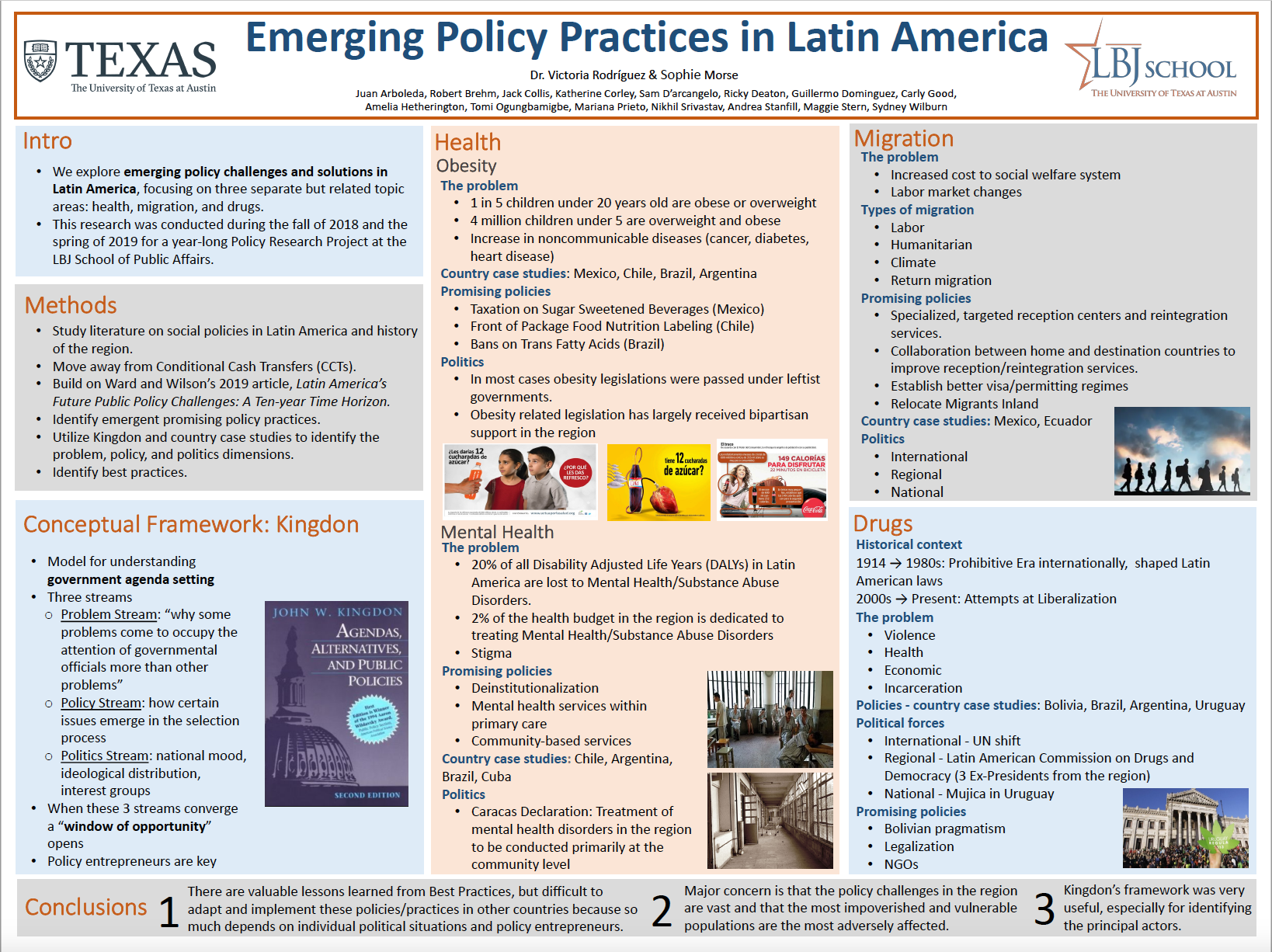 POSTER: Emerging Policy Practices in Latin America by Ph.D. student Sophie Morse & Victoria Rodríguez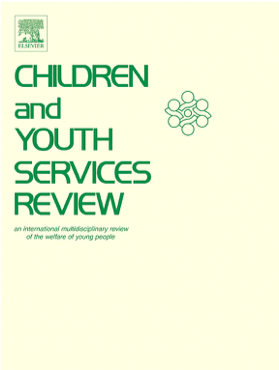 JOURNAL ARTICLE: Who Gets a CASA? Selective Characteristics of Children Appointed a CASA Advocate by Cyntha Osborne, Hilary Warner-Doe & Jennifer Lawson
Published in Children and Youth Services Review
Court Appointed Special Advocates (CASAs) are independent and specially trained community volunteers who are appointed by juvenile and family court judges to represent the interests of children who enter state custody after being removed from their families by Child Protective Services (CPS). The CASA program is highly regarded by judges and child welfare professionals, but efforts to establish whether CASA is an evidence-based practice for improving child welfare outcomes have been inconclusive, largely due to selection bias. When selection bias is present, baseline difference between the cases and children who receive the intervention and those who do not receive the intervention may be responsible for any observed differences in their outcomes, rather than the intervention itself. The present study examines the extent of selection bias in the CASA assignment process over a two-year period for a full population of foster children in regions served by CASA programs in Texas (N = 32,349). Findings indicate that CASA cases in this population have indicators of greater complexity and severity compared to their non-CASA counterparts. By empirically identifying the factors that predict assignment to CASA at the population level, this study lays the foundation for an advanced quasi-experimental outcome evaluation to examine CASA's effectiveness at improving child and case outcomes while minimizing the influence of selection bias.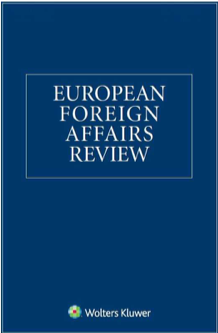 JOURNAL ARTICLE: Non-Parliamentary Diplomacy: The European Parliament's Diplomatic Mission to Ukraine by Lorinc Redei & Iulian Romanyshyn
Published in European Foreign Affairs Review
This article looks at an unusual case of diplomacy conducted by the European Parliament. In 2012, this mission — originally sent to Ukraine to oversee the criminal trial of jailed former Prime Minister Yulia Tymoshenko — became the main mediator between the Ukrainian government and the EU, as well as between the government and the opposition in the country, at a tense political time just before the Maidan revolution. Our research reveals how this type of diplomatic activity by the European Parliament was distinctly nonparliamentary in nature — neither transparent, nor conducted by elected legislators, nor based on parliamentary debate or procedures. Moreover, the Parliament is engaging in such practices more and more frequently. The article thus contributes both to the academic understanding of what parliamentary diplomacy can look like, and to the specific policy question of what types of actions the European Parliament is taking in the name of the EU on the international stage.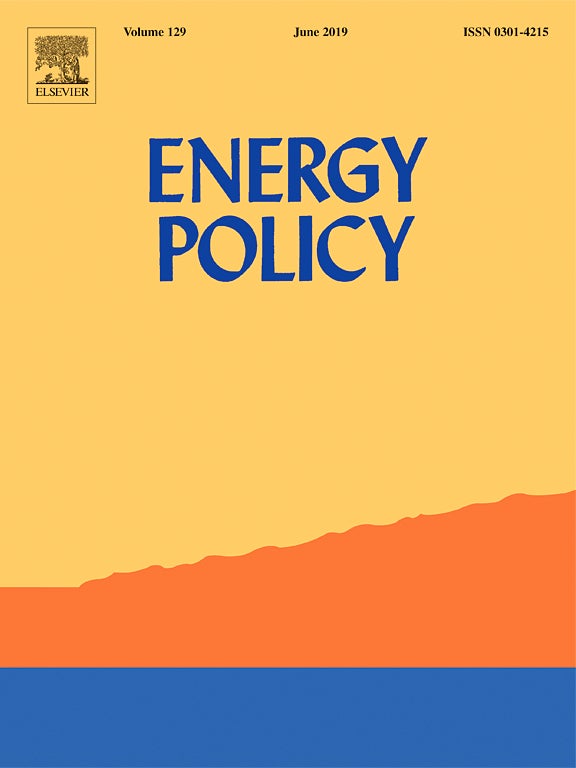 JOURNAL ARTICLE: Strike while the rebate is hot: Savvy consumers and strategic technology adoption timing by Ph.D. student D. Cale Reeves & Varun Rai
Published in Energy Policy
This research makes a significant and unique contribution to understanding the decision-making process that drives residential solar PV adoption, and that this contribution is relevant to the literature linking intervention effectiveness to technology diffusion in the context of the energy transition. Specifically, our paper makes the following three original and significant contributions to the literature:
We find that adopters that exhibit strategic timing often have different decision-making processes than their less-strategic counterparts. In particular they demonstrate more "savvy" behaviors such as getting more bids and doing more financial calculations.
We find that a non-negligible proportion of adopters that demonstrate more "savvy" behaviors during their decision-making process are able to strategically time their adoption in advance of a policy implementation change with precision consistent with previous research that identified the "pull-forward" effect.
We find that adopters that demonstrate more "savvy" behaviors during their decision-making process are also more likely to co-adopt closely related technologies, sometimes even before adopting solar PV. This suggests that experience is a valuable avenue through which savvy decision-making processes and strategic adoption timing develop.
POSTER: Priming the W-O-M Pump: Seeding Information to Increase Solar PV Adoption by Ph.D. student D. Cale Reeves, Matthew Haley, Amara Uyanna & Varun Rai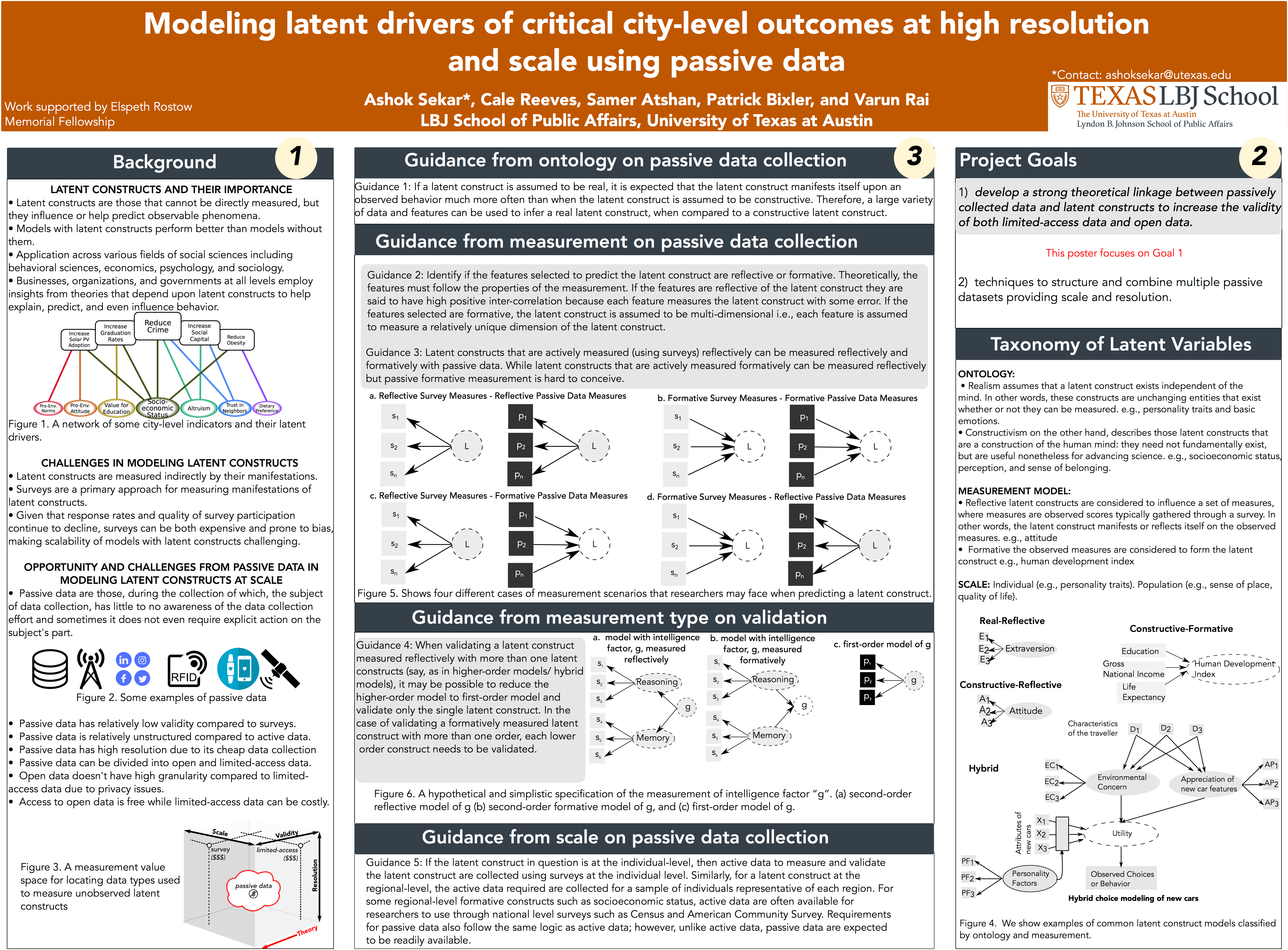 POSTER: Infrastructure for Modeling Latent Drivers of Critical City-level Outcomes at High Resolution and Scale Using Passive Data by postdoctoral fellow Ashok Sekar, Ph.D. student D. Cale Reeves, Samer Atshan, Patrick Bixler & Varun Rai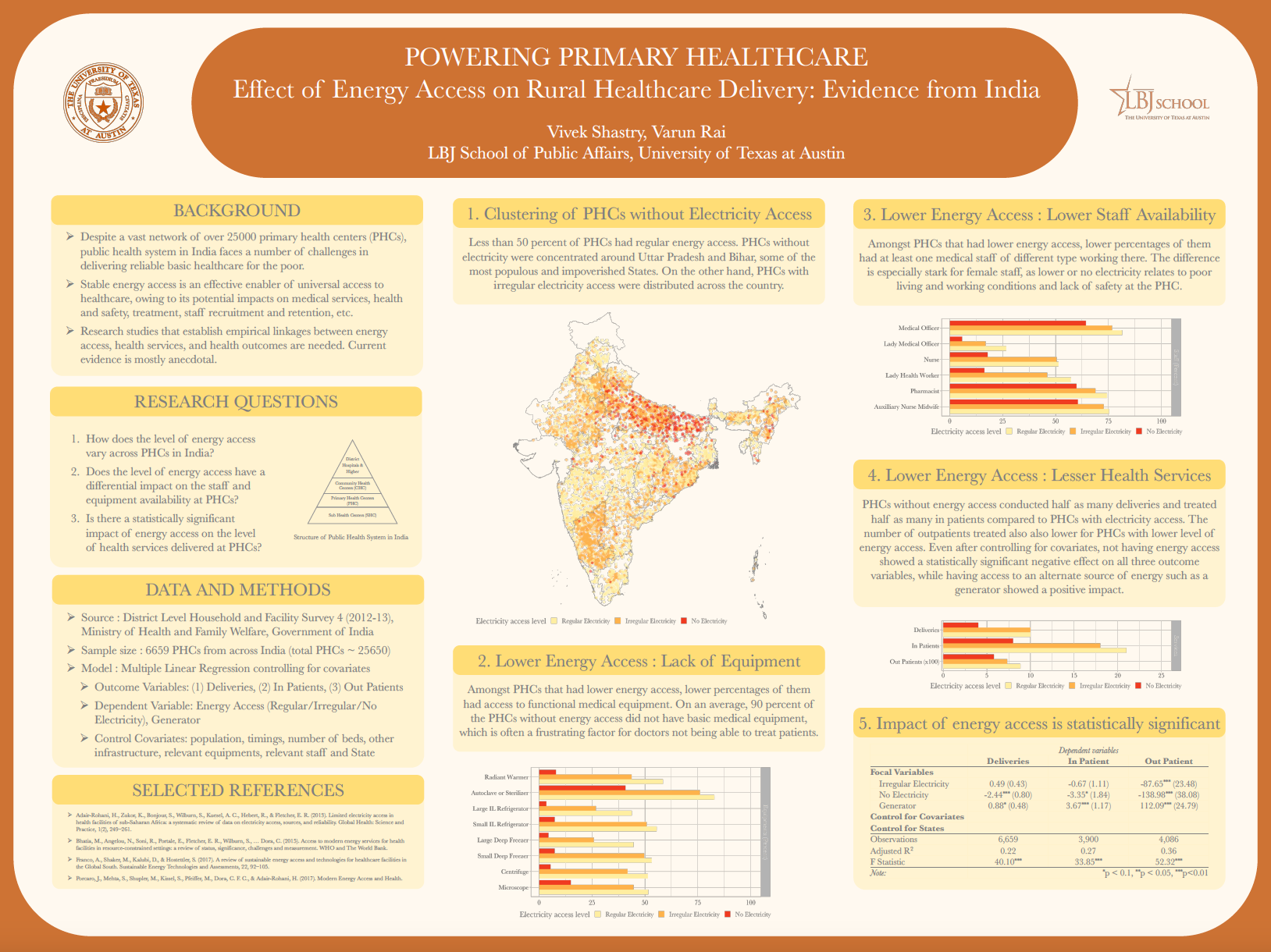 POSTER: Effect of Energy Access on Rural Healthcare Delivery: Evidence from India by Ph.D. student Vivek Shastry & Varun Rai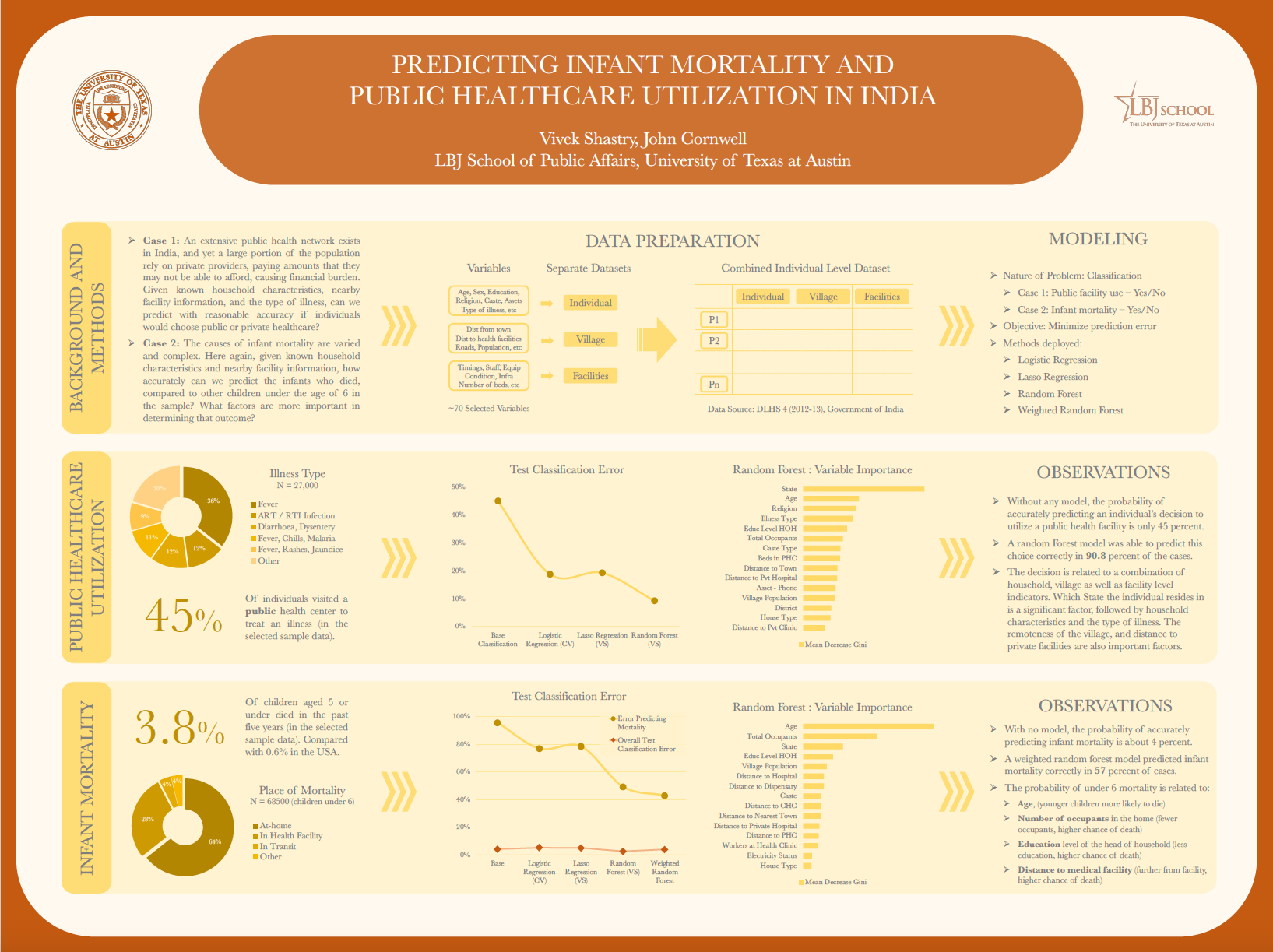 POSTER: Predicting Infant Mortality and Public Healthcare Utilization in India by John Cornwell & Ph.D. student Vivek Shastry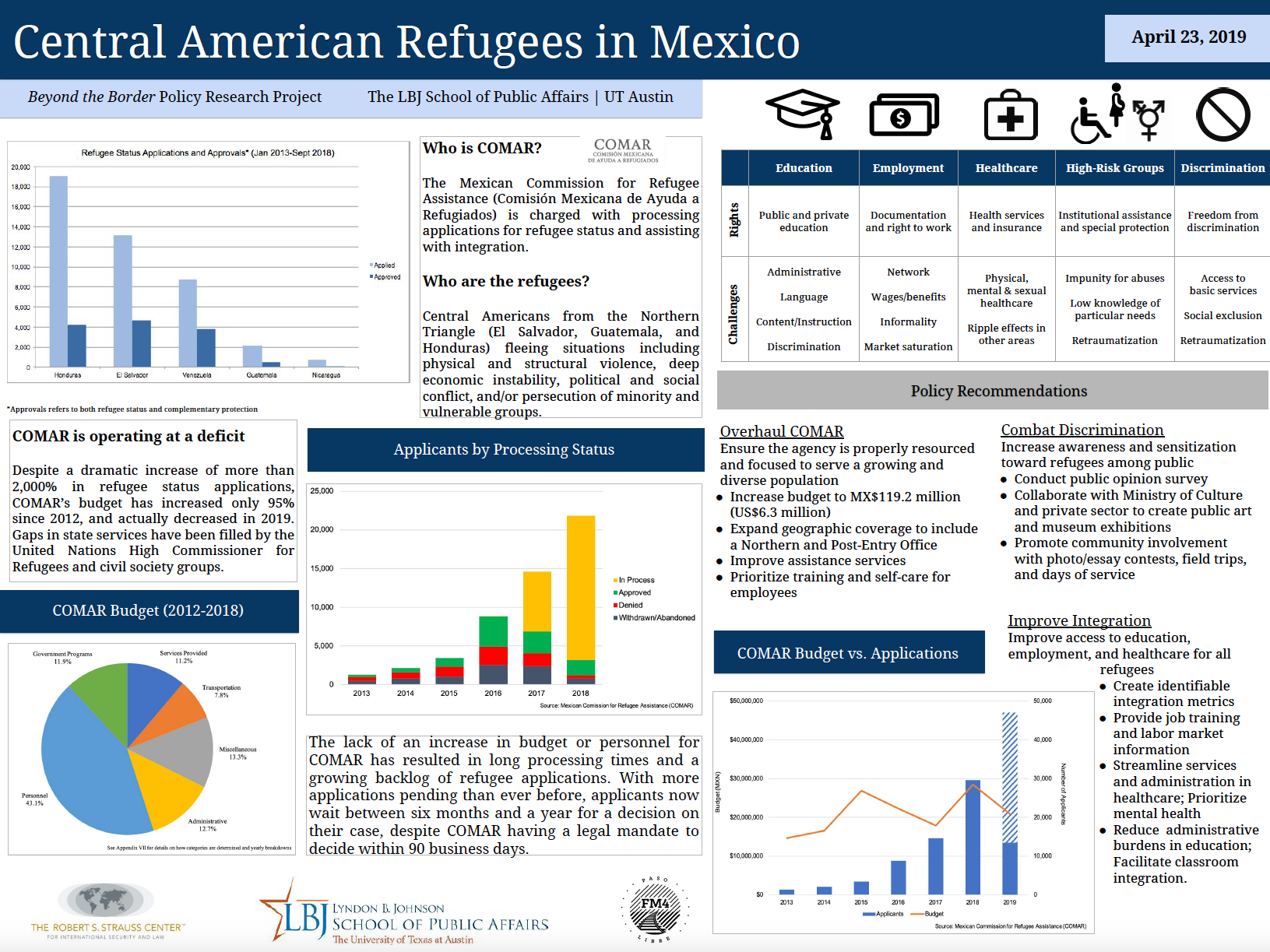 POSTER: Obstacles to Refugee Integration in Mexico by Sadie Smeck, John Gormley, Sam Lee, Carlos Hornedo & Stephanie Leutert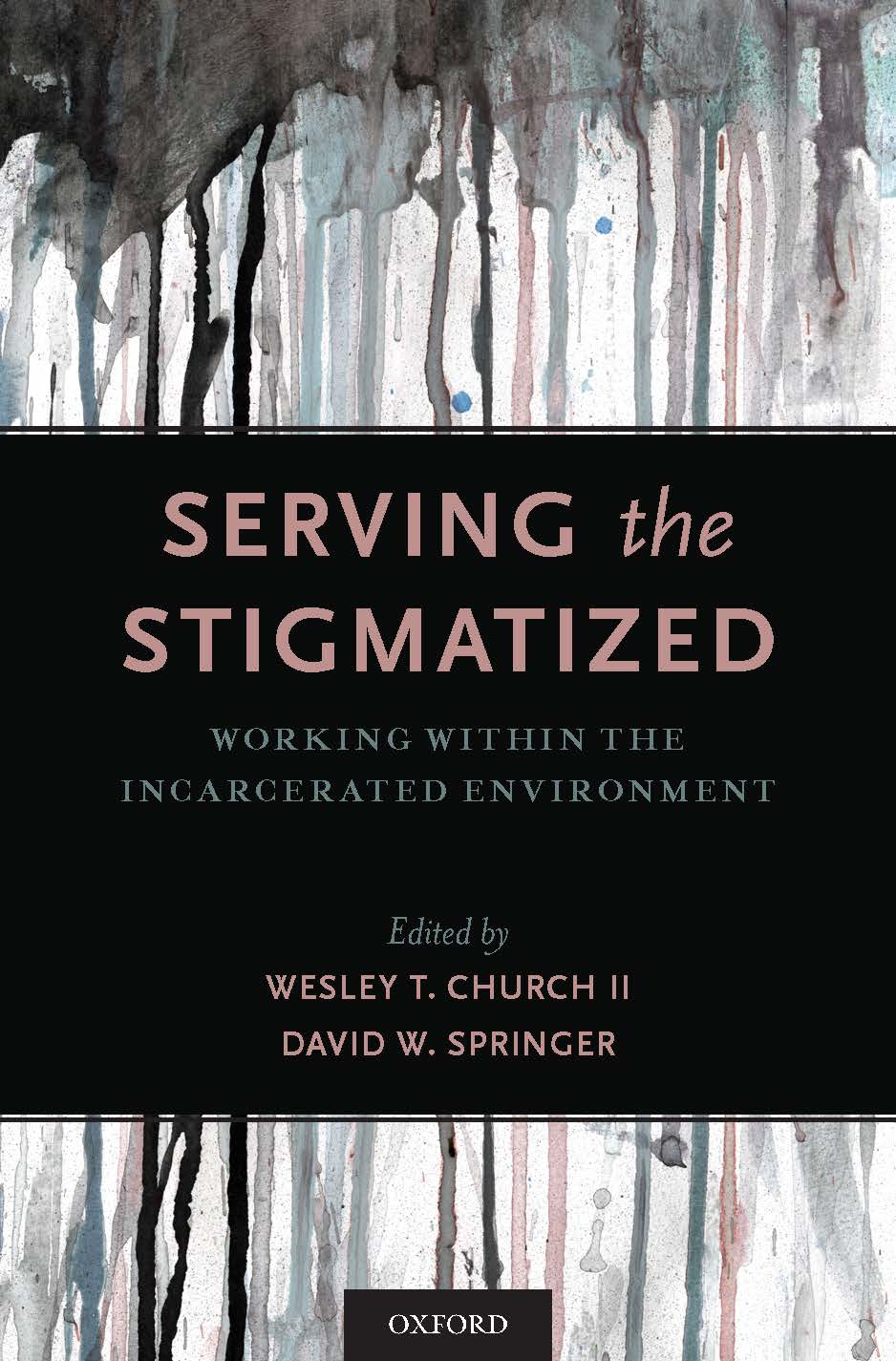 BOOK: Serving the Stigmatized: Working Within the Incarcerated Environment by Wesley T. Church II & David W. Springer (Eds.)
Published by Oxford University Press
Of the 7.3 million-plus individuals in the American correctional system, more than 650,000 offenders are released back into our communities every year; however, 70 percent are rearrested within three years of their release. Serving the Stigmatized is the first book of its kind to explore best practices and polices when dealing with a specific prison population while under some form of institutional control. Specifically, it examines 14 specific populations and how to effectively treat them in order to better serve them and our communities. The timing of this text's publication coincides with a real movement in the United States, supported by both conservative and liberal advocates and foundations, to decrease the size of the prison population by returning more offenders to their communities.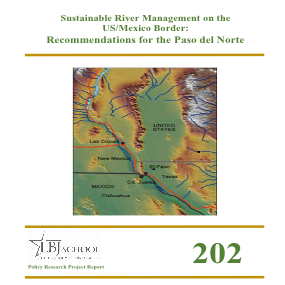 POLICY RESEARCH PROJECT REPORT: Sustainable River Management on the U.S./Mexico Border: Recommendations for the Paso del Norte, PRP 202 by Chandler Stolp & Jurgen Schmandt
PRP report 202 examines water policy in the binational Paso del Norte (PdN) stretch of the Rio Grande/Bravo.
The Paso del Norte watershed reaches from Elephant Butte reservoir in Southern New Mexico to the Rio Grande gage at Fort Quitman, Texas. The region shares important underground aquifers. River water is divided between states under the Rio Grande Compact (Colorado, New Mexico and Texas) and between Mexico and the United States under the 1906 Convention. River management is overseen by the International Border and Water Commission (IBWC). Brackish groundwater is brought to drinking water quality at the Fort Bliss desalination plant. The main cities are Las Cruces (New Mexico), El Paso (Texas) and Cd. Juárez (Chihuahua, Mexico). Cities have rapidly growing populations and increasing water demands. In-stream flow is declining as a result of climate change and reservoir sedimentation. Over 80 percent of river water is used by three irrigation districts (New Mexico, Texas and Chihuahua) making agriculture the leading economic sector in the PdN.
The PRP defined four urgent tasks for maintaining the sustainability of water resources in the PdN:
Improve surface water management by adjusting Elephant Butte reservoir operations to reduced water supply due to climate change and reservoir sedimentation.
Increase desalination of brackish groundwater in the PdN building on the experience to date of the Fort Bliss desalination plant.
Discuss ways for implementing IBWC Minute 308 on river sustainability.
Draft a plan for stakeholder action aimed at achieving water sustainability in the PdN.
The Rio Grande PRP contributes to a 10-river international study of sustainable water management in engineered rivers in arid lands (SERIDAS). In addition to the Rio Grande, the project studies water policy in Colorado, Sao Francisco, Murray-Darling, Yellow, Euphrates-Tigris, Nile and several smaller rivers. All receive water from snowpack or rain upstream, have rich agricultural soil in arid river segments downstream, and rely on modern reservoirs for managing water supply to farmers, cities and the environment. Study results will be published by Cambridge University Press in their UNESCO Hydrology series.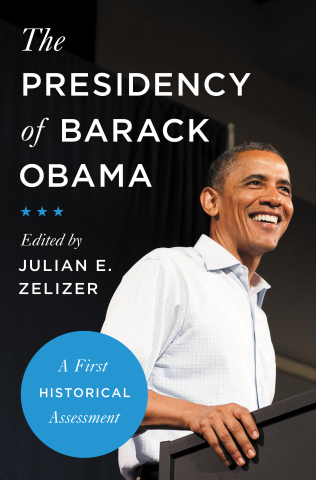 BOOK CHAPTER: Liberal Internationalism, Law, and the First African American President by Jeremi Suri
Published in The Presidency of Barack Obama: A First Historical Assessment, J. E. Zelizer (Ed.). Princeton University Press
This paper offers a historical assessment of President Obama's foreign policy aims, actions and accomplishments. It uses historical sources and methods to understand this recent presidency and its legacies. It also assesses various theories of foreign policy as they relate to presidential leadership.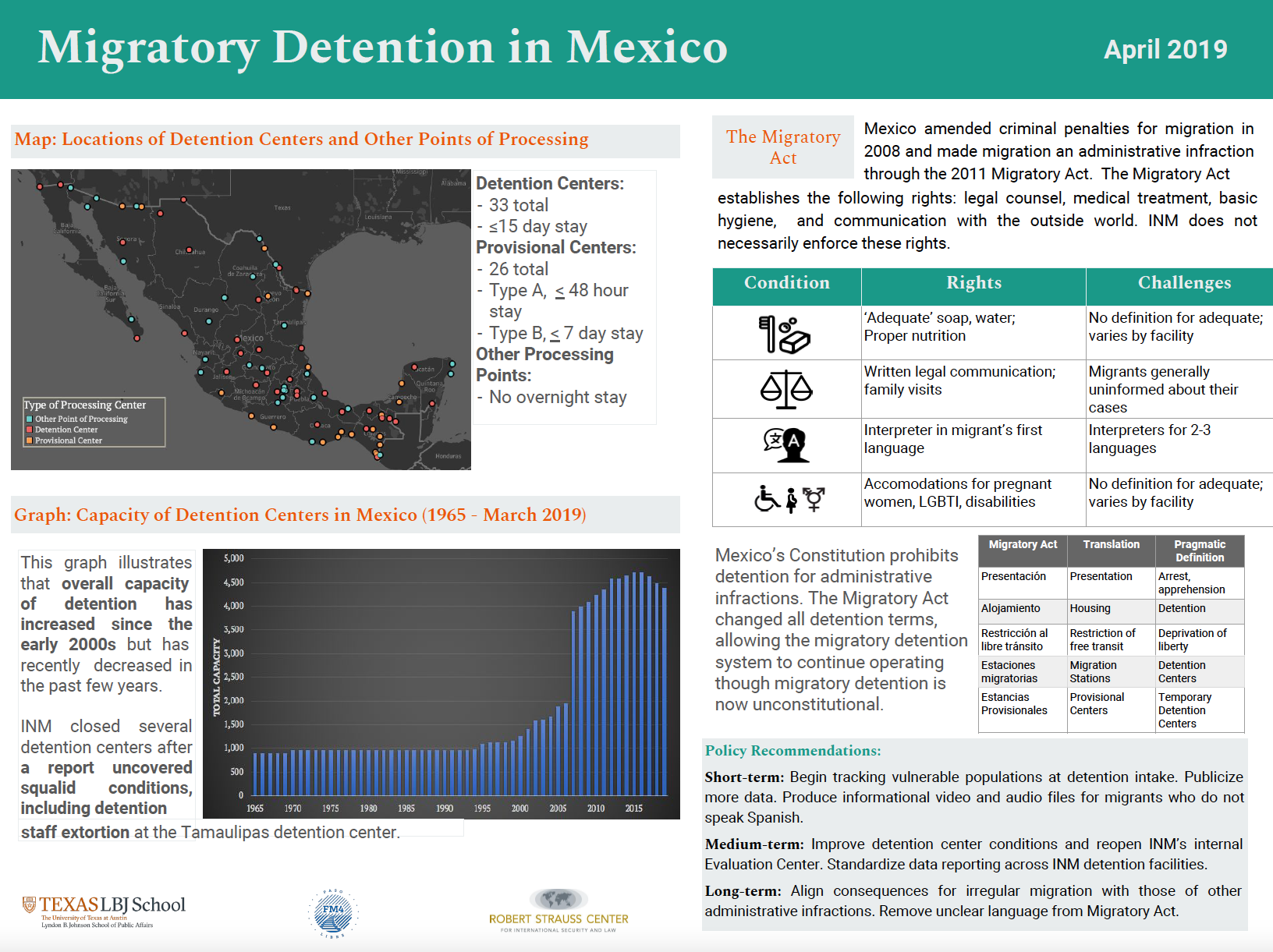 POSTER: Evaluating Mexico's Migratory Detention Centers by Alexa Tavarez, Marianne Richardson, Lisa Preminger, Jorge Choy Gómez & Stephanie Leutert

JOURNAL ARTICLE: Do Test Score Gaps Grow Before, During, or Between the School Years? Measurement Artifacts and What We Can Know in Spite of Them by Paul T. von Hippel & Caitlin Hamrock
Published in Sociological Science
This article shows that classic findings about summer learning loss were distorted by measurement artifacts and cannot be replicated using modern data. The results will be publicized in a May media release: "Is summer learning loss really a thing?"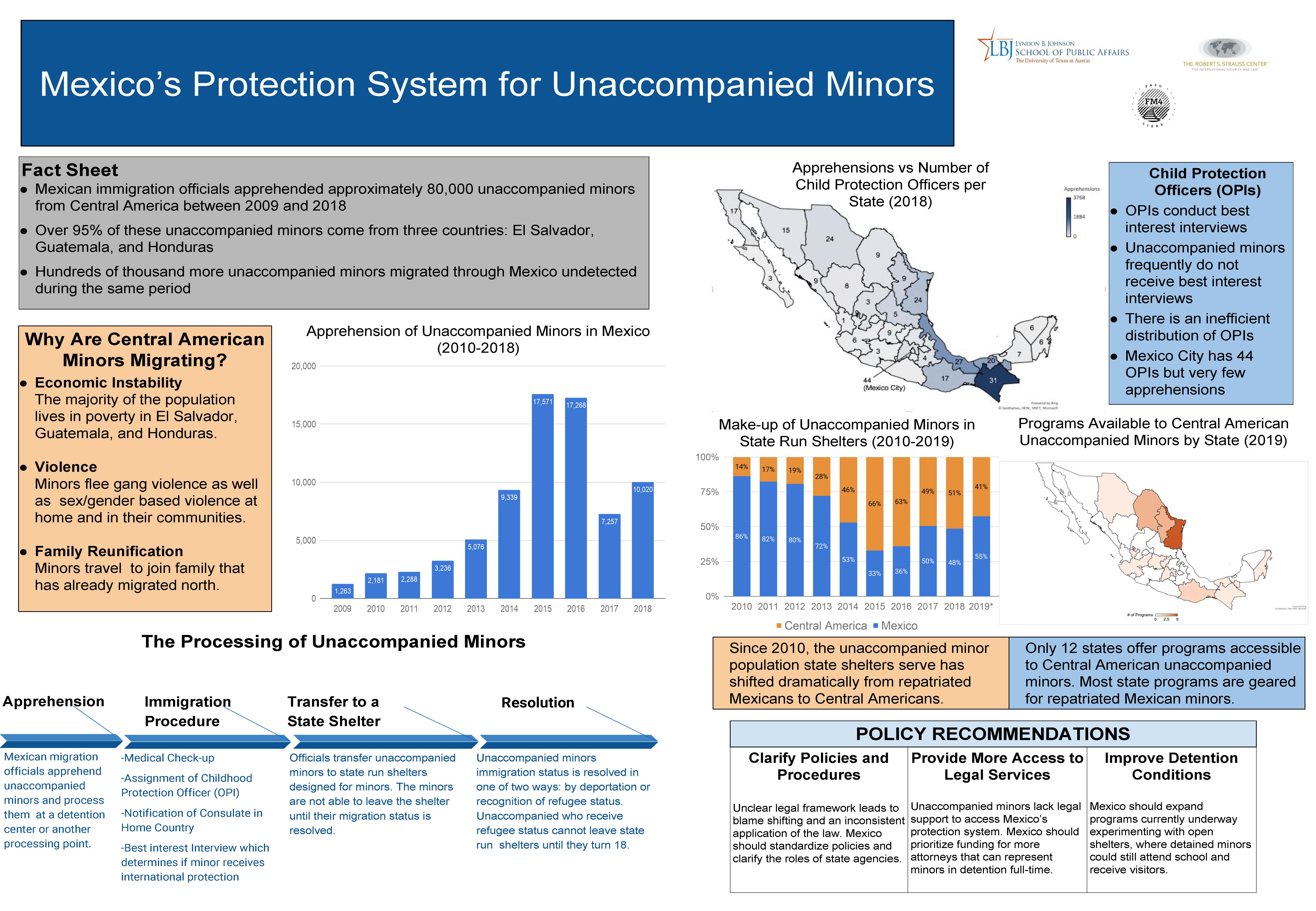 POSTER: Challenges for Unaccompanied Minors in Accessing Mexico's Protection System by Kaitlyn Wallace, Olimpia Valdivia Ramirez, Will Bucknall, Margaret Fox & Stephanie Leutert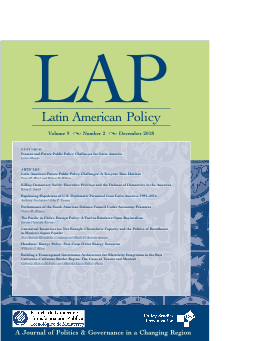 JOURNAL ARTICLE: Latin America's Future Public Policy Challenges: A Ten-Year Time Horizon by Peter M. Ward & Robert H. Wilson
Published in Latin American Policy
A primary contribution of this paper is that it will be one of Ward and Wilson's last (of far too many) as they fade into the academic sunset. That aside, we believe that it offers an important coda to their respective 40 years of research by identifying many of the second and third-tier public policy challenges and agenda items that will confront policymakers across the region 10 years from now (the "known unknowns," to use Rumsfeld's phraseology).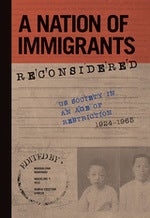 BOOK CHAPTER: The Undertow of Reforming Immigration by Ruth Wasem
Published in A Nation of Immigrants Reconsidered, M. Marinari, M. Y. Hsu, & M. C. Garcia (Eds.). Princeton University Press
Scholars, journalists and policymakers have long argued that the 1965 Immigration and Nationality Act dramatically reshaped the demographic composition of the United States. In A Nation of Immigrants Reconsidered, leading scholars of immigration explore how the political and ideological struggles of the "age of restriction" — from 1924 to 1965 — paved the way for the changes to come. The essays examine how geopolitics, civil rights, perceptions of America's role as a humanitarian sanctuary, and economic priorities led government officials to facilitate the entrance of specific immigrant groups, thereby establishing the legal precedents for future policies.
Ruth Wasem's chapter, "The Undertow of Reforming Immigration," opens as the Truman Commission recommends that the national origins quotas be abolished and that immigrants be admitted without regard to national origin, race, color or creed. Nonetheless, designing an alternative system for allocating visas fairly proved to be a challenge for the 1950s. Powerfully entrenched legislators who supported the status quo served as an undertow to the tide of immigration reform. The political stalemate was met by a growing sense of citizenship as well as an actual increase in naturalization among immigrants. Coupled with the increasing civic engagement of immigrants was a broader societal push toward equality, as public opinion surveys from this period illustrate. The legislation that emerges in the 1960s was based upon the contributions of immigrants, rather than their country of birth.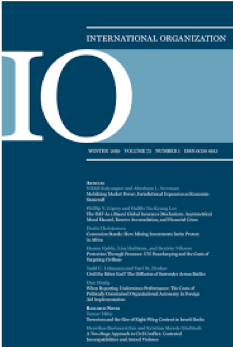 JOURNAL ARTICLE: A Race to the Top? The Aid Transparency Index and the Social Power of Global Performance Indicators by Dan Honig & Catherine Weaver
Published in International Organization
One of the most elusive goals in global policy is greater transparency and accountability in the $300 billion global development assistance industry. Despite the widely recognized benefits of such transparency — greater donor coordination, improved budget planning and management, civil society empowerment, and greater accountability to donor country taxpayers — achieving such transparency in complex international organizations has proven a monumental political and technical task.
This paper examines the quest to achieve transparency in global aid, with a particular focus on the critical influence of an unusual suspect — a small NGO called Publish What You Fund — and its annual index on aid transparency. Drawing from over 400 interviews in 11 countries plus quantitative analysis, we demonstrated how Publish What You Fund has used the power of its global index to name and shame big donors (like the World Bank and USAID) into publishing data on their development lending. This case demonstrates the peculiar power of small, nonstate actors to shape the interests and behavior of large, powerful actors through the politics of numbers. In doing so, it shows how we might use different levers of influence to shape global policy.