Published:
April 25, 2022
Global Policy student leaves the LBJ School with a new purpose, new expertise and new confidence to make change.
Nina Nomura Nibling was teaching English in Japan when she started thinking about going to graduate school. She'd earned her undergraduate degree in education and followed parental advice about taking a career path with a stable income. But after a couple of years that stability just didn't feel fulfilling.
"I didn't really feel like I was contributing to society and the world," Nibling said. "No one [in my family] understood why I wanted to study English, why I wanted to travel. They're having a great life in Japan, but I felt it was not enough for me."
---
"I think softball is like policymaking because you it takes practice and also you need to have a strategy with your own team, and you also need to understand your team's strengths and weaknesses." —Nina Nomura Nibling
---
Nibling was part of the National Model United Nations as an undergraduate at Kobe City University of Foreign Studies, and visited Kenya and Rwanda to work with Somali refugees. The more she learned about the experiences of people around the world, the more she was hooked on the idea of making change through policy.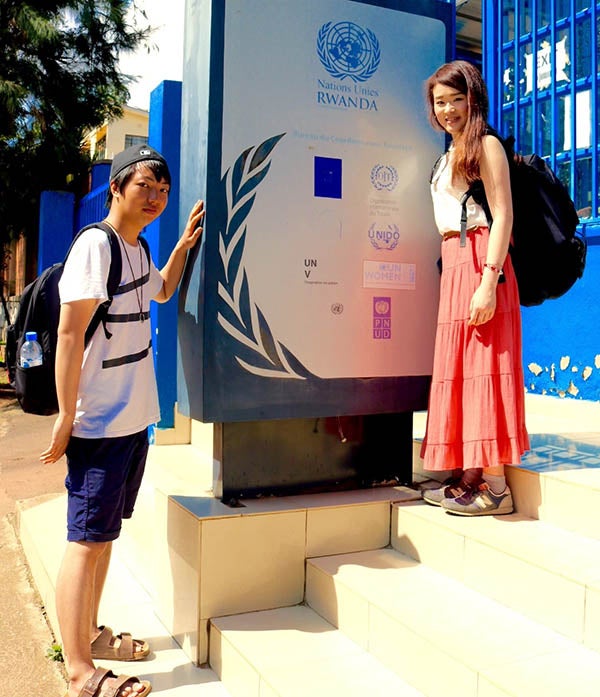 Nibling and a classmate visit Rwanda with Model United Nations in 2017. (Photo courtesy of Nina Nomura Nibling)
"When I started applying for graduate schools, I encountered this book, Hypocrisy Trap: The World Bank and the Poverty of Reform [written by the LBJ School's Dr. Kate Weaver]," she said. "And I realized there are so many things that I didn't know about the World Bank and IMF — any kind of international organization. I really wanted to learn [about the] under-representation of developing countries within international organizations."
The book led Nibling to Weaver and LBJ. She also found Dr. Erin Lentz, whose work on international development and food security struck a chord.
---
More on the Class of 2022:
Graduation 2022:
---
"When I came to the LBJ School, I was interested in researching food security in humanitarian crises mainly because of my experience interacting with Somali refugees in Kenya in 2017," Nibling continued. "However, taking Dr. Lentz's food policy seminar in spring 2021, I learned the importance of sustainable food systems for those in humanitarian crises and farmers in developing countries. I reached out to one of my friends I met in Rwanda, who is currently an educational coordinator in a refugee camp in Kenya, and he told me how the world needs more experts who are knowledgeable in both fields—international security and development."
Lentz saw Nibling's spark in the classroom. "My classes are better for having Niina in them," she said. "She brings out the best in other students with her thoughtful and supportive engagement. Her ability to synthesize ideas across multiple disciplines and topics is stellar and, in my opinion, is the sort of holistic thinking that international development needs more of."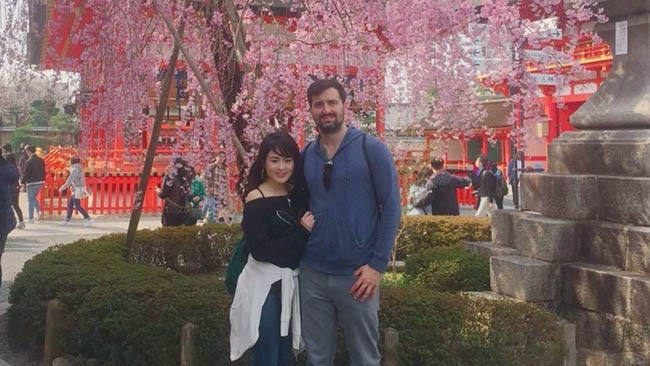 Nibling and her husband, Barrett, visiting cherry blossoms in Kyoto in 2018. (Photo courtesy of Nina Nomura Nibling)
A first-generation student, Nibling saw graduate school as a chance to challenge herself — to leave Japan, to learn alongside American students, to get experience in a new area. She was self-conscious about keeping up, and about being judged for not being a native English speaker.
"When I first started taking classes, I thought I knew a lot of things, but I quickly realized that I was still very ignorant, and that really led me to kind of insecurity and imposter syndrome for a while," she said. So she reached out to some of the international faculty at LBJ, including Dr. Pat Wong and Dr. Lorinc Redei, whose own experiences helped put her at ease. "Many of the international students and professors understood my struggles of living and studying in an unknown environment and reached out to me and supported me throughout the first year. In the second year, my insecurity was completely gone."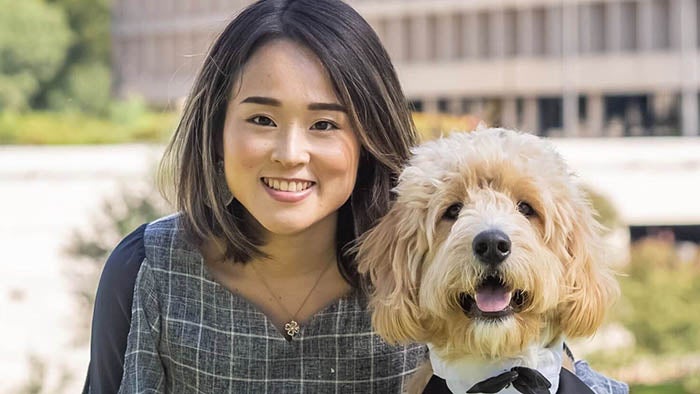 During the pandemic, Nibling and Barrett adopted Toast, who has appeared not only on
@TheLBJSchool's Twitter
, but also has a devoted following on his own Instagram account:
@toast_dood
.
Other things helped too — like the fellowships that enabled Nibling to gain experience and confidence in her abilities. "My internship at A Glimmer of Hope [Ethiopia] really changed my career prospects in a hindsight," she said. "But at first, I was unsure whether to work with them, as it was an unpaid internship. Then I found a fellowship called William H. Crook Program in International Affairs, [which] offers a stipend to an intern who is working at an organization advocating for poverty alleviation in developing countries, and I thought the opportunity was perfect for me. Receiving the fellowship, I was able to focus on other extracurricular activities like LBJ student organizations. Such involvement also led me to other fellowship opportunities, such as the Lyndon Baines Johnson Foundation Fellowship, Academic Competition Scholarship and Dean's Fellowship."
Nibling also worked as a graduate research assistant at Innovations for Peace and Development (IPD) and as a CONNECT fellow in monitoring and evaluation at the RGK Center. She also took part in the Professional Development Certificate program, served as the international news editor of the student-run Baines Report, and was the student life director for the Graduate Public Affairs Council (GPAC), organizing diverse and inclusive events for LBJ students such as the winter and spring proms, LBJenius and Policy on the Rocks. And as the COVID-19 restrictions eased and classes met in person once again, her experience became less isolated and more about getting to know her cohort both in and out of the classroom. Which included — much to her surprise — softball.
"I never imagined myself been playing softball," she said. "But when I started playing, I realized that LBJ students are not all about public affairs and something really serious. They also have private lives, and they're fun people. …Without those opportunities, my experience at the LBJ School would have been less exciting."
Niibling at the bat during the 2022 Dillio Cup in College Station, Texas.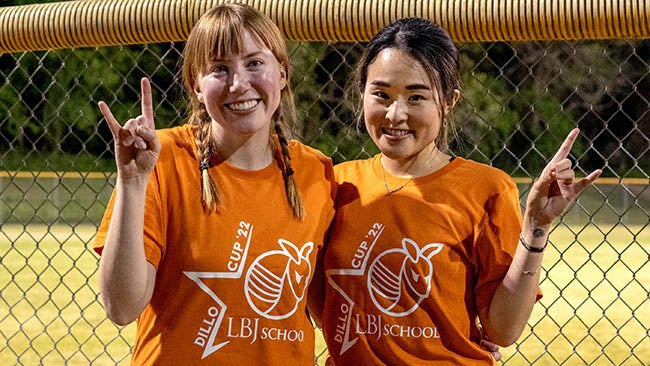 Alex Rose (MPAff '22) and Nibling at the big game.
While the squad didn't always succeed, (the LBJ team lost the coveted Dillo Cup to Texas A&M's Bush School of Government and Public Service on April 16), life on the field still proved to be helpful with policy. "I think softball is like policymaking because you it takes practice and also you need to have a strategy with your own team, and you also need to understand your team's strengths and weaknesses," Nibling said.
Nibling said will leave the LBJ School very different than when she began. "I was very curious and wanted to learn many things about the world," she said. "Support from LBJ made me more confident, more responsible — and now I'm just really passionate about making change, and trying to find solutions for a lot of issues in the world."
#LBJGrad22: Nina Nomura Nibling, a global policy student who graduates in May, found community, confidence and a passion for development during her time at the #LBJSchool.

Learn more: https://t.co/vtTKTraY7F pic.twitter.com/aSt1dIAJI4
— The LBJ School (@TheLBJSchool) April 25, 2022
---
Learn more about the LBJ School's Master of Global Policy Studies program.