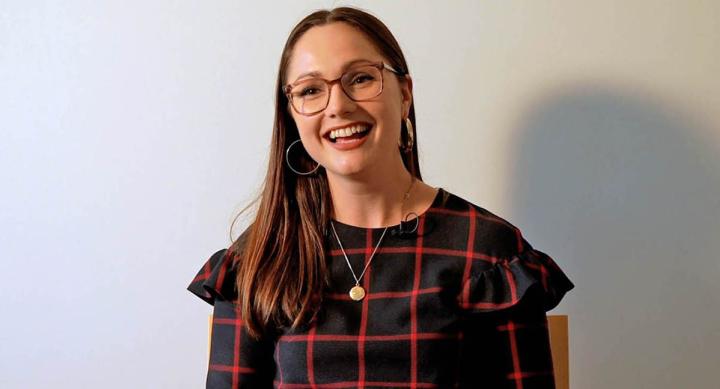 Dual degree student creates a place for herself in an emerging field: protecting the largest frontier.
Alyssa Goessler has never been shy about trusting her instincts and leaping into new territory. "There's a small handful of folks, myself included, who would identify as space environmentalists," Goessler said. But there was a time when she didn't give much thought to space — until a chance encounter at the LBJ School opened it up as a new path.
"I always knew I wanted to be a public servant someday and have a career in policy," she said. "I saw my Arabic studies and my Middle Eastern studies as a way to augment my ability to be a public servant simultaneously."
---
"It's really been heartwarming and inspiring — and I would not have gotten to this point without my community and without people really wanting to see me succeed in this very niche field." —Alyssa Goessler
---
Inspired by the region after the Arab Spring protests, Goessler began learning Arabic along with social sciences at the University of Oregon — and ended up spending a semester studying in Jordan. After deciding against law school, she moved to New York to look for a job — and ended up working for the government of Jordan at the United Nations. She moved on to a position at the Council on Foreign Relations, but her heart was in research. So she sought out graduate school — and the ability to combine regional expertise and policy made LBJ a major draw.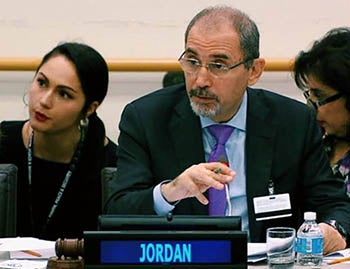 Goessler at UN Headquarters in New York in 2018, working with with His Excellency Ayman al Safadi, Jordanian Minister of Foreign Affairs. (Photo courtesy of Alyssa Goessler)
When she flew to Austin for Admitted Students Weekend, Goessler found a community. "People knew what they were talking about," she said. "They worked hard. The work ethic was very evidently there, but it didn't come off in this boastful way. And I felt that helped people create really useful analysis because they weren't inhibited by their own sense of ego or their own biases. It was really this common desire to make the world a better place by way of sound policy."
She caught a lecture by (now retired) Professor Donald Kettl, who linked domestic economics and foreign policy in a way that spoke to what she wanted to learn. "I just craved that type of nuance and analysis, and the fact that we have both a domestic and foreign policy program in the same building. … And the brisket didn't hurt."
---
More on the Class of 2022:
Graduation 2022:
---
So, armed with a J.J. Pickle admissions fellowship, a Foreign Language and Area Studies (FLAS) fellowship from the Center for Middle Eastern Studies and a Critical Language Scholarship from the U.S. State Department, Goessler began her dual degree studies — but she was having a hard time finding a research project that excited her. Enter the Strauss Center for International Security and Law, a interdisciplinary unit on UT's campus with important research links to the LBJ School, where she worked as a senior student associate. At a dinner for the Space Traffic Management Conference she met Dr. Moriba Jah, a professor of aerospace engineering and director of the Strauss Center's Space Safety, Security and Sustainability Program. His research team was looking for people with foreign language experience — would she be interested? They met in person a week later. Then the world went into a COVID-induced lockdown.
"It was really trying because I'm very social and I'm energized by being around other people," she said. "And I remembered being afraid if I would be able to keep up in school if I didn't have my little routine and didn't have my everyday interactions with people."
On the other hand, "I had a professor encouraging me to do space," she said. "He pointed me in the direction of some resources. I had no idea what I was doing — I just started digging in. … It gave me the space and time to focus on my new policy specialization. [It] was a really quick development from having absolutely no interest in something to it being perhaps [my] defining personality characteristic."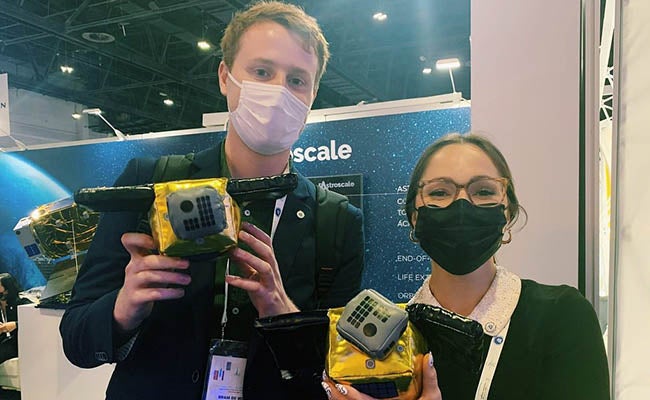 Goessler and Bram de Winter, who represents the Netherlands in the Space Generation Advisory Council, in Dubai in 2021 with a model of a sweeper designed to help clean up the Earth's orbit. (Photo courtesy of Alyssa Goessler)
Goessler became a Brumley fellow at the Strauss Center, and over the next two years immersed herself in space policy. She has served as a member of a task force on U.S. space legislation; as treasurer of the Texas Space Law and Policy Society; as a research intern at the Center for Strategic and International Studies' Aerospace Security Project; and as a mentee at the UN's Space4Women. In 2021 she was a delegate to the Space Generation Congress in Dubai hosted by the Space Generation Advisory Council, an international nonprofit that advocates for young people's representation in policy. While in Dubai, she also attended the world's premier space event, the International Astronautical Congress, where she conducted some on-the-ground research for her thesis on the United Arab Emirates' space policy.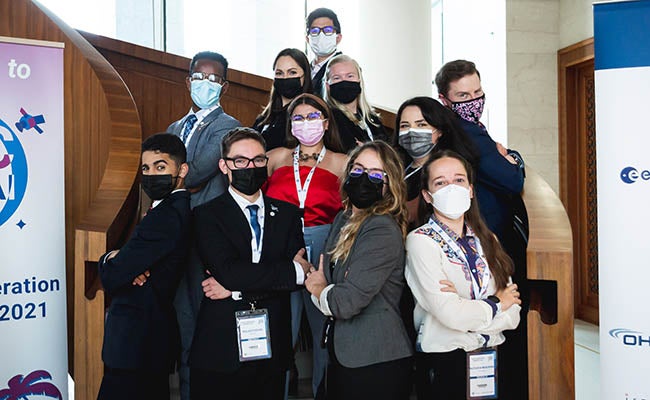 Goessler with colleagues at the 2021 Space Generation Congress in Dubai. (Photo courtesy of Alyssa Goessler)
The idea of environmental stewardship in space energized her. "In my view, space is as much a part of the environment as the oceans or the skies. If we don't start recognizing it as such, we will start having many of the same tragedies we've witnessed here on Earth. Our proclivity as humans to use the environment and resources perhaps beyond their capacity has extended into space. We still have a lot of time to adjust our behavior, and I am really optimistic about it."
In May 2022, Goessler traveled to Switzerland for the St. Gallen Symposium. "My essay, titled 'Intergenerational Justice in the Outer Space Domain,' placed in the top 100 of submissions, so they flew me out to exchange ideas with other policy leaders from across the world," she said. "Dr. [Lorinc] Redei told me about this symposium, so between his recommendation and his writing course, I owe him many thanks."
Goessler also spoke on a panel in Switzerland that examined the future of space exploration, including the role of private companies and the pollution of the Earth's orbit. "It was the coolest experience ever, and was super well received," she said. Her fellow panelists were Josef Aschbacher, director general of the European Space Agency (ESA), and Franklin Chang Díaz, former NASA astronaut and founder and CEO of the Ad Astra Rocket Company.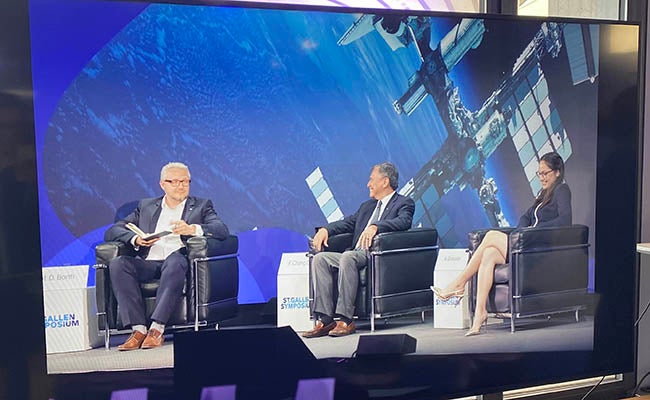 Goessler at the St. Gallen Symposium with Damian Borth, Professor of Artificial Intelligence and Machine Learning at the University of St. Gallen (left), and Franklin Chang Díaz, former NASA astronaut and founder and CEO of the Ad Astra Rocket Company. (Photo courtesy of Alyssa Goessler)
"I think the LBJ school community just primed me to be open to new ideas, and that meant that when one day the idea of space policy crossed my path, I didn't close the door on it," she continued. "I still cannot believe how many times I told somebody at UT, 'Hey, I'm doing space and Arabic and I want this opportunity. I want to build this program. We should host this event. We should [do] X-Y-Z.' I don't think anybody ever said no to me. It's really been heartwarming and inspiring — and I would not have gotten to this point without my community and without people really wanting to see me succeed in this very niche field."
After graduation, Goessler heads to Boston to start her new job as a senior analyst, aerospace and defense, at McKinsey & Company. "I am so excited to move to the business side of space operations and use my policy and regional studies background to help new space companies navigate this increasingly complex and congested industry," she said. "I also hope to help establish positive long-term change in the industry by showing clients how their investment in sustainable practices in space today will pay long-term dividends. My specialization is in space sustainability and orbital debris, so bringing this expertise to the business world will (I hope) help us preserve the outer space environment for generations to come."
#LBJGrad22: Alyssa Goessler, a dual global policy & Middle Eastern studies student, tells us about her journey to becoming a space environmentalist at the #LBJSchool.

She'll graduate ready to protect space for Earth's future generations!

Learn more: https://t.co/3scaDipffA pic.twitter.com/FsXy8SK65C

— The LBJ School (@TheLBJSchool) May 9, 2022
---
Learn more about the LBJ School's Master of Global Policy Studies program, and the dual degrees available with it.