MPAff student finds a way to translate his skills as a nurse.
Derreck DaSilva began his career as a registered nurse in 2018 at St. David's Medical Center, less than a mile from the LBJ School. Driven by his desire to help people, he'd specifically chosen to become a nurse rather than a doctor, because he wanted to be closer to the patients he'd be caring for.
"As a nurse, not only was I doing direct patient care, but I was pretty involved in thinking about policy," he said. "I saw the way policy [determined] who and how we got to help people, what we were allowed to do and how we were allowed to do it."
---
"The last two years have been so transformational for me. I was a clinician — I was a registered nurse. And now I'm a policy professional. ... I still get to exercise my passion for people, but on a different scale." —Derreck DaSilva
---
Then COVID hit, and the landscape of patient care — and patient losses — changed overnight. DaSilva and his fellow frontline medical professionals found themselves grappling with how to keep up.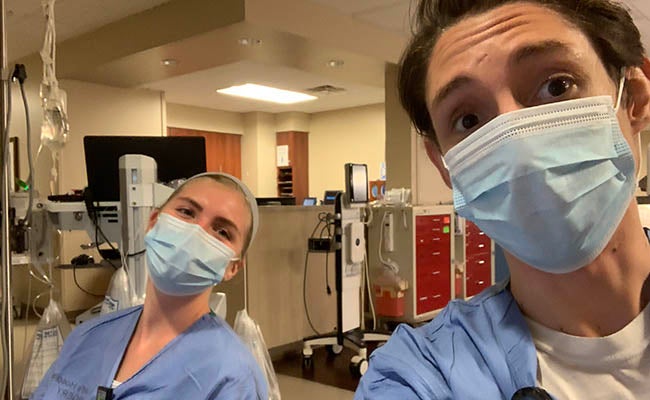 DaSilva (right) with a colleague on the floor at St. David's Medical Center. (Photo courtesy of Derreck DaSilva)
"Working in the COVID ward and being a nurse during the COVID era was great practice in change management," he said. "Everything we did changed; the policies that we had come to rely on — the routines that we were used to. … It was a big shift. It was learning how to deal with things constantly changing and really, seeing vulnerability in a different way."
He wondered if there was another way he could help. Encouraged to apply to graduate school by his mother, a member of the American Israel Public Affairs Committee (AIPAC), he took the GRE just weeks before the pandemic spread through the U.S. He also attended AIPAC's national conference in Washington, DC, in early 2020 and gained some experience lobbying Congress on issues related to security in the Middle East.
---
More on the Class of 2022:
Graduation 2022:
---
"That was my first exposure to federal politics 'under the hood,' and I was hooked," he said. "I enjoyed the collaborative nature of the work and the efforts to inform and encourage elected officials. I got great feedback and it seemed exciting at the time that I was contributing to policy change, even if only in a minor way."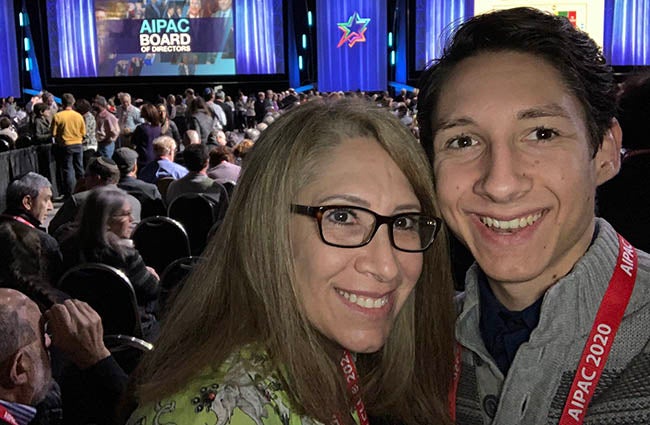 DaSilva (right) and his mom, Alana Pompa, at the 2020 AIPAC conference in Washington, DC.
(Photo courtesy of Derreck DaSilva)
DaSilva came back to Austin wanting to work on educational issues, and started his master's studies. But as invested as he was in the program, he couldn't quite picture how his nursing experience would translate to the policy world.
"I knew the skills I had in nursing were helping people's lives — I couldn't [yet] see how discount rates and bonds were helping people's lives," he said. "And that's why for the first year I was still at the hospital."
DaSilva continued nursing through the pandemic during his first year at LBJ, but left St. David's in the summer of 2021 to focus on an internship at AARP. There, as part of a team addressing disparities in long-term services and support for aging people, he could finally recognize how he could redirect his skills to policy. He also got to see the organization's expansive reach — far greater than he'd realized — and was impressed by its advocacy and the research he was able to do.
DaSilva with his dad, sister and grandparents at his 2018 graduation from West Coast University.
(Photo courtesy of Derreck DaSilva)
Being able to experience the LBJ community as in-person classes resumed and COVID restrictions loosened also made a big difference. He eagerly welcomed the transition from attending classes as a Zoom student to being able to connect with members of his cohort and settle into a more classic kind of graduate school experience.
"It's been neat to see people over and over again in some classes, and to see people focusing on space policy or environmental policy — and even some people really animated about local government," he said. "Everyone was aching for that collaboration, that exchange of ideas. It's been nice to see the community bloom again, because initially it was tough for me to find a spot to plug into."
Another major turning point for DaSilva was the three courses he took all in one semester: Dr. Brian Roberts' Money in Politics; Dr. Patrick Bixler's Collaborative Governance; and Professor Sheryl Sculley's Innovations in Public Management. Roberts asked his students to consider the point of government, and why it should exist at all. Sculley, a former San Antonio city manager, showed her class how change really happens at the local level. And Bixler stressed the importance and necessity of cross-sector collaborations as a tool to create lasting social change.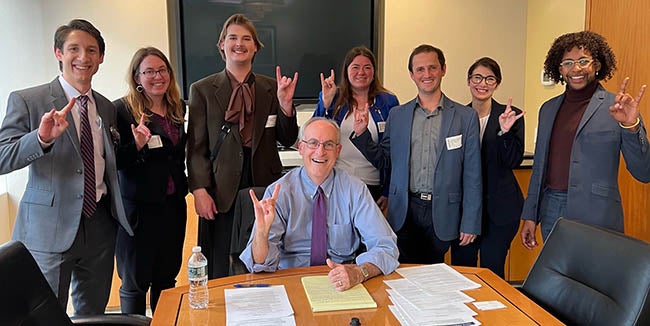 Derreck DaSilva with a group of fellow NY Seminar fellows at Evercore advising firm. (Photo courtesy of Derreck DaSilva)
"Those classes cemented me in local government, as I now had examples of how local government, often in the background, sustains the communities we know and love," DaSilva said. "It's at the local level where policies turn into programs that affect peoples' lives. That's where I could see tangible change. My burning question was about how to strengthen communities, and toward the end of my third semester I finally had an answer."
The thorny, long-term challenges of public management — those that might take years to solve — can seem insurmountable, DaSilva said. But his LBJ studies changed how he looks at those issues. "I found that the best remedy to that is to define your community. … You start making connections and building bonds. You're collaborating, working with people, and that's when they begin to trust you."
That trust is critically important — a lesson he learned while caring and advocating for patients as a floor nurse and in the ICU. "I know what it's like when people have to face situations they never imagined," he said. "I also know what it's like to save peoples' lives. And I think the vulnerability and compassion that comes from the experience of interacting with the public and connecting to people [that] drives what I do when my work gets more abstract."
"The last two years have been so transformational for me," said DaSilva, who earlier this year was named a Presidential Management Fellow. "I was a clinician — I was a registered nurse. And now I'm a policy professional. Even in nursing, at the bottom of my heart I felt a pull toward something slightly different than what I was doing, and I could not be happier about where I am now. I still get to exercise my passion for people, but on a different scale."
Transforming lives through transformative education:mortar_board: Derreck DaSilva was a nurse when he started at the #LBJSchool.

He will graduate in May as a policy professional. #LBJGrad22

Learn more: https://t.co/3mV7avv7gT pic.twitter.com/FUu6TcQHXo

— The LBJ School (@TheLBJSchool) May 2, 2022
Congratulations to our alumni & students on being selected as @USOPM Presidential Management Fellows class of 2022!

Read more: https://t.co/I7iZepcogI pic.twitter.com/LdNIqTprlm

— The LBJ School (@TheLBJSchool) Jan. 26, 2022
---
Learn more about the LBJ School's Master of Public Affairs program.