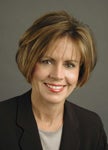 Adjunct Professor, City Manager for San Antonio
Sheryl Sculley became San Antonio's city manager in November 2005 with 31 years in local government. As the city's chief executive officer, she manages a full-service municipal government corporation as directed by policies of the City Council. She oversees an annual operating and capital budget of more than $2 billion that serves a community of more than 1.3 million residents and 430 square miles. She supervises the activities of all City departments that include more than 12,000 employees.
In her two years as city manager, Sculley initiated major changes within the city organization. She appointed more than 60 executives including deputy and assistant city managers, department and assistant department directors. She reorganized the administrative structure, developed a two-year balanced operating budget, and developed a $550 million, five-year bond program that is the largest in city history. Her budget recommendations closely followed City Council priorities by adding 100 police officers and 50 fire and EMS personnel, increased street maintenance resources, more code enforcement officers and needed financial reserves. Garbage collection is also being automated on an expedited schedule. Under her leadership, the citywide bond program development also included hundreds of San Antonio resident
Previously, Sculley served as the assistant city manager for Phoenix for 16 years, assisting in the day-to-day management of 14,000 employees and a $2.6 billion annual operating budget. In the No. 2 city management position, Sculley led the redevelopment of Phoenix's downtown including a biomedical campus, a downtown university campus, the $600 million expansion of the Phoenix Convention Center, a 1,000-room full-service convention headquarters hotel, commercial and housing development, a new city hall and new municipal court. Prior to Phoenix, she worked for the city of Kalamazoo, Michigan, for 15 years including five years as city manager.