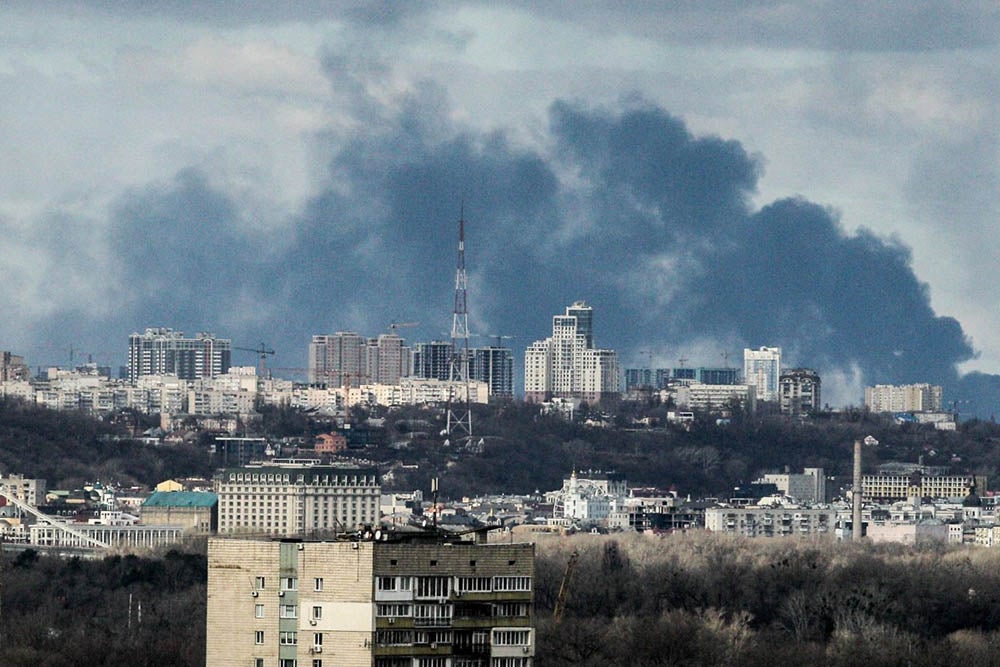 On Wednesday, March 2, the Asia Policy Program, the Clements Center for National Security, Strauss Center for International Security and Law, Intelligence Studies Project, Center for Russian, East European, and Eurasian Studies, and the LBJ School of Public Affairs are hosting War in Ukraine: An Expert Panel Discussion. The event will take place at 12:15 p.m. CT in the Shirley Bird Perry Ballroom, UNB 3.202. The event is free and open to the public. 
NOTE: The event sponsors follow the University of Texas's public health-related policies. There is an inherent risk of exposure to viruses and other health threats in any public space. Attendees voluntarily assume all associated risks. All UT guidelines and FAQs about COVID-19 can be found at Protect Texas Together. 
BIOGRAPHY
Bobby Chesney is the director of the Strauss Center, holds the James Baker Chair, and serves as the associate dean for academic affairs at the University of Texas School of Law. In 2009, he served in the Justice Department in connection with the Detention Policy Task Force created by Executive Order 13493. He also previously served the intelligence community as an associate member of the Intelligence Science Board and as a member of the Advanced Technology Board. In addition to his current positions at The University of Texas at Austin, Chesney is a member of the American Law Institute, and a senior editor for the Journal of National Security Law & Policy, and a former nonresident senior fellow of the Brookings Institution. He is a co-founder and contributor to Lawfare, the leading source for analysis, commentary and news relating to law and national security. He co-hosts the National Security Law Podcast which he co-hosts with his Texas Law colleague Steve Vladeck. Chesney's scholarship focuses on U.S. national security policies and institutions, encompassing both domestic and international law issues. Follow him on Twitter: @bobbychesney
William Inboden is executive director and William Powers, Jr. Chair at the Clements Center for National Security at The University of Texas at Austin. He also serves as associate professor at the LBJ School of Public Affairs, distinguished scholar at the Robert S. Strauss Center for International Security and Law, and editor-in-chief of the Texas National Security Review. Inboden is also an associate with the National Intelligence Council, a member of the CIA's Historical Advisory Panel, a member of the State Department's Historical Advisory Council, senior fellow with the Trinity Forum, and a member of the Advisory Board for the Vandenberg Coalition. Previously he served as senior director for strategic planning on the National Security Council at the White House, where he worked on a range of foreign policy issues including the national security strategy, strategic forecasting, democracy and governance, contingency planning, counter-radicalization and multilateral institutions and initiatives. Inboden also worked at the Department of State as a member of the policy planning staff and a special advisor in the Office of International Religious Freedom, and has worked as a staff member in both the U.S. Senate and House of Representatives. He is the author of Religion and American Foreign Policy, 1945-1960: The Soul of Containment (Cambridge University Press) and co-editor of The Last Card: Inside George W. Bush's Decision to Surge in Iraq (Cornell University Press), and has published numerous articles and book chapters on national security, American foreign policy and American history. His book on the Reagan administration's national security policy, titled The Peacemaker: Ronald Reagan in the White House and the World, is forthcoming in 2022 with Dutton, a PenguinRandomHouse imprint.
Sheena Chestnut Greitens is an associate professor at the Lyndon B. Johnson School of Public Affairs at The University of Texas at Austin and founding director of the Asia Policy Program. Her work focuses on East Asia, authoritarian politics and American national security policy. She is currently working on two main research projects: one on China's internal security policies and their implications for China in the world, and another on authoritarian diasporas, particularly focused on North Korea. From 2015 to 2020, Greitens was an assistant professor of political science at the University of Missouri and co-director of the University's Institute for Korean Studies. Her work on China and North Korea has appeared in academic journals and edited volumes in English, Chinese and Korean, as well as in major media outlets. She has previously testified before Congress on security issues in the Indo-Pacific. Her first book, Dictators and their Secret Police: Coercive Institutions and State Violence (Cambridge, 2016) received the 2017 Best Book Award from both the International Studies Association and the Comparative Democratization section of the American Political Science Association. In 2017-18, Greitens served as the first lady of Missouri, where she helped lead the state's trade mission to China and South Korea, and successfully advocated for major legislative and administrative reforms to Missouri's policies on foster care, adoption and child abuse prevention. She holds a doctorate from Harvard University, an M.Phil from Oxford University, where she studied as a Marshall Scholar, and a bachelor's degree from Stanford University.
Steve B. Slick is the director of the Intelligence Studies Project, a joint partnership between the William P. Clements Center for National Security and the Strauss Center for International Security and Law. He retired in 2014 after 28 years as a member of CIA's clandestine service. Between 2005 and 2009, Slick served as a special assistant to the president and the senior director for intelligence programs and reform on the staff of the National Security Council, and previously was previously director for intelligence programs at the NSC. While serving at the White House, Slick participated in efforts to restructure and reform the intelligence community informed by recommendations of the commissions charged with investigating the 9/11 attacks and the flawed pre-war analysis of Iraq's unconventional weapons programs. These efforts included a series of executive orders on U.S. intelligence issued in August 2004, key provisions in the Intelligence Reform and Terrorism Prevention Act of 2004, the administration's responses to recommendations by the "WMD Commission," as well as significant amendments to Executive Order 12333 that were approved by President George W. Bush in 2008.
Jeremi Suri holds the Mack Brown Distinguished Chair for Leadership in Global Affairs at The University of Texas at Austin. He is a professor in the university's Department of History and the LBJ School of Public Affairs, and the author and editor of nine books on contemporary politics and foreign policy, most recently The Impossible Presidency: The Rise and Fall of America's Highest Office. His other books include Henry Kissinger and the American Century; Liberty's Surest Guardian: American Nation-Building from the Founders to Obama; and Foreign Policy Breakthroughs: Cases in Successful Diplomacy (with Robert Hutchings). Suri writes for major newspapers and magazines including the New York Times, Washington Post, New York Daily News, Dallas Morning News, Houston Chronicle, Boston Globe, Foreign Affairs, Fortune, The American Prospect and Wired—as well as for various online sites and blogs. He is a popular public lecturer, and appears frequently on radio and television. Suri teaches courses on strategy and decision-making, leadership, globalization, international relations and modern history. His research and teaching have received numerous prizes. In 2007, Smithsonian magazine named him one of America's "Top Young Innovators" in the arts and sciences.
Zoltan Feher is an America in the World Consortium Predoctoral Fellow at the Clements Center for National Security at The University of Texas at Austin; a Hans J. Morgenthau Fellow with the Notre Dame International Security Center at the University of Notre Dame; and a Ph.D. candidate (ABD) in International Relations at The Fletcher School of Law and Diplomacy at Tufts University. He also is a World Politics and Statecraft Fellow with the Smith Richardson Foundation. Previously, he worked as a professional diplomat for his home country, Hungary, for 12 years, serving as foreign policy analyst at the Hungarian embassy in Washington, DC and later as Hungary's deputy ambassador and acting ambassador in Turkey. He holds a Master of Arts in political science and a Master of Arts in American history from Eötvös Loránd University (Budapest), a law degree (J.D.) from Pázmány Catholic University (Budapest), and a Master in Public Administration from Harvard University. His dissertation, The Sources of American Conduct: U.S. Strategy, China's Rise, and International Order, examines U.S. strategy vis-à-vis China in the early post-Cold War period, focusing on how and why the United States ended up facilitating China's rise. His theory has implications for understanding why established great powers often help the emergence of rising states that may over time become peer competitors.
Alexandra Sukalo is a postdoctoral fellow at the Clements Center and will be joining the Naval Postgraduate School in the fall as an assistant professor of modern Russian history and security policy. She earned her Ph.D. from Stanford University in Russian and East European history, and  has spent considerable time living and conducting research in Eastern Europe. Sukalo has worked at U.S. Embassy Moscow in the regional security office, and prior to beginning her Ph.D., she served as an Eurasian military analyst with the Department of Defense. Her current book project explores the creation of the Soviet Union's security organs in the Union's western republics, including Ukraine, under Lenin and Stalin.
Event Details
Date and Time
March 2, 2022, 12:15 p.m. to midnight
Location
Shirley Bird Perry Ballroom, UNB 3.202