Each year, the LBJ School National Alumni Board honors two outstanding alumni for exceptional public service and action-oriented leadership. The 2021 recipients are:
Shamina Singh (MPAff '97), recipient of the school's highest alumni honor, the Distinguished Public Service Award (DPSA), and
Erol Yayboke (MPAff '06), recipient of the Rising Leader Award
"Shamina has been a committed member of the LBJ alumni community, and her contributions span the worlds of public service and corporate philanthropy. The LBJ School is honored to award such an exemplary individual the DPSA this year," said Stephen Niemeyer, who serves as Chair of the National Alumni Board Recognition Committee. "Meanwhile, Erol has committed his career to making the world a safer place, and he has done so through cutting-edge research and hands-on field experience. We could not be prouder to award him the Rising Leader Award this year. Congratulations to both of these outstanding graduates."
These awards are typically presented each year on campus. However, due to the COVID-19 infection and hospitalization rates in Austin, the awards premiered live online on Friday, Sept. 17.
The LBJ School extends its thanks to the Alumni Recognition Committee, which includes Stephen M. Niemeyer, Alejandra Castillo, Greg Conte, Lauren Oertel and Lauren Rose.
Distinguished Public Service Award | Shamina Singh (MPAff '97)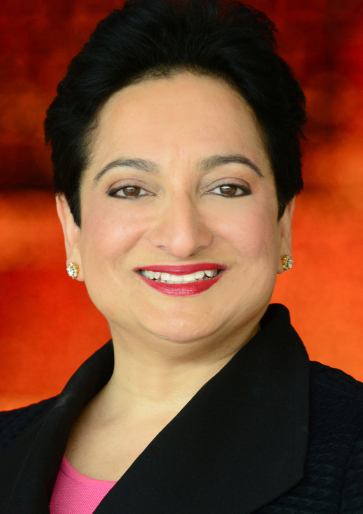 For more than 20 years, Shamina Singh has been on the frontlines of developing and implementing solutions to make the global economy work for everyone, everywhere.
She is the founder and president of the Center for Inclusive Growth, the philanthropic hub of Mastercard. She also serves as executive vice president of corporate sustainability. Since 2014, Singh has led the Center to create a social impact model and an Impact Fund that combines research with Mastercard's data, technology, capital and people to advance financial inclusion and inclusive growth around the world. In her role as EVP for Sustainability, she is responsible for the development and implementation of environmental, social and governance (ESG) strategy across the company.
Singh sits on the boards of ADL, a global anti-hate organization, and the Ann Richards School for Young Women Leaders in Austin, Texas. She also serves on the advisory boards of several organizations, including Data & Society, The Aspen Institute Civil Society Fellowship, Nexus for Equity + Opportunity Nationwide (NEON), a new organization committed to dismantling structural racism in the United States; and social enterprise Women Reignite. She is also a Henry Crown Fellow with the Aspen Institute.
Deeply committed to public service, Singh has held senior positions in the White House and the U.S. House of Representatives. She was executive director for the inaugural President's Advisory Commission on Asian Americans and Pacific Islanders created by Executive Order in 1999, which has been renewed by every president since. In 2015, Singh was appointed by President Obama and confirmed by the U.S. Senate to a six-year term on the board of Americorps, where she also served as chair for two years. She was recently appointed as a Dean's DC Fellow by the University of Virginia's Darden School of Business.
As an LGBTQ+ executive, Singh is committed to advancing a culture of values-based leadership, diversity and transparency. She has been recognized for her advocacy, appearing in the Financial Times' Top 100 LGBT+ Executives and Fast Company's Queer 50 lists.
Singh earned a Bachelor of Science from Old Dominion University, where she received the alumni of distinction award, and a Master of Public Affairs from the Lyndon B. Johnson School of Public Affairs. She also completed executive education programs at Harvard University's John F. Kennedy School of Government, Yale University's Jackson Institute for Global Affairs and the Indian School of Business. Singh is also a graduate of the Presidential Leadership Fellows program and an alumna of the Young Global Leaders program of the World Economic Forum. She currently resides in New York City with her wife, Ashley Bell.
The Distinguished Public Service Award
Established in 1989, the Distinguished Public Service Award is presented each year to an LBJ alumnus whose career and public service record best represents the values on which the LBJ School was founded: action-oriented leadership, dedication to public service and courage. Previous recipients include Alejandra Castillo (MPAff '98), U.S. assistant secretary of commerce for economic development; Stacey Abrams (MPAff '98), voting rights champion; and Laura Huffman (MPAff '91), president and CEO of the Greater Austin Chamber of Commerce.
Rising Leader Award | Erol Yayboke MPAff '06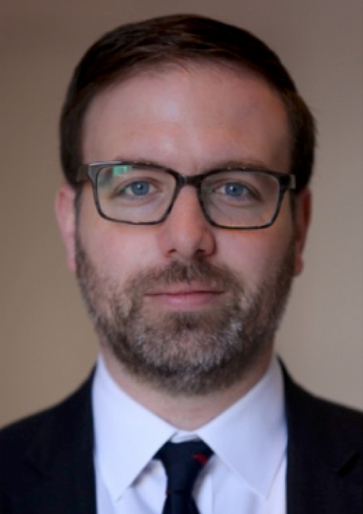 Erol Yayboke is a senior fellow with the International Security Program and director of the Project on Fragility and Mobility at the Center for Strategic and International Studies (CSIS). His specific research interests include migration and forced displacement, violent conflict and global fragility, conflict-aware stabilization, violent extremism, climate change, civil-military cooperation and disruptive technologies. Previously, he was a senior fellow and deputy director with the CSIS Project on Prosperity and Development. Prior to CSIS, Yayboke served on Hillary Clinton's presidential campaign as well as the Evidence for Policy Design team at the Center for International Development at Harvard University's Kennedy School of Government. He has longterm field experience working for organizations (Global Communities, Save the Children and AECOM International Development) in Iraq, Afghanistan, South Sudan and the Somali Region of Ethiopia, serving in various senior management roles.
Yayboke teaches a graduate-level course on global fragility and resilience at the Maxwell School of Citizenship and Public Affairs at Syracuse University and is a member of the board of directors for the Andi Leadership Institute for Young Women, a Washington, DC-based nonprofit focused on developing the next generation of women peacebuilders. He holds an Master of Public Affairs from the Lyndon B. Johnson School of Public Affairs at The University of Texas at Austin and a B.B.A. in international business, also from The University of Texas at Austin. He is fluent in Turkish and Spanish.
The Rising Leader Award
The Rising Leader Award recognizes the efforts of a recent alumnus who improves the quality of public service in the United States and abroad at all levels of government and civic engagement. Previous recipients include Lauren Rose (MPAff '10), public policy director at the Texas Network of Youth Services; Rudy Metayer (EMPL '16), president of the Texas Black Caucus Foundation; and Rachel Hoff (MGPS '14), policy director at the Ronald Reagan Institute.
Outstanding Alumni Awards