Recipients are YWCA CEO and President Alejandra Castillo and TNOYS Public Policy Director Lauren Rose
Two public affairs graduates were honored as outstanding alumni of the LBJ School of Public Affairs at The University of Texas at Austin during an invitation-only virtual ceremony on Monday, Dec. 14. Alejandra Castillo (MPAff '98), president and CEO of the YWCA, received the school's highest alumni honor, the Distinguished Public Service Award (DPSA). Lauren Rose (MPAff '10), public policy director at the Texas Network of Youth Services, received the Rising Leader Award (RLA).
2020 DPSA Recipient Alejandra Castillo (MPAff '98)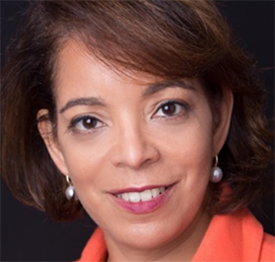 The DPSA honors an alumnus whose career and public service record best represents the values on which the school was founded: action-oriented leadership, dedication to public service and courage. A self-proclaimed product of Head Start, Castillo has emerged in recent years as a high-profile national leader due in part to her dedication to and influence in expanding and creating opportunities for society's most vulnerable. As the first Hispanic-American woman to lead the Minority Business Development Agency she helped minority-owned firms obtain $15 billion in contracts and capital, creating or saving 33,000 jobs in the wake of the Great Recession. In her current role as president and CEO of the YWCA, Castillo leads its mission-driven work focusing on racial justice and civil rights, empowerment and economic advancement, and health and safety, serving over 2.2 million women through 205 associations with 12,500 staff members and 52,000 volunteers.
Castillo has remained engaged with the LBJ School, having recently co-published research on COVID-19's economic impact and served as keynote during the school's 2019 Hispanic Heritage Month event.
"I stand as a product of what we can do as a nation when we put people first and make social infrastructural investments that improve the lives of every person in America," Castillo said, talking about her experiences as the child of immigrants who benefited from Head Start, PBS, community health programs and the Higher Education Act. 
"My memories of the LBJ School are filled with the push to dream big and dream boldly. That's what our nation needs right now. And I am forever humbled and grateful for this recognition, and hope that my work can just add to the contribution of so many public servants," she said. "I too remember the thunderous voice of Barbara Jordan — how she reminded us of ethics and integrity. Every single day, I try to come to work with just a bit of that lesson learned: to be ethical, to be somebody of integrity. But most importantly to be in the arena. And if you're not in the arena, get out of the way. Because right now, we need bold leadership to steer us through these uncertain times."
Previous DPSA recipients include Fair Fight Action founder Stacey Abrams (2019), Austin Chamber of Commerce CEO Laura Huffman (2016), Travis County Clerk Dana DeBeauvoir (2002), and former Colorado Gov. Bill Owens (2000).
2020 Rising Leader Award Recipient Lauren Rose (MPAff '10)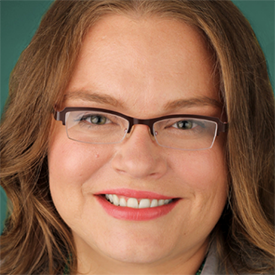 Rose is the recipient of the 2020 Rising Leader Award, which recognizes the efforts of a recent alumnus who improves the quality of public service in the United States and abroad at all levels of government and civic engagement. She has spent her career fighting for better outcomes for Texas children. As public policy director for a statewide network dedicated to strengthening services for Texas youth and families, more than 60 youth organizations rely on Rose for her critical analysis and expertise. In less than two years in this role, she has already made an impact. She led TNOYS's efforts to secure Texas's first state appropriation specifically to support services for youth and young adults experiencing homelessness. Rose also secured numerous pieces of legislation to support young people experiencing homelessness and foster care — notably working to launch and facilitate conversations regarding the ages that govern the way Texas youth are treated within the justice system. Her work to raise the age in Texas has sparked a growing movement nationally to make meaningful change for children involved in the justice system.
During the ceremony, Rose recounted the impact of her LBJ education, from giving her tools like regression analysis, which she's used to get the attention of legislators, to understanding the school-to-prison pipeline and the juvenile justice system, which she learned from Michele Deitch's class on Texas criminal justice reform.
"I have a call to action for each of you: Be intentional," she said, noting the critical importance of making sure that people of color and people who will be impacted by policy are not only at but at the head of the decision-making table. More importantly, she said, listen to people's experiences. "And may we all continue to strive to change a little part of our world for the better."
Previous RSA recipients include Pflugerville city councilmember and community advocate Rudy Metayer (2019), Ronald Reagan Institute Policy Director Rachel Hoff (2018) and President and CEO of the Dallas Foundation Matthew Randazzo (2017).
Tonight the LBJ community will recognize Alejandra Castillo, an outstanding alumnus who embodies the values on which the school was founded: action-oriented leadership, dedication to public service, and courage. https://t.co/yiStukJTsQ

— The LBJ School (@TheLBJSchool) Dec. 14, 2020
"A sincere thanks to the The LBJ School community and its commitment to improving the quality of public service in the United States and abroad." @A_Y_Castillo will be honored at 7 pm CT as @TheLBJSchool's 2020 Distinguished Public Service Award recipient: https://t.co/RwN6v5p2sP

— YWCA USA (@YWCAUSA) Dec. 14, 2020
#HappeningNow: LBJ School alumna, @YWCAUSA CEO @A_Y_Castillo accepts the 2020 Distinguished Public Service Award.

"I am a product of the Great Society. I am an example of what we can do as a nation when we put people first." pic.twitter.com/HWXwSNxwve

— The LBJ School (@TheLBJSchool) Dec. 15, 2020
"If you're not in the arena, get out of the way. We need bold leadership to steer us through these times." - @A_Y_Castillo

— The LBJ School (@TheLBJSchool) Dec. 15, 2020
Pres. LBJ in founding the school called on the students to do the greatest amount of good for the greatest # of people. @A_Y_Castillo you have fulfilled this charge. Thank you for your leadership, your service & tu amistad! https://t.co/HZ3eosX7hN

— Victoria DeFrancesco (@DrVMDS) Dec. 15, 2020
The LBJ Alumni awards were so well-timed after such a tough semester. @A_Y_Castillo and Lauren Rose remind LBJ students (and me!) what's at stake and what's possible with a passion and drive for public service. https://t.co/A7wXhPgtsF

— Colleen Gleeson (@colleen_gleeson) Dec. 15, 2020
Thank you to all who attended the #LBJSchool 2020 Outstanding Alumni Awards. #ICYMI you can read more about the two recipients at the link below, and a full video of the ceremony will be available later this week. https://t.co/pS7iHyx3Kj

— The LBJ School (@TheLBJSchool) Dec. 15, 2020