Published:
November 2, 2023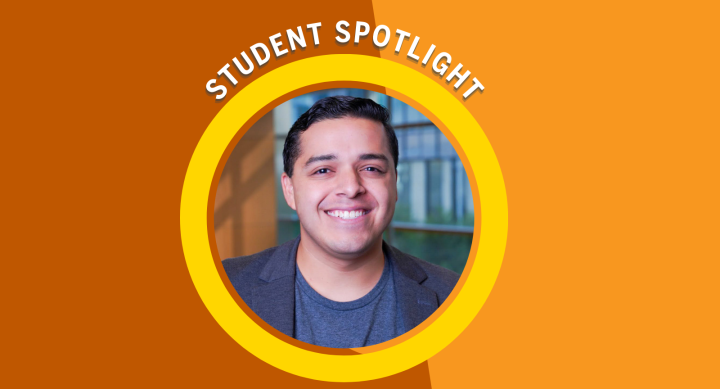 In an inspiring journey from the classroom to the policy arena, Steven Santoyo, who is from Dallas, is pursuing a Master of Public Affairs at the LBJ School, with a focus on K-12 education policy. Having previously taught and earned a Master of Education from Southern Methodist University, Steven brings a wealth of experience and dedication to making a positive impact on our education system.
Hometown: Dallas
Prior education: The University of Texas at Austin, Communication (B.S.); Southern Methodist University, Master of Education (ED.M)
LBJ degree program: Master of Public Affairs
Policy area of focus: K-12 Education Policy
Dream job: Serving as United States Congressman 
Favorite U.S. president: President John F. Kennedy
Hobbies: Vinyl record collecting, playing softball for the LBJ Softball Club, singing Karaoke all over Austin, learning how to two-step better at Mavericks in Buda, Texas  
Favorite food: Chicken tortellini 
Favorite movie: The Godfather, Pt. 2
What drew you to pursue a degree in public policy/attend the LBJ School?
I was a school teacher looking for ways to learn more about how the gears shifted above me and outside of my classroom. I knew I had a knack for bringing disparate groups of people together, so I took a leap of faith and committed myself to learning all I could about K-12 Education Policy in Texas. I was grateful to also be awarded The LBJ School's $24,000 George Christian Fellowship Endowment, covering the entire cost of my tuition while at LBJ. 
"I was a school teacher looking for ways to learn more about how the gears shifted above me and outside of my classroom." Steven Santoyo 
Are there any mentors, role models, or leaders in the public affairs field who inspire you?
I'm inspired by the career of LBJ graduate Jeremy Martin, who currently works as the Senior Research and Policy Analyst within the Office of Academic Affairs at The University of Texas System. Additionally, I follow the work of my friend in the state legislature — a fellow person with Type-1 Diabetes, fellow Friar Society alum, fellow teacher, and fellow Texas Longhorn — Mr. James Talarico. 
Are there any personal experiences or stories that have driven your interest in public affairs?
I have an Op/Ed I hope to get published this fall with The Baines Report all about my visions for enhancing K-12 education in Texas. I talk about my time as a teacher and my plans for fixing the teacher shortage, once and for all. I'd be happy to share it with anyone willing to read it. 
Are there any specific policy areas or issues that you are particularly passionate about and why?
I'm particularly passionate about school finance and K-12 Education because I believe it is the root of any inequities that exist in our education system. If we can put our heads together to fix school finance, we will fix a large chunk of the inequities that exist within our public schools. 
Please share your academic and professional journey.
I am a first generation graduate from UT Austin. I lived, learned, and interned in Washington D.C. for four months in 2019 as part of the UT System's Archer Fellowship Program. I flew back in the summer of 2019 to become a teacher with Teach For America Dallas-Fort Worth. In my second year teaching, I earned a Master of Education from Southern Methodist University (SMU) in Dallas. After my time with TFA ended, I got promoted to teach Honors English at my alma mater high school, Hillcrest High School in Dallas ISD. I was nominated and named a finalist for Teacher of The Year at my campus. I accepted a fellowship to attend The LBJ School last fall (2022). 
What do you see as the biggest challenges facing U.S. or global policy today?
Apathy and miseducation. 
What goals do you hope to achieve in your career?
I hope to become an elected official, a policy expert, and most importantly a present family member - a great husband to my wife and a great father to my future children. 
Are there any faculty members, innovations, or research centers at LBJ that you're particularly excited to be working with?
I'm excited to learn from Greg Cumpton this fall in my Policy Research Project titled "Education Finance in Texas." He also works for The Ray Marshall Center. Special shout out to faculty members Dr. Sergio Garcia-Rios, Jeremi Suri, and Peniel Joseph — thank you for making learning so engaging and worthwhile. 
How else do you participate within the UT Austin community and the city of Austin?
I am the President of The Friar Society, The University of Texas oldest honor society. Every year since 1911, we have sought out to recognize the best and brightest students at UT Austin making undeniable contributions to student life. Additionally, we have an endowment that awards thousands of dollars every year to professors and faculty members at UT Austin who represent the best our community has to offer. At LBJ, I'm the head coach of our Co-Ed softball team "The Great Softball Society." I enjoy attending gatherings and meetings of other student orgs I'm affiliated with, like Unidos, LBJ Run Club, ICMA, and PACC.
What are your future plans or aspirations?
I hope to gain more experience in education policy and become a policy analyst for Dallas ISD or for The Texas Education Agency in Austin. 
The interview has been edited for length and clarity.