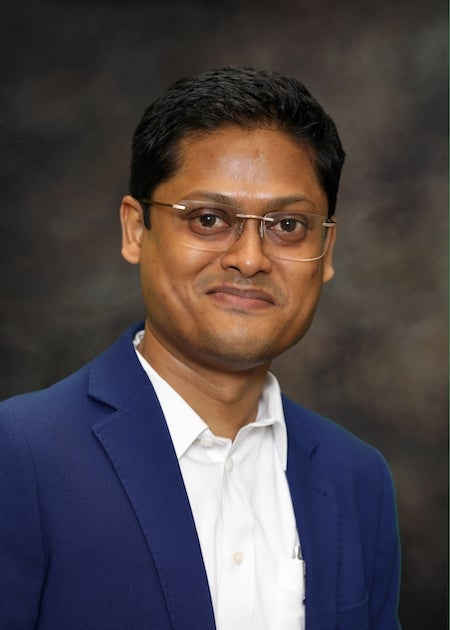 Assistant Professor
Education:
Ph.D., Policy Studies, University of Maryland
M.E.P.P., Joint degree in Engineering and Public Policy, University of Maryland
B.Tech., Mechanical Engineering, National Institute of Technology, India
Research Areas:
Emerging Technologies and International Security
Asian National Security
Nuclear Warfare
Teaching Areas:
Intelligence and National Security
International Affairs and Diplomacy
Research and Empirical Methods
Jaganath "Jay" Sankaran [Juh-guh-nat San-ka-ran] is an assistant professor in the Lyndon B. Johnson School of Public Affairs at The University of Texas at Austin and a non-resident fellow in the Foreign Policy program at the Brookings Institution. He works on problems at the intersection of international security and science & technology.   
Dr. Sankaran spent the first four years of his career as a defense scientist with the Indian Missile R&D establishment. Dr. Sankaran's work in weapons design and development led to his interests in missile defenses, space weapons, nuclear weapons, military net assessment, and arms control. 
The current focus of his research is the growing strategic and military competition between the major powers. In particular, Dr. Sankaran studies the impact of emerging technological advances on weapons systems deployed by these states. Dr. Sankaran has recently written on the military capabilities of China and the counter-military balancing undertaken by the United States, Japan, India, and other states. He has also written about the U.S.-Russian disagreements over missile defenses and nuclear arms control. 
Dr. Sankaran's forthcoming book is tentatively entitled "Bombing to Provoke: Rockets, Missiles, and Drones as Instruments of Fear and Coercion." Drawing heavily from the literature on emotions (fear) in IR, the book theorizes and determines how states employ aerospace weapons to coerce and fight their adversaries. The book argues that rockets, missiles, and drones weaponize fear and intimidate and panic an adversary. The fears amplify the political vulnerabilities of the target state. The fears and political vulnerabilities coerce the target state to divert substantial military resources away from other vital missions, consequently damaging the war's broader strategic aims.  
Dr. Sankaran has held fellowships at the Los Alamos National Laboratory, the Belfer Center for Science and International Affairs, Harvard University, and the RAND Corporation. He has held visiting positions at the School of Advanced Air and Space Studies (SAASS) at the U.S. Air University, Tsinghua University, and the National Institute for Defense Studies (Tokyo). 
Dr. Sankaran has served on study groups of the National Academies of Sciences (NAS) and the American Physical Society (APS) Panel on Public Affairs examining missile defenses and strategic stability. He has published in International Security, Contemporary Security Policy, Journal of Strategic Studies, Journal of East Asian Studies, Asian Security, Strategic Studies Quarterly, Arms Control Today, Bulletin of Atomic Scientists, and other outlets. The RAND Corporation and the Stimson Center have also published his research.
Contact Information
Phone: