Published:
August 25, 2023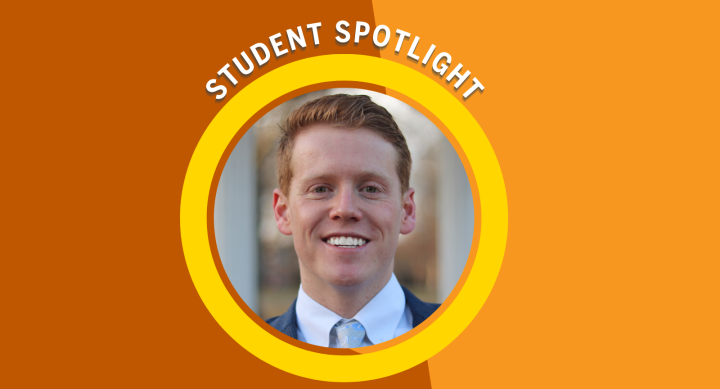 Learn more about the unique stories of our students: their backgrounds, motivations, aspirations and perspectives. Meet LBJ School Graduate Public Affairs Council (GPAC) President Reeves Moseley, who recently interned at the Department of Defense within the Defense Technology Security Administration and currently advocates for students' needs.
Name: Reeves Moseley 
Hometown: Argyle, TX 
Undergraduate University: University of North Carolina at Chapel Hill 
LBJ Degree Program: MPAff 
LBJ Policy Focus: National Security 
Expected date of graduation: May 2024 
Favorite Sports Team: Dallas Cowboys 
Favorite Food: Sushi 
Favorite Movie: Forrest Gump 
Favorite US President: Ulysses Grant 
Hobbies: Tennis, exercising, reading, cheering on the Cowboys, Mavericks, and Tar Heels 
Dream Job: National Security Advisor
What drew you to pursue a degree in public policy/attend the LBJ School? 
I've always been passionate about public policy and coming back to my home state has been a goal of mine. The LBJ School is such a unique institution, from its students to its location in the capital city of Texas. It provides the best overall atmosphere for learning and growing.
Are there any mentors, role models, or leaders in the public affairs field who inspire you? 
LBJ Professor of National Security Admiral William McRaven, Colin Allred, Madeleine Albright
Are there any personal experiences or stories that have driven your interest in public affairs? 
In undergrad, I was a closeted 21-year-old serving as student body president of the University of North Carolina at Chapel Hill. In my role as a student leader, I preached that students deserve equal representation and should be unafraid of embracing who they truly are. Yet, it felt hypocritical that I could not bring myself to do that very thing. I decided to take advantage of my platform as a leader of the Carolina community to express the challenges I faced in coming to terms with my sexuality. I aimed to reaffirm the importance of acceptance in those around me. I felt an overwhelming urge to set a precedent for future generations of Tar Heels and small-town Texans so that they could know that unapologetically being who you are should have no stigma attached to it; in fact, it should be unequivocally celebrated. I ultimately decided to come out as gay through an op-ed in my university newspaper, The Daily Tar Heel, in September 2020.  Coming out in such a public way felt daunting after hiding my sexuality for over two decades. I hoped that this public expression of my own identity would encourage UNC students, faculty, and staff--and maybe my hometown community--to feel that their individualities should also be embraced.
"Embracing my identity has allowed me to appreciate how institutions can uplift the people they serve." – Reeves Moseley
Embracing my identity has allowed me to appreciate how institutions can uplift the people they serve. In my case, my Boy Scouts leaders and the environment within my high school were not supportive. However, because I had that negative experience, I now strive to contribute to a society that does not perpetuate discrimination or marginalization but rather provides opportunity for all. After working at a government relations firm in Washington D.C. for a year following graduation, I was given the opportunity to pursue my passions in the field of public policy at the LBJ School. This experience at such a prestigious institution has reaffirmed my interest in public service and has also increased my desire to pursue a legal degree. Returning to my home state of Texas has significantly impacted my professional goals, and there is absolutely no other place where I would want to earn degrees in public affairs and law than the University of Texas.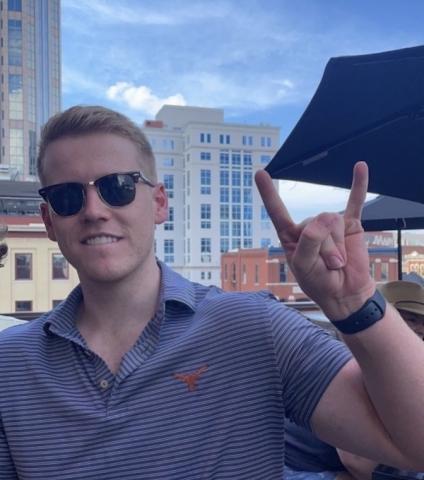 Please share your academic and professional journey. 
Before I began my graduate studies, I served as Government Relations Associate for Merchant McIntyre Associates (MM), the leading federal government relations firm serving local governments, institutions of higher education, and health systems. In this role, I worked in over fifteen (15) client teams for organizations across the nation, helping them navigate the federal government and secure discretionary grant funding. While at MM, I submitted $20 million worth of grant applications and $10 million worth of appropriations requests. Furthermore, I managed the meeting and travel schedules for three (3) Partners and two (2) Vice Presidents at the firm. My management and communication skills allowed me to rapidly progress in my professional development with clients as well as partners while at the firm. As a first-year student in the Master of Public Affairs program, I have been very involved with extracurricular activities both inside and outside the LBJ School. For example, I was appointed by the school's student body president to serve as a representative to the University of Texas and tasked with advocating for the needs of my fellow peers. 
"I was appointed by the school's student body president to serve as a representative to the University of Texas and tasked with advocating for the needs of my fellow peers. " – Reeves Moseley
Additionally, I was elected by the LBJ School's student body to serve on the Graduate Public Affairs Council's committee on community engagement. Through this capacity, I have been able to use my communication skills to connect the student body to the broader campus community and beyond. While serving in these roles as well as being a full-time student, I applied and was selected as a Democracy Fellow for the non-profit Common Cause Texas for the fall semester of 2022 where I worked to ensure voting rights for citizens of Texas by registering voters, working early voting and election day polls, researching legislative priorities and examining voting data across various Texas demographics. My policy and public affairs foundations began in the summer of 2018 when I worked in the House of Representatives and the United States Senate Rep. Michael Burgess and Sen. John Cornyn. On Capitol Hill, I worked with legislative aides in foreign affairs, health care and defense policies. The staff assistants in both offices I interned in primarily chose me for various tasks because of my organizational skills and the positive feedback I received from constituents to whom I gave tours of the Capitol.
Are there any specific policy areas or issues that you are particularly passionate about and why? 
I've always been interested in national security and public affairs, but my background is in more general areas of government relations and public policy. Coming to the LBJ School has exposed me to a plethora of students, faculty and professional opportunities to get my foot in the door in the national security space. In fact, I was able to intern at the Department of Defense within the Defense Technology Security Administration thanks to the experiences I've had here at LBJ.
What do you see as the biggest challenges facing US or global policy today? 
I think that the decline in democracy and the rise of authoritarianism across the world is the biggest challenge we face today. The global advancement towards universal freedom over the next five decades hinges on the vital international solidarity, dedication to common principles and unwavering backing of advocates for human rights within democratic societies.
Have you been involved in any public service, activism, or community engagement efforts? 
I currently serve as president of the Graduate Public Affairs Council (GPAC) here at LBJ. GPAC acts as the school's student government organization. As president, I am the chief representative of GPAC and the LBJ School to external entities. I chair all general assembly meetings and GPAC board meetings. I also serve as the liaison between GPAC and other student organizations. I will serve on councils throughout UT such as UTSG, the Senate on College Councils, and the UT General Assembly.
What goals do you hope to achieve in your career? 
I aim to leverage my education and expertise to contribute to safeguarding our nation's security interests, fostering effective policy decisions, and promoting international cooperation to address global challenges. Ultimately, my goal is to play a pivotal role in shaping and implementing strategies that ensure the safety and well-being of our society on a national and international scale.
Are there any faculty members, innovations, or research centers at LBJ that you're particularly excited to be working with? 
Professor Adam Klein with the Strauss Center. Visiting Professor Michele Malvesti and her class on decision-making as well.
How else do you participate within the UT Austin community and the city of Austin? 
I love UT football. I am so excited to be a part of the fanbase at games this year. I also love taking part in the unique culture that Austin provides. From live music to arts to the outdoors scene, I love immersing myself in everything the city has to offer.
What are your future plans or aspirations? 
While I am not sure what exactly I want to do following graduation, I know that I want to dedicate my career to public service and making our state and nation a better place for everyone. 
Is there anything else you'd like to add? 
I am so grateful to be a part of the LBJ community and am excited to say that I am a Longhorn forever!