Book
Nuclear Terrorism and Global Security: The Challenge of Phasing out Highly Enriched Uranium
New York: Routledge, 2013.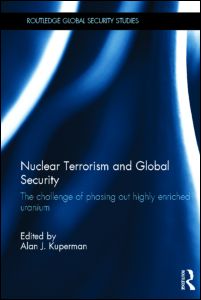 This book examines the prospects and challenges of a global phase-out of highly enriched uranium—and the risks of this material otherwise being used by terrorists to make atom bombs.
Terrorist groups, such as al-Qaeda, have demonstrated repeatedly that they seek to acquire nuclear weapons. Unbeknownst even to many security specialists, tons of bomb-grade uranium are trafficked legally each year for ostensibly peaceful purposes. If terrorists obtained even a tiny fraction of this bomb-grade uranium they could potentially construct a nuclear weapon like the one dropped on Hiroshima that killed tens of thousands.
Nuclear experts and policymakers have long known of this danger but — so far — have taken only marginal steps to address it. This volume begins by highlighting the lessons of past successes where bomb-grade uranium commerce has been eliminated, such as from Argentina's manufacture of medical isotopes. It then explores the major challenges that still lie ahead: for example, Russia's continued use of highly enriched uranium (HEU) in dozens of nuclear facilities. Each of the book's 13 case studies offers advice for reducing HEU in a specific sector. These insights are then amalgamated into nine concrete policy recommendations for U.S. and world leaders to promote a global phase-out of bomb-grade uranium.
Research Topic:
Nuclear Nonproliferation
Security Studies