Carr isn't new to Washington, but she's having a new experience in the city she once called home thanks to a supportive network and courses that offer immediate real-world application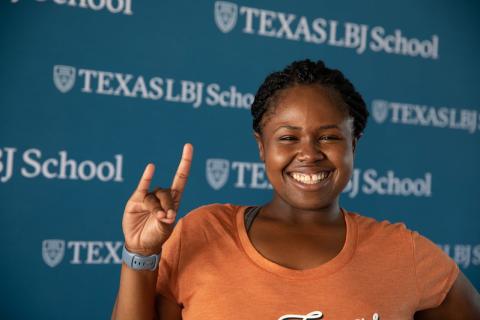 "Coming back to DC this time around six years later, I feel like a completely different person," said Da'Shon Carr, a public affairs graduate student in the DC Concentration. "I'm thriving here. I love it here."
Da'Shon moved to Washington DC in May 2022 to complete her Master of Public Affairs degree. It was her second time moving to the city. 
"My undergrad is what got me interested in federal policymaking," she said. "I did a similar undergrad program through UC Davis that put me in Washington with an internship with the NAACP. That was in 2016, and I fell in love with the city, and thought it would be interesting to come back."
"We didn't take classes when I was here in DC as an undergrad, though. LBJ is completely different in giving us courses to take along with our apprenticeship. Some of the things we've been able to do and the people we've been connected with are completely different from the last time I was here, and there are bigger opportunities. Being older and a little wiser, I see a difference." 
Carr takes classes at the LBJ Washington Center in the evening and spends her days working at the Center for Budget and Policy Priorities (CBPP), a nonpartisan research and policy institute that analyzes the impact of federal and state government budget policies.
Her classes include "Exemplars in Policymaking," "How the US Congress Works," and "How Washington Works." Carr said classes from her first semester in Austin also built an important foundation.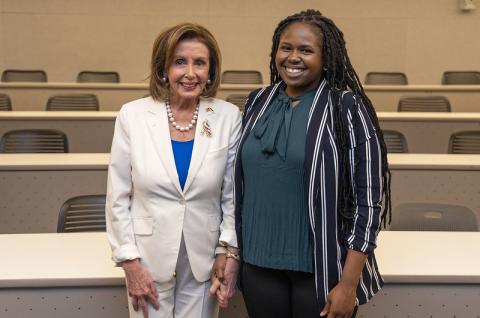 "At the beginning, 'Public Financial Management' scared me but it became one of my favorite classes to take in the fall in Austin," Carr said. "Marty Luby's class is actually the reason why I chose to do work at the Center for Budget and Policy Priorities (CBPP) for my policy apprenticeship. That class pushed me to go towards budgeting in federal policy."
Carr, who is a self-described data nerd, said she's excited the CBPP gives her an opportunity to work with big data sets for greater impact. 
"I call myself a data nerd. I love data," she said. "Being in a federal policy space, I am able to work with the big data sets out there and look at the bigger picture and context as to why certain things are happening."
So far, Carr has a wide range of responsibilities at CBPP within the Family Income Support Team. She's responsible for delivering nationwide communications on new laws related to Temporary Assistance for Needy Families (TANF) policies; tracking nationwide policies on Guaranteed Basic Income, and drafting a memo for CBPP leadership on the impact of child tax credit policies. 
She said her work has been fulfilling. 
"People think you need to be in big fancy places like the White House or Capitol Hill in order to make a change but there's a lot of different ways to create change," she said. "For me, it's actually using data to tell the stories of the communities who have been impacted the most. Data can drive improvements in policymaking." 
In addition to opportunities to bridge her classroom and work experience, Carr is part of a tight-knit LBJ community. 
---
"I'm hoping in the future I can help other incoming students get acquainted with DC and be that same support and resource that others have been for me."
– Da'Shon Carr
---
"Before even coming to DC,  Robin [Robin Boone, associate director of the Washington Center] and Bill [Bill Shute, executive director of the Washington Center]  already put me in contact with LBJ alumni in the area," Carr said. "The alumni network has already benefited me." 
In turn, she wants to mentor incoming LBJ School students who may be considering a future in Washington DC. 
"Another reason why I chose LBJ is the alumni and the foundation the school has built to help students get connected," she said. "I'm hoping in the future I can help other incoming students get acquainted with DC and be that same support and resource that others have been for me."
For anyone interested in the DC Concentration, Carr recommends seeking out mentorship, talking to other LBJ DC students, and visiting the city during Spring Break. 
"I came to DC during spring break and thought this is where I need to be," she said. 
Carr will complete her degree in Washington DC and graduate this December. She wants to continue working at the intersection of financial management and social welfare programs. She is also considering a Ph.D. in Education Leadership. 
"I never thought I would be in this particular space," she said. "But when I explored public policy, I realized I can make an impact. I am so glad that I continued in policy in DC because I wouldn't have these experiences. I appreciate what LBJ has done for me."  
Learn more about the LBJ School's 15-month DC Concentration
Hear from other LBJ School DC students: