Tell us about your focus of study. What inspired you to pursue it?
After graduating from social work in undergrad, I worked as a case manager in homeless services and homelessness prevention. I was struck by the many policy barriers and obstacles that prevented households from achieving long-term self sustainability and autonomy. I wanted to learn how to advocate for policy changes that recognized the dignity, worth and value of every single human. So I pursued a dual degree in social work and public affairs!
What drew you to the LBJ School?
Working as a case manager, my feedback about challenges or barriers in a program were often dismissed because as a social worker, I was simply "too emotional." I wanted to learn how to understand and utilize data to capture and communicate the very real challenges of poverty in addition to lending a compassionate, strengths-based perspective.
What is your favorite memory from your time here earning your degree?
Figuring out how to navigate school and pandemic life became much more bearable with a weekly group led by fellow LBJ/social work peers. They created and fostered a safe space every week that provided virtual support and community. I am so grateful for the hard work of the group's leaders and for the vulnerability, trust and honesty of every single fellow group member during the weekly meetings.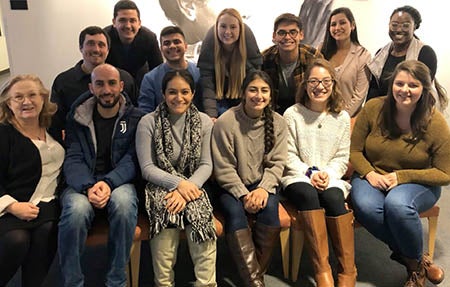 Ruth Wasem with her PRP group (Micaela McConnell is front row second from right).
What class or experience left the biggest impression on you?
There were so many impactful classes — from my policy research project with Dr. Ruth Wasem, survey design with Dr. Abner, economic courses with Professor Sheila Olmstead and Professor James Galbraith to learning ArcGIS in Professor Pavon's class. All of these classes and every one in between helped me better understand the complex nuances of policy while I developed tangible skills. They also left me with more questions than answers, a perfect vault to a lifetime of learning.
What is the most unexpected (non-pandemic) thing that happened to you during your time at LBJ?
The 87th Texas Legislative session. I found a love for the Texas government that I did not realize I had, and a passion to challenge Texas to be the best state for every single Texan.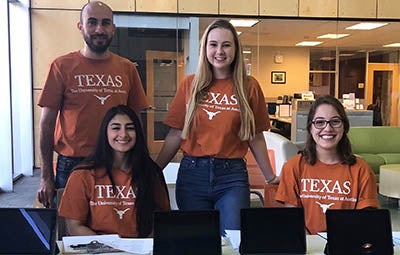 Micaela McConnell (far right) with her PRP field survey group.
You experienced a massive shift to your school experience over the course of the last year. What did you discover about yourself during this time?
I learned how much I value in-person interactions and relationships. I also learned the importance of work-life balance and the power of setting boundaries.
Tell us about your next steps.
I am excited to devote time to strengthening my professional Spanish language skills and then pursue policy work in Washington, DC.
What is your advice to the incoming class?
Soak up as many of the opportunities possible, in LBJ, around campus and in Austin. Give yourself grace when it all becomes overwhelming and difficult. Know that you are enough and absolutely belong in every single one of the conversations, especially if it means you are just there to listen and learn.
What else would you like us to know about you?
It was a privilege to receive my graduate education from LBJ and Steve Hicks. Not only did I learn from experts in the field, but from every single experience, perspective and idea shared by my fellow classmates. I am eternally grateful for the tremendous support and encouragement from my family and friends!
#LBJClassof2021: Micaela McConnell graduates tomorrow with dual master's in public affairs & social work, heading into the policy arena armed w/both passion to create change & new expertise in data & analysis — the killer combo. Proud of you! https://t.co/XvHBZmmCt2 #UTGrad21 pic.twitter.com/AHaX5UC4OA

— The LBJ School (@TheLBJSchool) May 21, 2021