Tell us about your focus of study. What inspired you to pursue it?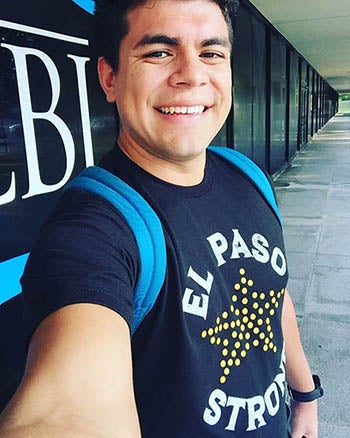 In undergrad, at UTEP (picks up!), I was originally studying chemistry. However, I left school for two years and did a humanitarian mission in Brazil. While in Brazil, I witnessed poverty, classism and government waste. Coming back to the States, I knew that I had to do something to alleviate the injustices here. I went back to school and changed my course of study to social work. During my program, I interned with then-Congressman O'Rourke. That is where I learned about the intersection of public policy and social work. At the same time, there was a rise in nationalism and anti-immigrant rhetoric. Growing up in El Paso, I knew this was not right. I decided then that I was going to go to graduate school to help immigrants, refugees and asylees, who leave countries like Brazil, and come here in search of a better life.
What drew you to the LBJ School?
I knew that I wanted to pursue a Master of Social Work, so I applied to the top program in Texas. I also wanted to pursue a dual master's, but I was not exactly sure in what. Therefore, I applied to LBJ and the Latin American Studies program at UT. Fortunately, I was accepted into all three programs. I chose LBJ because I wanted to gain hard technical skills that I knew would be useful to analyzing, creating and implementing policy. And I am very grateful that I picked LBJ!
What is your favorite memory from your time here earning your degree?
I would have to say that it was my PRP. I was in Dr. Wasem's Welcoming Communities and Immigrant Affairs project. Not only did I gain a lot of those technical skills that I wanted from LBJ, but I was reminded and re-excited about the intersection of public policy and social work in helping immigrants! We were able to conduct field work and survey Dallas' foreign-born population. Going as a class was a valuable professional and personal experience.
What class or experience left the biggest impression on you?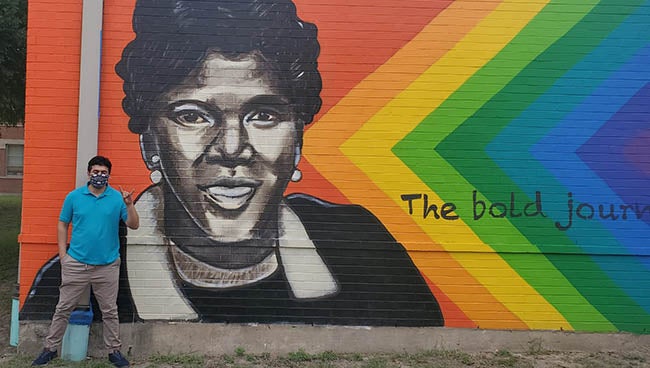 The experience above, reminded me of the work that I love and why I came to grad school. I came to help people. At the end of the day, policy should help people. For me, its not enough to just work with numbers and words; I want to be with the community and work with people. This experience helped guide me to the type of career that I want to pursue. The PRP also lead to two different internships with Dr. Wasem and I've been part of the Immigrant Incorporation team for the past year.
What is the most unexpected (non-pandemic) thing that happened to you during your time at LBJ?
I'd have to say it was being a Barbara Jordan student co-chair for two years. I did not think that I would have been a part of such a great legacy. But I am so grateful that I was able to learn more about Barbara Jordan and continue her legacy.
You experienced a massive shift to your school experience over the course of the last year. What did you discover about yourself during this time?
I learned that I really do not like working exclusively from home. This will help me when considering the type of jobs that I will apply to.
Tell us about your next steps.
Eventually, I want to go back to school and pursue a Ph.D. in public policy and build upon my skills that I gained at LBJ. However, in the immediate future, I will be finishing up my internship at Refugees International over the summer. After that, I hope to find a job in DC and build on the last three years of LBJ experiences.
What is your advice to the incoming class?
Don't take yourself too seriously. There will always be another assignment, another paper, another exam, but don't forget to live and enjoy life during grad school. And impostor syndrome — most people have it; you're not alone. So be kind to your classmates and yourself. If you ever get overwhelmed or discouraged, read your statement of purpose. I did this three or four times over the past three years and it really helped to remind myself why I applied in the first place.
Welcome to the #LBJAlumni family, Aaron! https://t.co/XgdP7tcgkf

— LBJ School Alumni (@LBJSchoolAlumni) May 19, 2021
We're so proud of Aaron Escajeda, one of our amazing portfolio graduates. Congratulations, Aaron! https://t.co/42EthIljZd

— RGK Center (@RGK_Center) May 18, 2021
I am very honored to be spotlighted as a 2021 LBJ graduate! https://t.co/72EuGvavJW

— Aaron Escajeda (@aiescajeda) May 18, 2021