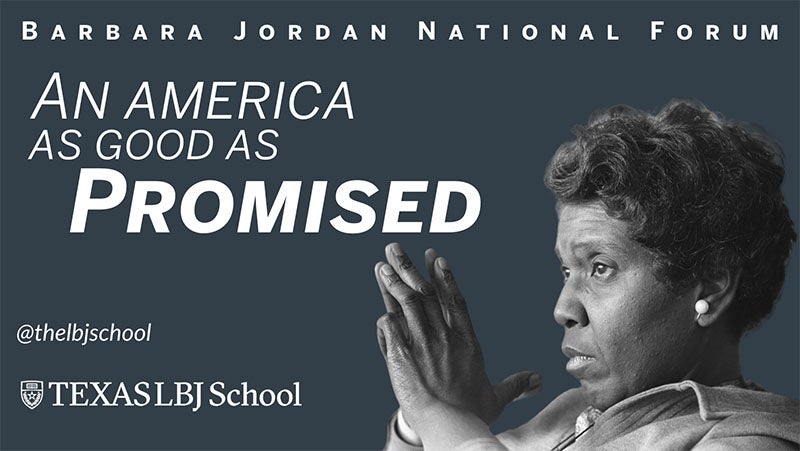 Students at the Lyndon B. Johnson School of Public Affairs paid tribute to the life and work of the trailblazing former congresswoman in the 24th annual Barbara Jordan National Forum (BJNF). These events were rescheduled for March due to the Texas winter storm — watch them below.
A pioneering public servant, policymaker, civil rights leader and educator, Barbara Jordan ended her remarkable career as the Lyndon B. Johnson Centennial Chair of Public Policy at the LBJ School of Public Affairs, where she taught from 1979 to 1996. Her legacy—fighting for equality, social justice and integrity in public service—helps to shape and guide the School and its mission, and each year the Barbara Jordan National Forum honors her memory.
The theme of this year's signature, student-led program comes from Jordan's own words: "What the people want is simple. They want an America as good as its promise." LBJ students Aaron Escajeda, Azeem Edwin, Barbara Kufiadan and Claudia Sandoval serve as co-chairs of the event, which will highlight social policy agendas and consider solutions at the local, state and national levels in the aftermath of the upheavals of 2020.
The forum was planned in conjunction with Professors Peniel Joseph, Barbara Jordan Chair in Ethics and Political Values and director of the Center for the Study of Race and Democracy (CSRD); and Victoria DeFrancesco Soto, assistant dean for civic engagement.
"There is no doubt that the events of 2020 have left our nation in shambles," said Kufiadan, an MPAff student interested in Diversity, Equity, and Inclusion (DEI) and its practice in the public and private sectors. "[After] enduring a global pandemic, racial reckoning and the passing of so many monumental figures of justice and equality, fostering a sense of community is imperative now more than ever. Congresswoman Jordan was essential to proposing legislation that would hold our nation's constitution to the highest standard. We must celebrate the lives of Black folks that have paved the way for democracy while hoping to emulate their passion for a more just world in our own lives."
This year's forum features a keynote talk by Washington Post political reporter Eugene Scott and a panel featuring Harris County Commissioner Rodney Ellis (MPAff '77); Ranjana Natarajan, director of the Civil Rights Clinic at the University of Texas School of Law; and Mercedes Fulbright, organizing director of the Texas Working Families Party.
"Barbara Jordan was a leader in civil rights, for people of color, LGBT individuals and people with disabilities," said Escajeda, an MPAff/Social Work dual degree student interested in immigrant incorporation, refugees and asylees. "If civil servants today led with the same wisdom she did, we would have an America truer to its promise for everyone. I am grateful to be part of the continuing legacy at LBJ that honors her."
Sandoval, an MPAff student focusing on urban innovation and equity, put Jordan's work in perspective as an inspiration for students and young leaders. "Barbara Jordan was a warrior for justice and continues to inspire us to take the mantle in our own communities to fulfill America's promise," she said. "I'm humbled to have the opportunity to be a part of honoring the legacy of the great Barbara Jordan."
"Barbara Jordan was the first African American woman to be elected to the Texas State Senate and one of the first African American women to serve as a member of the United States House of Representatives," said Edwin, an MGPS/Law student and Archer Fellow who has served as co-chair of the Policy Alliance for Communities of Color PACC) and been a fellow at the Center for the Study of Race and Democracy (CSRD) at LBJ. "When I think about Barbara Jordan, I feel proud that a person like that could be born in the same city I was born in. I am also appreciative because I know that everything I got in my life is a product of Jordan's life work."
Barbara Jordan Early College Prep Elementary School
Each year the forum includes a celebration of Jordan's birthday in partnership with Barbara Jordan Early College Prep elementary school. Past speakers at the asssembly have included Austin Mayor Pro Tem Delia Garza (2020); LBJ Professor and former Dean Edwin Dorn (2019); former Housing and Urban Development Secretary Julián Castro (2018); and Dr. Peniel Joseph (2017). The celebration has also included service activities including LBJ students reading to the elementary classes and a book drive.
This year, in honor of Jordan's 85th birthday, the Barbara Jordan student chairs led a clothing drive to benefit the students of Barbara Jordan Early College Prep. The most urgent need is underwear sizes 7–10 and sweatpants in all sizes. Contact Aaron Escajada for more information.
Tuesday, March 23
KEYNOTE: The New Administration and America's Promise
SPEAKER: Washington Post political reporter Eugene Scott | @Eugene_Scott
While a new administration inspires optimism, it remains important to not fall into complacency. As host of "The Next Four Years" podcast, Eugene Scott will speak on "An America as Good as Promised," how that looks in the context of a new administration, and what work still needs to be done.
Thursday, March 25
PANEL: Fulfilling the Promise
SPEAKERS:
"Fulfilling the Promise" is a conversation about how we can create an America that lives up to its promise of the unalienable rights of life, liberty and the pursuit of happiness to everyone regardless of race, status or religion.