Published:
January 22, 2020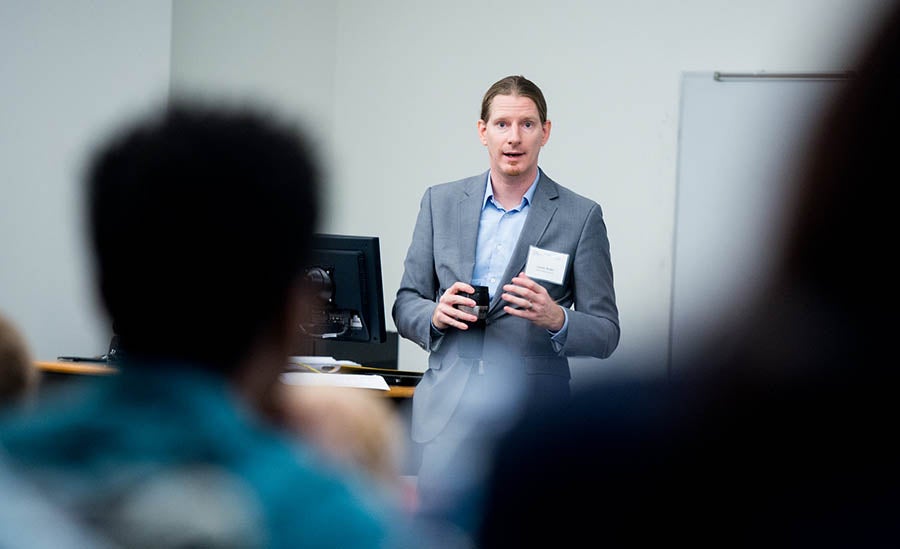 LBJ Senior Lecturer Lorinc Redei speaks to a group of incoming students during orientation in 2016.
The LBJ School helps students pursue their passions while giving them the foundation to research, analyze and take action to find solutions and shape policy.
The Master of Global Policy Studies (MGPS) program is highly customizable, giving students the tools they need to succeed in a globalized policy arena in areas including national security, intelligence and diplomacy, international development, global governance and international law, energy, trade and global environmental policy.
Lorinc Redei, an LBJ School assistant professor of instruction and a former press officer in the European Parliament, serves as the graduate adviser to students enrolled in the Master of Global Policy Studies (MGPS) program, helping students customize their degree, gain professional skills and effectively network in a shifting global landscape.
With the March 15 deadline for Fall 2020 entry approaching, Redei shared with us some thoughts about the MGPS program and why it's a great option for students with a desire to make the world better.
---
What makes the LBJ School's Master of Global Policy Studies (MGPS) program special?
The MGPS program is unique because it blends a small cohort (about 45 students enter each year) with access to a massive Tier-1 research university at UT Austin. This means that within the LBJ School, students get a lot of individual attention and can interact frequently and directly with our faculty. Students benefit from our faculty's professional networks, and receive tailored mentoring. At the same time, UT offers a tremendous wealth of resources across its campus, which means students can dig deep into their areas of interest. The combination of a small MGPS program embedded in a giant university means that students have unparalleled opportunities to tailor and customize their degree plans to fit their interests. 

What is unique about the LBJ School's approach to a degree in global policy?
What sets the MGPS program apart from our competitors is our strong focus on both the "policy" and the "global." First, we are a policy school, which means that all our coursework, training, and extra-curriculars emphasize real-world applications. The LBJ School trains its students not to merely theorize or analyze global events, but to devise implementable policy prescriptions to improve people's lives. Second, the MGPS program is not merely a U.S. foreign policy program. We ask our students to look at global policy problems and think about how international organizations, NGOs or even private actors could best tackle them. This means that our graduates are well-prepared to enter careers in any of these fields, not just in government. 

How do students figure out what they should take/focus on?
MGPS students meet regularly with their graduate adviser to discuss what courses, internships and on-campus research activities or other opportunities would best fit their career interests. This intensive individual advising is a cornerstone of our program: it allows students to customize their degrees in a myriad ways. Which means that no two MGPS graduates have an identical academic experience — they each build their own path to their professional goals. 

What kinds of work/internship opportunities are available to LBJ students?
MGPS students have interned across the globe during their time at LBJ: at international organizations like the United Nations in Geneva or the Asian Development Bank in Manila; at U.S. government offices such as the U.S. Embassies to Greece or NATO or the U.S. Trade and Development Agency; at foreign government bodies such as the German Parliament; at private firms like McKinsey or Deloitte; at non-governmental organizations, for example the World Wildlife Fund or the Open Society Justice Initiative; and at various think tanks and research organizations, among them the Carnegie Council and the Center for Strategic and International Studies. 

What are the most important things you look for in potential MGPS students?
The most important thing to bring to the MGPS program is your own focus. The LBJ School and UT-Austin offer a great richness of courses, research centers, lectures, and professional development and networking opportunities. Students need to arrive on campus with a good sense of how to pick and choose among all these options, or they'll be overwhelmed by the possibilities. So knowing what type of career you aspire to, and what policy areas you want to learn more about are crucial to your success in the MGPS program.
Learn more about the MGPS program, sign up for an info session, watch a webinar and contact us with any questions about the LBJ School.