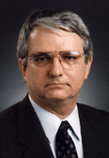 Professor Emeritus of Public Affairs
Education:
Ph.D. in Economics, University of Pittsburgh
Leigh Boske was a member of the LBJ School's faculty from 1977 to 2017. His teaching included courses in transportation, finance and microeconomics. He is a former recipient of The University of Texas Excellence in Teaching Award. His published research focuses on the role of transportation and logistics in international trade and the effectiveness of national/state transportation policies, plans and funding programs. Boske served as associate dean for academics and research at the LBJ School (1996–2006) and interim director of the Ray Marshall Center for the Study of Human Resources (1994–96).
Over the years he has been a consultant to the U.S. House of Representatives, Office of the Governor of Texas, Association of American Railroads, Texas Department of Transportation and the Interstate Commerce Commission. He also has participated in a variety of capacities in the activities of numerous national/international public service and professional organizations. Examples include: executive committee of the Transatlantic Policy Consortium; institutional representative to the Association for Public Policy Analysis and Management; U.S. comptroller general's "Educators' Advisory Panel"; coordinating committee of the Organization of American States' (OAS) Inter-American Research and Training Program; and service on about a dozen National Research Council/Transportation Research Board panels and committees. In 1993 and 1994, he took a leave of absence from the university to serve as policy adviser to the Texas Transportation Commission and to coordinate the analysis of priority transportation issues in the development of the 1994 Texas Transportation Plan. Before joining the LBJ School, he was senior staff economist at the National Transportation Policy Study Commission of the U.S. Congress and served as chief of economic and environmental analysis at the Wisconsin Department of Transportation.