Published:
August 30, 2023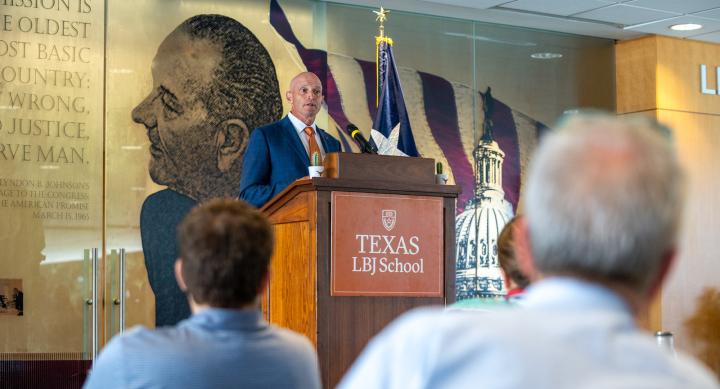 Please click on the soundbar below to listen to the State of the College address.

About 150 students, faculty, staff, alumni and friends congregated for the 2023 LBJ Picnic on the Plaza and State of the College address on Tuesday, Aug. 29. Following Dean JR DeShazo's address, attendees headed to the LBJ Plaza to play lawn games, listen to music, enjoy snow cones and chew on hot dogs and popcorn. 
Learn more about Dean JR DeShazo's address and his vision for the LBJ School this year. The full transcription of the speech can be found below. 
State of the College Transcript
"As your dean, I am delighted to welcome you to the fall semester of 2023. Today, the LBJ School boasts a vibrant community of 412 students, supported by 71 dedicated faculty members, 89 staff and a remarkable network of 4,700 accomplished alumni. We have been recognized as a top 10 public policy school for six consecutive years. When President Lyndon B. Johnson established this esteemed school in 1970, he envisioned a place where people from all walks of life could gain access to the halls of power.
Our efforts to realize this vision have been successful of late. Last year, we reached a high-water mark for the percentage of traditionally underrepresented students admitted to the LBJ School. This year, we celebrate our first-generation students, who make up 18 percent of our entering class, and our military-affiliated students, who represent 8 percent of our incoming class. Last year, our accrediting body, called NASPAA, recognized the LBJ School with its National Diversity Award for the innovative efforts that we've undertaken here at the school. 
As many of you know, the state legislature recently passed SB 17, banning us from both having DEI offices and related DEI training and protocols. I want to be clear about the values that motivate the LBJ School. We take our charge from our benefactor President Lyndon Johnson who said, 'It is not enough just to open the gates of opportunity. All of our citizens must have the ability to walk through those gates. This is the next and the more profound stage of the battle for civil rights. We seek not just freedom but opportunity. We seek not just legal equity but human ability, not just equality as a right or a theory but equality in fact and equality as a result.'
"We seek not just legal equity but human ability, not just equality as a right or a theory but equality in fact and equality as a result." - President Lyndon B. Johnson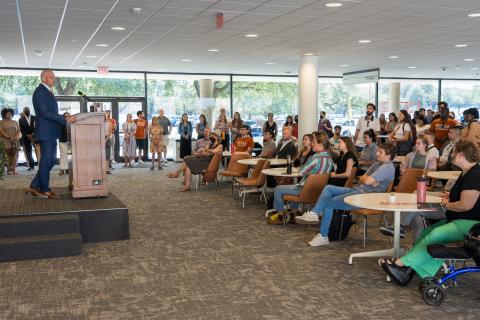 We at the LBJ School are committed to eliminating the many barriers that prospective students face and still are challenged in gaining knowledge of and access to our school. And we are committed to creating a culture of belonging and success for students from all backgrounds. Fostering a sense of belonging at the LBJ School is especially important given our history for both our traditionally unrepresented students as well as our students with more conservative political policy points of view. And as dean, I am committed to raising the resources and leading the effort to commit additional effort and staff to achieve the goals of even greater accessibility and belonging here within our community.
More broadly, the LBJ School seeks to mend the social fabric of our democracy which has frayed by polarizing discourse and an ongoing culture war. Our democracy works best when we listen to each other and try and persuade each other of our best collective choices. Our democracy is weakened when we villainize one another and try to silence one another. 
As a school that trains the next generation of public servants and leaders, we cherish our role as a forum for uncomfortable and diverse policy discourse. In my two short years as your dean, I have welcomed Vice President Kamala Harris and former Vice President Mike Pence, Speaker Emerita Nancy Pelosi as well as Senator John Cornyn. We believe, as Lady Bird Johnson said, that 'the clash of ideas is the sound of freedom.' And that this freedom of speech and the competition of ideas is integral to the health of our democracy. 
The soon-to-be-launched Patman Center for Civic and Political Engagement at the LBJ School will deepen our investment in civic discourse and cultivating leadership. The Patman Center builds on the LBJ School's long tradition of preparing exceptional public service leaders through experiential learning opportunities, expanding access to public office and reducing barriers to political participation. And we welcome the new director Emily Bhandari, who is here today.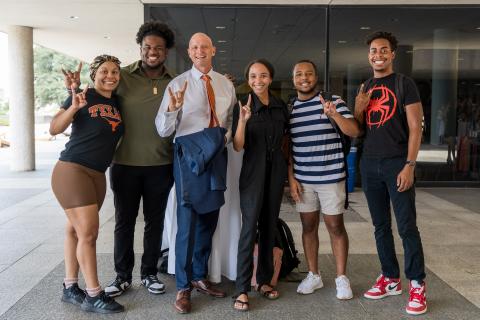 As we look forward, we are committed to becoming the highest-impact policy school in the world. As a testament to that aspiration, we are a top choice for both student and faculty talent.
We welcomed 174 truly impressive new students this year. Among these exceptional individuals are individuals like Desiree Reed, a first-class cadet from the US Air Force Academy. She's joined our Master of Global Policy Studies program to study the impacts of emerging and disruptive technology on great power competition. 
And Gerlin Leu, who rose to the top of a pool of 900 nationwide applicants to receive the Thomas R. Pickering Foreign Affairs Scholarship. She entered the Master of Global Policy Studies program with dreams of joining the U.S. Foreign Service after graduation. 
The ambition of these students and others exemplifies the spirit of our community. To expand learning opportunities for all of our students we are offering a new global policy-focused spring semester at our D.C. campus. This D.C.-immersive one-semester program will be open to all LBJ School students starting this spring as well as some selected undergraduates.   
We also welcome nine new full-time faculty to the LBJ School this year, with expertise in immigration, African-geopolitics and policy, criminal justice reform, and child and family policy.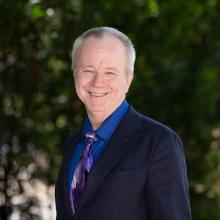 One such faculty member is former Ambassador Larry André, who retired from the State Department's Senior Foreign Service after a 37-year career having served as ambassador to Somalia, Djibouti and Mauritania.  
Another faculty member joining us is Dr. Katherine Rittenhouse, whose work focuses on policies related to child and family well-being, with a particular focus on child maltreatment and our child protection system.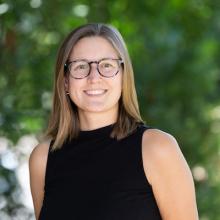 Our faculty are proud to be known for research that transforms lives. 
This past year with $6 million in support from more than 50 different funders, our faculty are addressing challenges from extreme weather impacts to foreign policy threats, to continuing and persistent racial discrimination, health inequalities, to just name a couple of the challenges we're tackling. 
Our faculty are also having a tremendous impact on policy makers and policy development. Dr. Sheena Greitens was selected to serve as a fellow of the U.S. Army War College, where she will help a new center on China studies. Dr. Patrick Bixler is partnering with the City of Austin to better prepare our city for extreme heat, flooding and wildfires in the face of growing climate change. 
The LBJ School is also expanding our investment in learning and leadership for our mid-career students. We have redesigned and launched our Executive Master of Public Leadership, having just welcomed our largest class ever of 25 students into that program. And these students are preparing themselves to lead public, nonprofit and private organizations.
We also have the Governor's Center for Management Development, which has trained thousands of government leaders across Texas. Under its new director Pamela Foster Brady, the Governor's Center plans to expand its offerings to better meet the needs of state and local governments here in Texas and across the South.   
And then, to perhaps my biggest announcement of today, the LBJ School is planning to directly serve undergraduates for the first time in its 53-year history. 
"To perhaps my biggest announcement of today, the LBJ School is planning to directly serve undergraduates for the first time in its 53-year history." - Dean JR DeShazo
 I'm delighted to share that we have received early-stage approvals to implement our first-ever Bachelor in Public Affairs. If all goes according to plan, we'll launch this exciting new degree program in the fall of 2025. 
So, the bottom line is that we are serving more students at more stages of life, building a diverse set of pipelines to public service and leadership. So it is with gratitude that I want to acknowledge the distinct contributions that each one of you make to our LBJ community and its mission.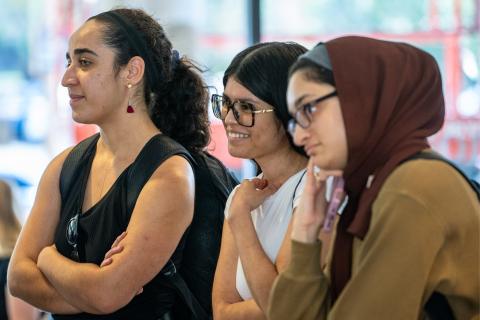 To our esteemed faculty and staff, your expertise and dedication form the foundation of our success. 
To our LBJ Foundation and advisory council, your unwavering support fuels our mission. And I want to especially thank some of the folks who are here today: LBJ Foundation President Mark Updegrove; alumnus Paul Kinscherff; and our advisory council members Josh Levine and Rebecca Taylor. Thank you all for your service and support.
But most importantly, I want to thank our students. You have given us the privilege to shape your future. And you are the heart of our community. Your presence inspires our mission. And your passion for a better world through public policy propels us towards what is achievable. 
The LBJ School has the know-how and the resolve to change the world. And together, we're forging leaders and solving the world's greatest problems. Thank you all, and hook 'em!"