On Thursday April 21, graduate students, community members, UT faculty and staff, and other supporters attended the CONNECT Community Showcase event at the LBJ School of Public Affairs. For the first time since its beginning in 2019, participants in the CONNECT program gathered to learn about the impact current and former CONNECT fellow work has made on organizations that have a data challenge.
At the start of the evening, seven current and former CONNECT fellows presented the methods and takeaways from their data projects during a poster session (student names and topics listed below). McCombs graduate student Grace Chiu won the Community Choice Award at the end of the evening for her work with Young Invincibles, a national organization that works to amplify the voices of young adults in the political process and expand economic opportunity.Take a look at all the student posters.
Amanda Cantu — "Developing Diversity, Equity, and Inclusion Outcomes and a Long-Term Evaluation Plan" (RGK Center)
Brie Winnega Reamer — "The Giraffe in the Room: Designing Internal Training Processes and Materials for Capital IDEA"
DaShon Carr — "Equity at the Forefront of Survey Design" (Young Invincibles)
Felipe Antequera — "Examining How Well Foundation Communities' Services Address the Barriers That Affect Its Residents' Ability to Stay Housed"
Grace Chiu — "Mental Health Resource Landscape in Higher Education Institutions Across Texas" (Young Invincibles)
Kat Brinkley — "Developing a Logic Model to Advance the Creative Mission of The Contemporary Austin"
Niina Nomura Nibling — "Developing a Logic Model for Monitoring and Measuring the Impact of Philanthropy on the Local Community" (Impact Austin)
---
---
Attendees were then invited to join a panel discussion, led by leaders of three local nonprofits and moderated by faculty lead for the CONNECT project, Dr. Patrick Bixler. Panelists were current or former CONNECT organization partners and included:
The panelists shared their stories of how they came to be involved in the CONNECT program and the impact it has made on their organization so far. In summer 2021, Lourdes Zuniga came to CONNECT at a time when she thought she would have to close the doors of Financial Health Pathways. She described herself as a one-woman show, working 16-hour days and unable to see an end in sight. Through CONNECT, she partnered a graduate student who worked with her on a rebranding strategy that allowed her organization to rapidly expand across the state and achieve stability.
All panelists shared the belief in the importance of accurate and equitable data practices for their nonprofits and for the sector, especially when making decisions about programming and funding, as well as identifying client target populations. "Data is the new gold," said Michael Ward, adding that nonprofits have a particular challenge in using quantitative data to tell the real-world story of their clients and the community. Panelists discussed the important role data plays in advancing diversity, equity, and inclusion in the work of individual nonprofits to provide a space for voices in marginalized communities to be heard.
Dr. Patricia Alford, whose organization represents rural Bastrop County, stressed the importance of communities gathering their own data rather than relying on broader datasets that don't capture the needs and important stories of individuals living in these communities. Through the CONNECT program, Bastrop County Cares worked with a CONNECT fellow to develop a data dashboard that provides real-time data to organizations in Bastrop to better help them identify distressed areas of the community and improve their programs.
Panelists and moderator Dr. Bixler reflected on the growth CONNECT has seen in the past three years, and the important role it has played in bridging the University and the community. The sharing of talent, ideas and networks between the University and the nonprofit sector through CONNECT has been a rewarding outcome for all involved, including nonprofit organizations, UT Austin graduate students, and faculty and staff at the RGK Center.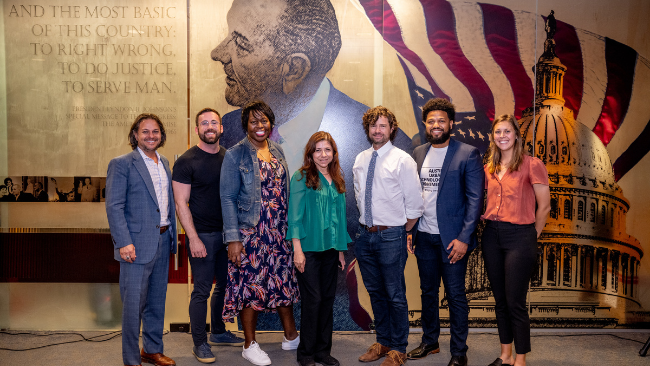 RGK Center Director David Springer, Dr. Patrick Bixler and Program Manager Alyssa Studer with CONNECT fellows.