Published:
November 30, 2022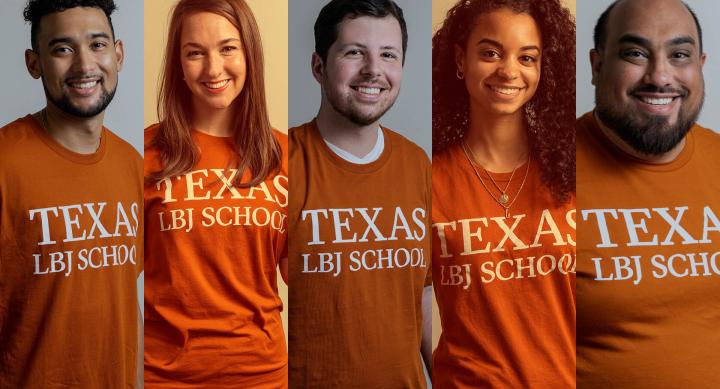 The DC Concentration aims to transition LBJ DC Fellows into the federal policy workforce a full semester earlier than traditional public policy programs. LBJ DC Fellows graduate in December of their second year of studies, rather than the following May.
The LBJ Washington Center proudly celebrates its 2022 graduates on Saturday, December 3, 2022 at 3 in the afternoon. Sarah Morningred (MPAff DC) will deliver remarks on behalf of the class. Brandon J. Archuleta, Ph.D. (LBJ'14, GOV '15) will serve as the December ceremony's graduation keynote speaker.
Meet the DC Graduates
Sarah Morningred, MPAff DC
Policy interests: Effective government; foreign humanitarian policy; educational equity
Policy Apprenticeship: Office of Management and Budget, Office of Performance and Personnel Management, Federal Workforce Branch
Sarah Morningred has long dreamt of working for the federal government. She says the LBJ Washington Center has been a front door to opportunities in the nation's capital. She was recently selected by her peers to represent them as class speaker in the December graduation. Learn more.
"The community of students and professors at LBJ is so special." – Morningred
"The DC Concentration undoubtedly strengthened this sense of community," Morningred said. "If you've ever moved across the country to a brand new place and been worried about how you'll meet people and make friends—the DC Program is nothing like that. You get to move across the country with 14 of your dearest friends. You get to settle into a new city with a support network already in place. It is such a unique and bonding experience."
Matt Brodeur, MPAff-DC
Policy interests: Climate change; democratization and good governance; campaign finance
Policy Apprenticeship: U.S. Representative William R. Keating (D-MA)
Brodeur said, "As an undergraduate Political Science major who tended to sidestep math classes, I never thought I would end up being a TA for a graduate statistics course. I also never expected to eagerly attempt to persuade my parents that, yes, a course called public financial management actually is interesting and critically important for so many reasons. But the LBJ School prides itself on developing well-rounded leaders, and I think I was a beneficiary of that focus."
"The DC Concentration has proven to be exactly what I was looking for in graduate school – an opportunity to learn from established leaders in the classroom while providing the structure and support to seek out my own professional experiences."

"Most of all though, the program has provided me with a network of my peers, the 13 other members of our DC cohort, who are all incredibly talented, mission-driven people who will undoubtedly go on to serve in inspiring and diverse ways."
Eric Bustos, MPAff-DC
Policy interests: Urban policy and strategies
Policy Apprenticeship: American Public Transportation Association (APTA)
After a decade of experience in state and local government, government affairs professional Eric Bustos packed his bags to live, study and work in the nation's capital. Learn more.
Bustos said, "My LBJ experience, as I had hoped, was anchored in the community or family culture at the school. When I was looking at different policy programs, one of the essential things I was looking for was a student experience that was more than just academic but was also a place where other students supported each other along the way. I found just that at the LBJ School almost immediately, and the support from my LBJ classmates was something that sustained me in Austin and DC."
"The DC leg of the program offered many great opportunities to meet people in the federal policy space and experiences like going to the White House or the Congressional Baseball game."
"The Austin experience was great, getting to know the LBJ faculty and staff and exploring other policy interest areas, but the DC experience was exceptional. Also, it was inspiring to continually hear about my cohort's great work and experiences at their Policy Apprenticeships."
Da'Shon Carr, MPAff-DC
Policy interests: Equity and access in higher education; nonprofit and philanthropic innovation; social welfare
Policy Apprenticeship: Center on Budget & Policy Priorities
Carr said, "To summarize my LBJ experience I would do it all over again and wouldn't change a thing about it. I chose LBJ because I knew I would get a top-tier education in a place that would enhance my policymaking career. I wanted an experience that would enhance my mission of giving back and empowering my community to enact change. I wanted an education where the two most influential, powerful Black women in policymaking, Barbara Jordan and Stacey Abrams, once stepped foot. I am forever grateful for this experience and wouldn't change a thing about it."
"I hope my LBJ-DC experience inspires more students to come to DC and get their feet wet in this vibrant policymaking space!"
Learn more about Carr's experience attending the LBJ Washington Center.
Blake Comrie, MGPS-DC
Policy interests: U.S.-EU relations; global development; U.S.-China policy
Policy Apprenticeship: U.S. House Foreign Affairs Committee (Republican Staff)
"From the first day meeting the DC cohort to graduation day, the LBJ experience has been an endless adventure."
Comrie said, "My experience at the LBJ School has been beneficial academically, professionally, and personally. When I first heard about the LBJ School DC concentration, it almost seems too good to be true. To have the opportunity to live in one of the most exciting cities in the country, Austin, for two semesters, to then shift to the nation's capital to put our education and skills to the test. Thankfully, the last eighteen months did not only meet my expectations, they thoroughly exceeded them.
It has been a privilege to work and befriend such a diverse group of students and professionals. One of the LBJ School's core strengths is, and will continue to be, its ability to attract such a vibrant student body. Over the last eighteen months, being both in Washington DC and Austin, I have had the opportunity to learn, grow, and experience two cities with a fantastic cohort that I proudly call my friends. I want to thank my family, friends, professors, and all the fellow Longhorns for helping make this day happen. Hook'em!"
Jalaina Douglas, MPAff-DC
Policy interests: Reparations; civil rights; criminal justice
Policy Apprenticeship: Office of Majority Whip James E. Clyburn
Douglas said, "The DC Concentration and my experience in House Majority Whip Clyburn's Office has offered me opportunities and experiences I never would have imagined I'd get."
"I never thought I would be working at the United States Capitol in the former office of one of my civil rights heroes, the late Congressman John Lewis. Throughout my time on the Hill, I have interacted with Congress Members, done research to assist our policy team on now introduced bills, and developed friendships with really awesome people in the Clyburn office and other Congressional offices. I have enjoyed getting to see the processes of passing legislation and its impact up close. My time here has led me to continue working on the Hill post-graduation.
The thing that really set my DC Concentration experience apart is my amazing cohorts! My classmates are an amazing bunch of people who were paramount to my success in the program. I am so grateful to have met them all; we have developed a bond that will last a lifetime."
Jaren Gaither, MPAff-DC
Policy interests: Health care economics; equitable access to health care services
Policy Apprenticeship: MITRE
Gaither said, "Attending LBJ school was the best decision I could've made for my academic and professional career. The courses and professors in Austin did a great job preparing me for real-world policy roles, and much of what I learned I was able to use during my policy apprenticeship in DC. Besides being able to work in DC and influence actual federal policy as a grad student, one of the highlights of the DC Concentration were the guest speakers."
"The courses and professors in Austin did a great job preparing me for real-world policy roles, and much of what I learned I was able to use during my policy apprenticeship in DC."
"Before coming to the LBJ School, I worked at the intersection of state government and the private sector, consulting for state agencies. Hearing the stories of the guest speakers and learning more about their backgrounds and their work in the federal government has piqued my interest in possibly working for the federal government one day.
The relationships you form with your fellow cohort members is another reason why I am glad to have been in the DC Concentration. From the start, the DC cohort members bonded quickly, and many of us live together now in DC. Having a support system of your peers to help navigate around DC was extremely helpful. Moreover, in DC, we've bonded over going to museums, sporting events, policy talks, and more. I've truly made lifelong friendships through the DC Concentration."
Luis Guerrero, MPAff-DC
Policy interest: Latino civic engagement
Policy Apprenticeship: The White House Office of Scheduling and Advance
Guerrero's highlights from the LBJ School are:
Student Life
"With my fellow peers, we created Students Unidos at the LBJ School - the program's first Latino-led student organization. As the org's founding president, we continued the work that Dr. D started: organizing events to promote our diverse culture, recruiting more students and faculty of color, and building community. We also raised over $1000 for Ms. Sarah with O's during the holiday break."
Instagram
"When I hosted a Day in the Life story on Instagram, I highlighted the many things I love about the LBJ School: the support group that I found in Bill, Robin, and my fellow classmates; the ability to apply to apprenticeships in our Nation's Capital, and the privilege to take courses taught by amazing faculty, including Admiral McRaven and the Olmsteads."
Work Experience
"During my fall semester, right before finals, I participated on my first advance trip with the Biden-Harris Administration. Although it was demanding, and it led to no sleep, I am glad I continued volunteering with them throughout my spring and summer semesters because it led me to my current job in the admin."
Research Experience
"Lastly, I worked as a Senior Student Associate at the Strauss Center, where I continued to apply my research interests in the national security space."
Samuel Hershman, MPAff-DC
Policy interests: National security, defense, and intelligence policy; domestic extremism
Policy Apprenticeship: Forbes Tate Partners and U.S. Senator Amy Klobuchar (D-MN)
Sam's fondest memories of Austin will be asking Speaker Nancy Pelosi a question during her LBJ School talk and meeting with CIA Director John Brennan during his visit to Sam's national security class.
During his time in Austin, Sam Hershman worked on the security studies portfolio run by the Clements Center for National Security. Sam took full advantage of the LBJ School's robust national and international security programs, taking classes in national security, U.S. defense intelligence, and Middle East foreign policy to supplement his public affairs degree.
Sam's Iranian proxy presentation was a proud and notable highlight of his time in Austin. Sam and his peers Doug Tracey and David Johnson presented a detailed foreign policy solution to demilitarize Hamas, neutralize Iran's influence in Gaza, and restructure Gaza's political structure for significant humanitarian and economic investment.
In Washington, Sam started as a Public Affairs Intern at Forbes Tate Partners, working on strategic advocacy and government relations campaigns. He was a significant contributor to the Coalition for App Fairness, a collection of tech companies advocating for the Open App Markets Act. A bill designed to prevent Apple and Google from continuing anti-competitive business practices on their app stores.
In September, Sam transitioned to Capitol Hill, where he served as a Legislative Intern for Senator Amy Klobuchar. Sam was the lead policy fellow for the Senator's Senior Foreign Policy Advisor. During his time with Senator Klobuchar, Sam conducted foreign policy research and wrote memos for the Senator on topics ranging from political updates in Ukraine to Chinese trade policy and policy solutions to accelerate adoption for refugee children.
What Sam valued most about the LBJ School was that federal policy was not studied in a vacuum. The LBJ School brought influential and successful policymakers into the classrooms and lecture halls. For him, that is the "LBJ difference," and that is why he will always have a love and fondness for the LBJ School and the DC Program.
Eric Holguin, MPAff-DC
Policy interests: Public education; poverty reduction; foreign affairs and diplomacy
Policy Apprenticeship: National Migrant and Seasonal Head Start Association
Holguin said, "Being able to be a part of the LBJ School is the equivalent of being a part of a family that seeks only to lift each other up and push one another to achieve greatness in their field. Coming in as one of the "elder" students, the program taught me a lot of new lessons and ways to explore various topics but also to polish up what I have learned in my career in public service and in politics. Spending time in DC has been quite the experience for me. Being able to be directly in the rooms where decisions on public policy are being made gives this DC program an elevation to this degree that is unmatched. I've always believed that the best way to learn about the job you want to do is to do the job you want to do and being in DC provides that opportunity."
"One of my proudest moments to date has been my work on getting the PACT Act signed into law -- the largest veterans healthcare bill in 44 years. Simultaneously learning about the legislative process in class and literally working on the PACT Act in real time in Congress allowed me to directly apply my LBJ skills to this major piece of legislation."
Emma Morgan, MPAff-DC
Policy interests: K-12 education; special education; public education in rural areas
Policy Apprenticeship: Venn Strategies
Morgan said, "Living and working in DC was a childhood dream of mine, one that I was able to realize thanks to the DC Concentration program. I have loved getting to learn alongside such a talented and driven group of young people from different backgrounds with even more diverse interests. My time at LBJ has challenged me intellectually and professionally, and has helped show me what I am capable of."
"Throughout my time at LBJ, I have been exposed to and gained experience in several different policy areas including education, health care and the environment."
"I've been able to spend time researching my first passion, education policy, and working on state-specific data and policy models that could address current downfalls in special education law implementation. I have been fortunate enough to work on an ongoing grant initiative with Dr. Angel and her international colleagues in the Gender and Health Policy specialty. Through my policy apprenticeship at Venn Strategies, I harnessed both research and professional marketing skills on their health care team which has helped me land a job as a government contractor working with the Department of Defense on environmental issues."
Cynthia Kay Niemeyer, MPAff-DC
Policy interest: Energy
Policy Apprenticeship: ClearView Energy Partners, LLC
Niemeyer said, "The DC Concentration has changed my life. I came to school with a vision and hope that I could achieve a career that married my passion for engineering and energy with public affairs. But I knew that if I was going to really do this, I needed to be in a program that got me to DC[...]"
"I chose the DC Concentration because I viewed it as the triple threat - amazing University, opportunity to work in DC, expedited program so I graduated faster and could re-enter the workforce quicker."
"This program exceeded even those expectations. I got the opportunity to move across the country with 14 of my closest friends (a forever bonding experience) and learn a new city together. I entered the workforce in energy policy for the first time, and I saw all the hard work pay off. As I jumped headfirst into a position that embodied the exact nexus of energy and policy I was searching for, I found my LBJ experience to become relevant as I dug further into energy policy and government.
I am deeply proud of my personal and professional transformation during my time at LBJ. These 18 months changed everything for me and I am eternally grateful for LBJ, and especially to my cohort. We did it!"
Philip Romike, MPAff-DC
Policy interests: Public financial management; infrastructure resiliency; life-cycle procurement strategies
Policy Apprenticeship: Office of Management and Budget, Office of Federal Procurement Policy
Romike said, "Being in the LBJ Washington Center has exceeded my expectations tenfold. I knew I could come to LBJ and learn qualitative analysis and hone my writing skills, but I walked away with so much more. I leave with a newfound appreciation for public management, lifelong friends, and work experience in the highest echelons of the Federal government.
I am incredibly grateful for my time at the OMB and Office of Federal Procurement Policy. I worked alongside some of the brightest minds in our nation, right next to the White House. OFPP gave me opportunities I never thought possible; I assisted in evaluating procurement equity initiatives, crafted AI governance, and outlined federal contractors' green gas disclosure requirements."
"Every day I was in a unique position to serve my country and be a steward for the American taxpayer. I couldn't imagine a better foundation for a man looking for a future as a public servant."
Maxwell Shulman, MGPS-DC
Policy interests: International security; comparative (constitutional) politics
Policy Apprenticeship: Business Network for Offshore Windand Professor Zachary Elkins
"We're here to learn, and we learn from the professors - which is why I'm personally delighted that I found them excellent."
"Most of them have cut their teeth in battles in the 'real world' before retreating to their ivory tales to tell us the war stories. There are good people here.
D.C. presses each of my weaknesses: political action, neoclassical architecture, history, some of the finest museums, and a lot of people thinking about policy. There are certainly a lot of opportunities somewhere out there for someone like me."