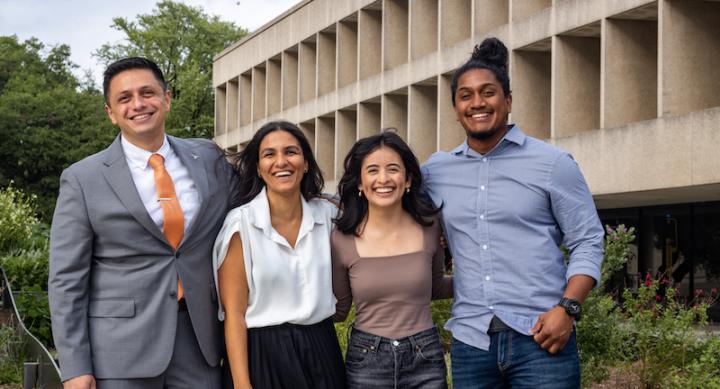 The LBJ School of Public Affairs at UT Austin will proudly celebrate its 2023 graduates at commencement on Saturday, May 6, 2023 at 10:30 a.m. Brianna McBride (MPAff) will deliver remarks on behalf of the class and Jaime Lizárraga, MPAff (LBJ '90) will serve as the ceremony's graduation keynote speaker.
Class of 2023 Stats
First graduating class of four MPAff/MD Dell School of Medicine students 
155 students graduating from the 52nd class
28 students graduating with dual-degrees
54% MPAff 
34% MGPS 
8% DC 
4% Ph.D.
Meet a few of our outstanding grads:   
Nouf Aburas, MGPS   
Robert Allen Jr., MGPS   
Astrid Alvarado, MPAff 
Francisco Castellanos-Sosa, Ph.D. 
Odera Okafor, MPAff and MD
Nouf Aburas, MGPS
Hometown: Jeddah, Saudi Arabia             
Policy interests: Energy and Development             
Fellowship: Helen and Robert Strauss Foundation             
Future plans: Technology Strategist at Saudi Aramco
International student Nouf Aburas applied to graduate school at 28 and knew she wanted to focus the rest of her career on energy poverty around the world.              

"I chose LBJ because I believe there is no better place to study energy than Texas, and because of the evidence-based rhetoric in the international development specialization. One of the most important determinants of my decision to join LBJ is the generous fellowship I received from the Helen and Robert Strauss Foundation."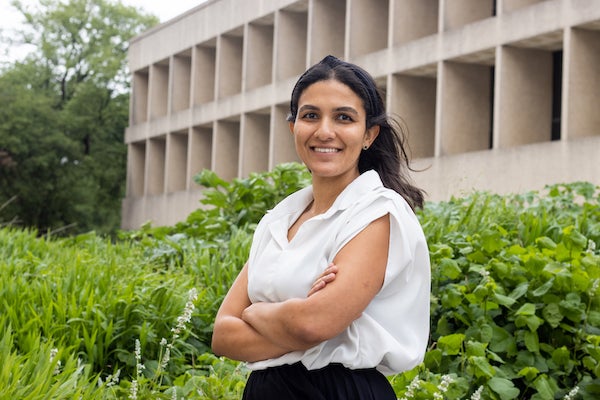 "I came into LBJ thinking I will learn about energy poverty but ended up learning so much about psychology, migration, and misinformation." – Nouf Aberas
Aburas said in addition to energy poverty, she was pleasantly surprised to learn much more about psychology, migration, misinformation, different cultures, religions and backgrounds.             

"Some of my favorite memories are the day we decorated the Dia de los Muertos altar organized by Unidos, watching World Cup football matches in LBJ and Eid AlFitr celebrations in 2022."
Robert Allen Jr., MGPS
Hometown: Fort Valley, Ga.             
Policy interests: Security, Law, and Diplomacy             
Fellowship: Pickering Foreign Affairs Fellowship (State Department)             
Future Plans: Diplomat at the U.S. Embassy in Riyadh, Saudi Arabia
First-generation college student Robert Allen Jr. said he knew from a young age that he always had a passion for people and for service but it took him some time to pinpoint public policy.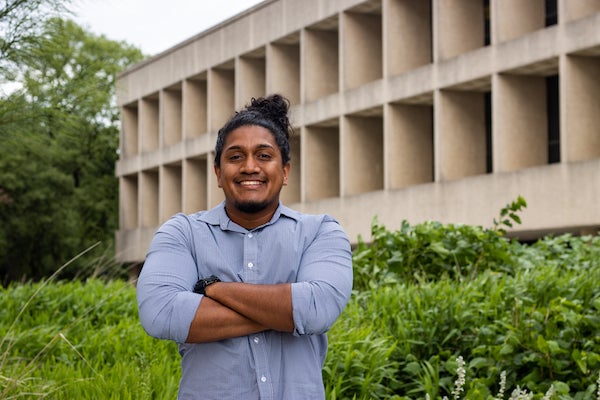 "For most of my life I wasn't quite sure what I wanted to be but I knew it had to be centered around people and service. Public policy grants me the opportunity to do just that. " - Robert Allen Jr.
Allen said one of his fondest memories was meeting former Secretary of State Condoleezza Rice and that he takes a lot of pride in graduating from the LBJ School.              

"If you are passionate about making a difference and shaping policy but don't want to gravitate towards institutions primarily centered around the northeast region of the US, the LBJ School is the place for you." 
Astrid Alvarado, MPAff
Hometown: San Antonio, Texas             
Policy interests: Public Finance, Education Policy, Urban Development             
Future Plans: Data Policy Analyst for the Comptroller of Public Accounts
First-generation student Astrid Alvarado grew up in a low-income community and said her community faced many disparities such as a lack of access to quality education, employment, healthcare and other areas of concern.             

"During my time as a college advisor in an underserved high school in San Antonio, Texas, I saw that many of my students experienced the same hardships I did growing up, however many of them were unable to overcome these challenges. I realized that changes needed to be made in my community, and those changes need to start with us as advocates. The LBJ School has opened doors for me and allowed me to develop so much in my professional life. I am proud to be a part of the 5.9 percent of Latinas that have received a master's degree."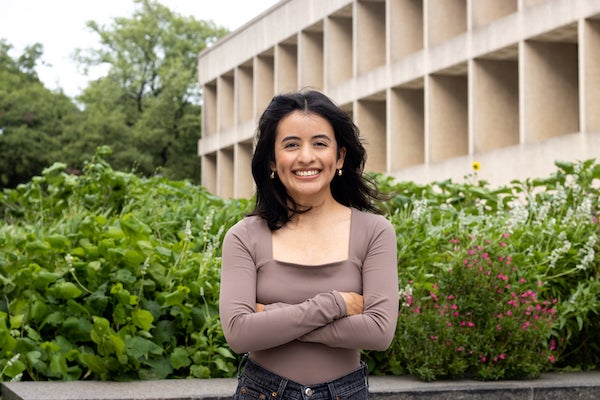 "My driving purpose throughout my higher education journey has always been to give back to the community that shaped me into the person that I am today. " - Astrid Alvarado
Alvarado said the LBJ School empowered her to find her voice and rely on her network to advocate for real change in underprivileged communities.              

"I had the opportunity to create a business with my classmates in my PRP course, social entrepreneurship. Our business is a consulting agency aimed at providing resources such as legal, financial, marketing, and mentorship to small, minority businesses in the Austin area. This is an idea we have worked hard on all semester and hope to have our business up and running in the near future."
Francisco Castellanos-Sosa, Ph.D.
Hometown: Veracruz, Mexico             
Policy interests: Income Inequality, Labor Economics, International Economics             
Fellowships: Graduate School Dissertation Writing Scholarship; RGK CONNECT Fellowship; LBJ Professional Development Award; Barbara Jordan Professional Development Fund; Graduate Dean's Prestigious Fellowship Supplement; PRC Statistical Consultant Fellowship; CONACYT/ConTex Fellowship; IHS Human Studies Fellowship
Future Plans: Senior Research Associate at the Texas Census Institute
International student Francisco Castellanos-Sosa chose to study public policy to improve his research on economic issues by learning from some of the best experts in the world in order to make it more tangible and meaningful.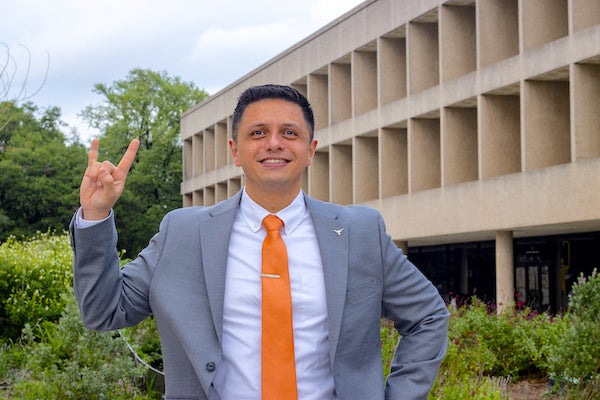 "Attending the LBJ School provided me with strong skills to perform meaningful research and boosted my passion to make our world a better place to live." - Francisco Castellanos-Sosa
Castellanos-Sosa said that even though he's presented research at several different international conferences and events, it was very special for him to participate in the inaugural LBJ Policy Research Workshop. The LBJ School organized the event so doctoral students could share policy-relevant research ideas and perspectives with students from other disciplines across the campus and beyond. 
Odera Okafor, MPAff and MD
Policy interests: Reproductive Health              
Future plans: Obstetrics and Gynecology at UC-San Francisco              
Photo and interview courtesy of Dell Medical School.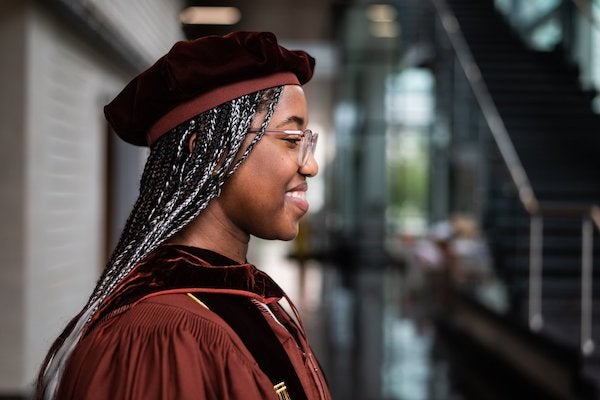 "My master's is a tool to speak the language of lawmakers, and to understand how health care and insurance policies affect physicians' work and our patients' lives." - Odera Okafor
After earning her Master of Public Affairs in addition to a medical degree from Dell Medical School, Okafor will begin her training in obstetrics and gynecology this fall at the University of California, San Francisco.
"I'm passionate about reproductive justice and patient autonomy. Access to fertility treatments and having children in a safe and healthy environment feeds into anthropology and policymaking, and the idea that health care is a social element within a community. I helped write a policy that the Texas Medical Association adopted to standardize health care for pregnant incarcerated people within the Texas jail system. It was a passion project of mine. When you help the most vulnerable, that leads to everyone being impacted because all standards of care are uplifted."