The 25th annual Barbara Jordan National Forum (BJNF), a student-driven celebration of the groundbreaking work and legacy of former congresswoman, distinguished public servant and teacher Barbara Jordan, highlights The Common Good.
Barbara Jordan taught at the LBJ School of Public Affairs from 1979 to 1996 as the Lyndon B. Johnson Centennial Chair of Public Policy. It was the final chapter of her long career as a public servant, civil rights leader, educator and policymaker who worked tirelessly for social justice and integrity in public service. Her contributions to history and to the education of future change-makers act as a lodestar to the School and its mission, and each year the Barbara Jordan National Forum honors her memory.
LBJ students Brianna McBride, Zoē Parker and Kuro Tawil serve as co-chairs of the event, whose theme this year comes from this quote from Jordan's DNC address: "A nation is formed by the willingness of each of us to share in the responsibility for upholding the common good." The forum was planned in conjunction with Professor Peniel Joseph, Associate Dean for Justice, Equity, Diversity and Inclusion (JEDI), Barbara Jordan Chair in Ethics and Political Values and director of the Center for the Study of Race and Democracy (CSRD); and JEDI Direcor Estevan Delgado.
The student chairs took a few minutes to talk with us about this year's theme, their involvement in the Barbara Jordan National Forum, and why they take inspiration from Jordan's life and work.
---
LBJ: Why did you choose this year's theme?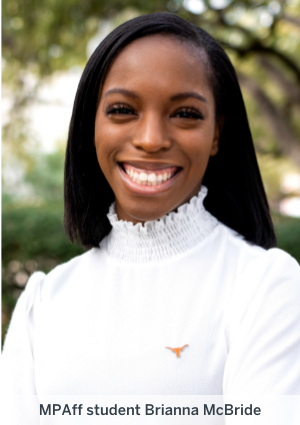 McBride, Parker and Tawil: The theme that unifies this year's Barbara Jordan National Forum is The Common Good. The theme is sourced from a quote from Jordan's keynote address at the 1976 Democratic National Convention. The speech was historic, marking the first time a Black woman had delivered the keynote address. Her poignant words captured the sentiment of a politically divided nation. Nearly 50 years later, her call to action still feels germane.
The LBJ School trains us as policymakers, the stewards of public well-being. Many of us have, or will, devote our lives and careers to upholding the common good. As Barbara notes, this responsibility is shared among us all. In recognition of this, the co-chairs have intentionally created events designed to stimulate conversation and tangible actions within the LBJ School community.

LBJ: What does it mean to you to be a Barbara Jordan chair?
Parker: Barbara Jordan's legacy is evident across the nation, but it is particularly significant here in Texas and at the LBJ School. Serving as a co-chair for the Forum allows me to help create a space for Jordan's impact to be known, celebrated and carried on. This year's chairs have worked to curate events that engage the LBJ School community in education and service. It is my hope that the dialogue and actions spurred from the Forum will contribute to the betterment of LBJ and the broader community.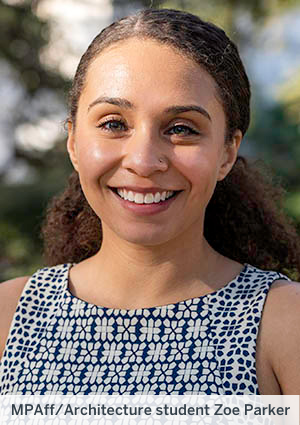 On a personal level, I am deeply inspired by Barbara Jordan's commitment to advocating for what is right. I am honored to highlight her life and legacy as a co-chair this year.
McBride: When the opportunity came to co-chair this event, I jumped at it. The ability to coordinate the forum allows me to showcase the legacy of Barbara Jordan in an innovative way. It's important for us as policy professionals to remember what she stood for. Her resilience and commitment to a larger purpose is truly inspiring. I wanted to give the LBJ School and beyond a way to come together and celebrate her memory. This year, our programs will embody that.
Tawil: To me, being a Barbara Jordan chair means not only representing her life and legacy while we are here at LBJ, but also the impact she made as we go forth into our careers. It has been a pleasure and an honor to work with my other co-chairs to showcase everything that Barbara Jordan stood for and I look forward to representing her legacy, and her determination moving forward.

LBJ: Why do you find Barbara Jordan inspiring?
Parker: I aspire to exhibit the type of servant leadership that Barbara Jordan did throughout her decades-long career. In everything she did as a politician and an educator, Jordan displayed integrity and remained committed to the public good. Her tireless pursuit of equity secured rights that I and many others hold dear — minimum wage, fair employment practices and voting access.
Jordan was a trailblazer, unafraid of walking down uncharted paths. She was the first Black woman to hold a seat in the Texas State Senate and the first to chair the Labor and Management Relations Committee. She made history as the first Black individual to represent Texas and the first Black woman to represent a Southern state in Congress. In 1976, she became the first woman and the first Black woman to deliver the keynote address at the Democratic National Convention.
Barbara Jordan was the first to do many things, but her lifetime of advocacy ensured that she wouldn't be the last. As I embark on my own career in public service, I look to her as a role model.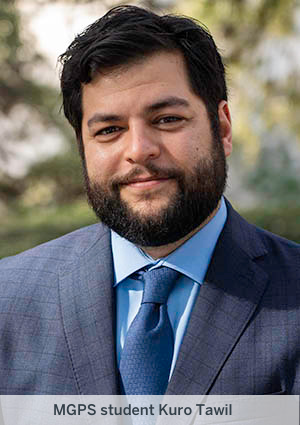 McBride: Barbara Jordan was a champion for change. As a Black woman, I'm inspired by her tenacity to be the first. At that time, when everyone doubted her and didn't think she belonged at the table, she brought her own seat. She broke the mold and never faulted to fight for what was right and just. Learning more and more about the story inspires me to never give up on my passions, stay true to what I believe in, and fight for justice for all.
Tawil: Barbara Jordan dedicated her life and career to helping effectuate change. A woman of many firsts, her determination and perseverance in the face of adversity make her an inspiration to everyone who has obstacles to overcome. A true champion of the people, her legacy is not just words on paper, but tangible results that we see and feel to this very day.

LBJ: Why is this annual student-led celebration important?
McBride, Parker and Tawil: More than two decades after her passing, Barbara Jordan's work remains relevant in today's political and social landscape. The annual Barbara Jordan National Forum is both a celebration of Barbara's life and an opportunity to ensure that her legacy lives on. Students are at the heart of the LBJ School community, so having students lead an event centered on community engagement just feels right.
The timing of the Forum, during the culmination of Black History Month, is particularly apropos. Every year, this event marks an invaluable opportunity for the LBJ community to reflect and learn. We look forward to carrying on the tradition this year!
All events will be streamed live on the LBJ School's YouTube channel.
Thursday, Feb. 10, 2022
EVENT: Policy Alliance for Communities of Color (PACC) First Friends: Community Building through Mentorship
This engagement session will lay out Barbara Jordan's role as a mentor and mentee, explore peer mentorship programming at LBJ, and engage participants on the role of mentorship in their lives. Speakers include First Friend Coordinator David Cruz and JEDI Director Estevan Delgado.
Monday, Feb. 21, 2022
EVENT: Upholding the Common Good: Within the LBJ Community
Join the BJNF co-chairs for an activity celebrating Barbara Jordan's birthday and opening the final week of Barbara Jordan National Forum. Tune in to @thelbjschool on Instagram during the day as the co-chairs take over.
Tuesday, Feb. 22, 2022
EVENT: Distinguished Lecture: Houston Mayor Sylvester Turner
The 62nd mayor of Houston, Sylvester Turner, visited the LBJ School to remark on the importance of upholding the "common good" in public service, while also honoring the legacy of legendary Houstonian Barbara Jordan.
Wednesday, Feb. 23, 2022
EVENT: Honorary Address from Dr. Colette Pierce Burnette
The LBJ School welcomed Dr. Colette Pierce Burnette, president and CEO of Huston-Tillotson University, for a distinguished address on the legacy of Barbara Jordan. This event marked the inaugural presentation of the Barbara Jordan Public Service Award.
Thursday, Feb. 24, 2022
EVENT: Strengthening Democracy Through Civil Dialogues: Voting Access & Community Engagement
Rudy Metayer (EMPL '16), president & executive director of the Texas Black Caucus Foundation, and Brencia Berry (MPAff '16), director of coalitions and community engagement at the Democratic National Committee, discussed the current landscape of voter access and participation — both in Texas and nationally — and how investing in community engagement and coalition building is integral to ensuring inclusive and equitable representation and policymaking that combats racial disparities.