Published:
November 15, 2022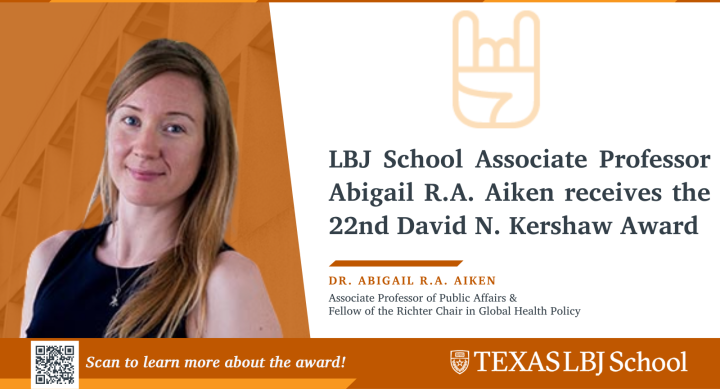 The University of Texas at Austin professor Abigail Aiken has been selected to receive the David N. Kershaw Award and Prize for her contributions to the field of public policy analysis and management. Professor Aiken will be honored at the 2022 Association for Public Policy Analysis & Management (APPAM) Fall Research Conference in November 2022.
Aiken is an associate professor of public affairs and a fellow of the Richter Chair in global health policy at the Lyndon B. Johnson School of Public Affairs. She completed her M.D. at the University of Cambridge, her M.P.H. at Harvard University, and her Ph.D. at The University of Texas at Austin.
Aiken is an accomplished researcher focused on unintended pregnancy, evidence-based obstetric practice, and the impacts of laws and policies restricting access to abortion. Dr. Aiken's training in clinical medicine, public health, population science, and public policy analysis provide a unique lens through which she has examined reproductive health policy from multiple perspectives. In addition to frequently publishing research in respected peer-reviewed journals, she has reached beyond academia to inform and shape public policy through expert testimony and prominent media outlets including the Associated Press, Reuters, the New York Times, the Washington Post, the New Yorker, The Economist, and the Wall Street Journal.
Aiken's work has been critical in shaping major public policy decisions about women's public health on three continents. In 2018, she provided expert testimony to the Irish Parliament on the country's pending abortion referendum. In 2021, her research on the safety and effectiveness of telemedicine was cited by the U.S. Food and Drug Administration as part of the basis for its landmark decision to remove the in-person dispensing requirements for mifepristone. In 2020, her work on the impacts of restrictive state abortion policy was cited by the U.S. Supreme Court as key evidence in cases that proved decisive for maintaining abortion rights in Texas and Louisiana. Her earlier work on Zika set the stage for policy changes in several South American countries.
"Dr. Aiken's unique ability to blend her background in clinical medicine, public health, and policy analysis, as well as her talent for conducting accessible, action-oriented research that can be used by decision makers around the world, are a powerful combination in today's modern policy discussions," said Paul Decker, president and chief executive officer of Mathematica. "Her commitment to the use of evidence and her ability to extend the reach of her work beyond the halls of academia are a model for today's rising stars in public policy analysis and management."
As the 22nd winner of the David N. Kershaw Award and Prize, Dr. Aiken joins a cohort of professionals under the age of 40 who have made distinguished contributions to the field of public policy. David Kershaw, for whom the award is named, was the first president of Mathematica. In the spring of 1979, he helped guide the establishment of APPAM—and Mathematica's principal role within it—before his death from cancer later that year at the age of 37. The award in his memory was created in 1983 and has since been jointly administered by Mathematica and APPAM.
The David N. Kershaw Award and Prize is among the largest awards offered in recognition of outstanding work in public policy research and social science, with recipients receiving a commemorative sculpture and a $20,000 cash prize. Past winners include Sanya Carley of Indiana University (2021), Kirabo Jackson of Northwestern University (2020), David Deming of Harvard University (2019), Esther Duflo of the Massachusetts Institute of Technology, and the late Alan Krueger of Princeton University.
"Policymakers and elected leaders are debating and considering changes to abortion policy in real time. Dr. Aiken's work generating new, credible knowledge about the impacts of policies is more important than ever," said JR DeShazo, dean of the LBJ School. "On behalf of the LBJ School, I'd like to extend a warm congratulations to Dr. Aiken on the Kershaw Award."
Professor Aiken will deliver the Kershaw Lecture, entitled "After Roe: What is the Role of Evidence in US Reproductive Health Policy?" during the 2022 APPAM Fall Research Conference in November 2022.