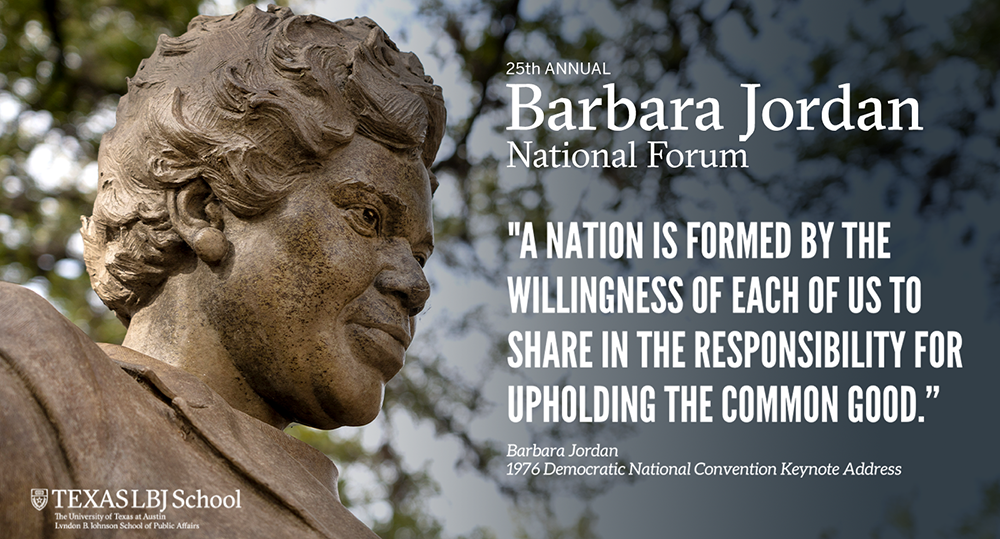 Students at the LBJ School of Public Affairs at The University of Texas at Austin will pay tribute to the life and legacy of former congresswoman, distinguished public servant and teacher Barbara Jordan during the 25th annual Barbara Jordan National Forum (BJNF) throughout the month of February.
The theme of the 2022 celebration, "The Common Good," comes from this quote from Jordan's 1976 keynote address to the Democratic National Convention:
"A nation is formed by the willingness of each of us to share in the responsibility for upholding the common good."
All events will be streamed live on the LBJ School's YouTube channel.
---
25th Annual Barbara Jordan National Forum — Schedule of Events
Thursday, Feb. 10, 2022
EVENT: Policy Alliance for Communities of Color (PACC) First Friends: Community Building through Mentorship
This engagement session will lay out Barbara Jordan's role as a mentor and mentee, explore peer mentorship programming at LBJ, and engage participants on the role of mentorship in their lives. Speakers include First Friend Coordinator David Cruz and JEDI Director Estevan Delgado.
Monday, Feb. 21, 2022
EVENT: Upholding the Common Good: Within the LBJ Community
Join the BJNF co-chairs for an activity celebrating Barbara Jordan's birthday and opening the final week of Barbara Jordan National Forum. Tune in to @thelbjschool on Instagram during the day as the co-chairs take over.
Tuesday, Feb. 22, 2022
EVENT: Distinguished Lecture: Houston Mayor Sylvester Turner
The 62nd mayor of Houston, Sylvester Turner, visited the LBJ School to remark on the importance of upholding the "common good" in public service, while also honoring the legacy of legendary Houstonian Barbara Jordan.
Wednesday, Feb. 23, 2022
EVENT: Honorary Address from Dr. Colette Pierce Burnette
The LBJ School welcomed Dr. Colette Pierce Burnette, president and CEO of Huston-Tillotson University, for a distinguished address on the legacy of Barbara Jordan. This event marked the inaugural presentation of the Barbara Jordan Public Service Award.
Thursday, Feb. 24, 2022
EVENT: Strengthening Democracy Through Civil Dialogues: Voting Access & Community Engagement
Rudy Metayer (EMPL '16), president & executive director of the Texas Black Caucus Foundation, and Brencia Berry (MPAff '16), director of coalitions and community engagement at the Democratic National Committee, discussed the current landscape of voter access and participation — both in Texas and nationally — and how investing in community engagement and coalition building is integral to ensuring inclusive and equitable representation and policymaking that combats racial disparities.
Event Details
Date and Time
Feb. 10 to 23, 2022, 12:15 p.m. to midnight