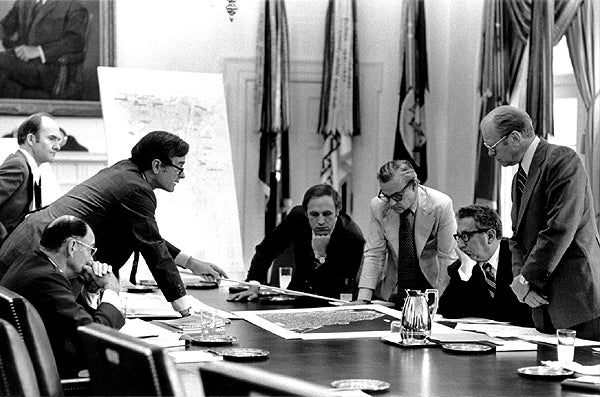 On Oct. 1, 2019, the Clements Center for National Security will host John Gans, director of communications and research at the University of Pennsylvania's Perry World House, for a talk on "White House Warriors: How the National Security Council Transformed the American Way" at The University of Texas at Austin.
Gans teaches graduate and undergraduate classes on the international order, the politics and process of American foreign policy, and national security. He is also a fellow at the German Marshall Fund of the United States. 
Until 2017, Gans served at the Pentagon as chief speechwriter to Secretary of Defense Ash Carter. He was the principal adviser to the secretary on planning, positioning and preparation of remarks, managed a team of writers and drafted dozens of speeches delivered around the world on defense policy in the Asia-Pacific region, Europe, Russia, the Middle East and around the world. In addition to leading the writing team at the Defense Department, Gans served in the Obama administration as senior speechwriter for Defense Secretary Chuck Hagel (2014) and Treasury Secretary Jack Lew (2015). In the wake of the Sept. 11 attacks, Gans served as a press liaison at Ground Zero in lower Manhattan, where he helped brief the press on behalf of the Federal Emergency Management Agency (FEMA). The experience drove his interest in public service and national security. Since then, Gans has worked at the U.S. Defense Department, the U.S. Treasury Department, in the office of Speaker of the U.S. House of Representatives Nancy Pelosi and for U.S. Sen. Hillary Rodham Clinton. In 2010, he joined the U.S. Navy Reserve and currently serves as a lieutenant assigned to the Pentagon.
Gans earned his M.A. (2009) and Ph.D. (2014) from the Johns Hopkins University School of Advanced International Studies (SAIS). He defended with honors his dissertation on White House strategic decision-making during war. He received his undergraduate degree from Northwestern University (2000). He lives in Haddonfield, New Jersey with his wife, Anjuli Srivastava Gans, a pediatrician, and their two sons.
For more information on this event, contact Elizabeth Doughtie at elizabeth.doughtie@utexas.edu.