On Wednesday, March 30, the RGK Center collaborated with the Policy Alliance for Communities of Color (PACC), a student group at the LBJ School of Public Affairs, to host an event exploring philanthropy in communities of color. The panel was moderated by LBJ student Muneeb "Meebs" Aslam and consisted of: Rubén Cantu, executive director of the Office of Inclusive Innovation and Entrepreneurship at UT Austin; Kendra Garrett, development consultant at Betco Housing Lab and LBJ School alum; and Tyeshia Wilson, director of engagement at Philanthropy Together.
Each panelist shared thoughts on philanthropy's role in advancing social change. The panel explored a variety of community-centered philanthropic practices that expand thinking beyond conventional philanthropic patterns. Audience members included current graduate students, funders and leaders of local nonprofit and community organizations.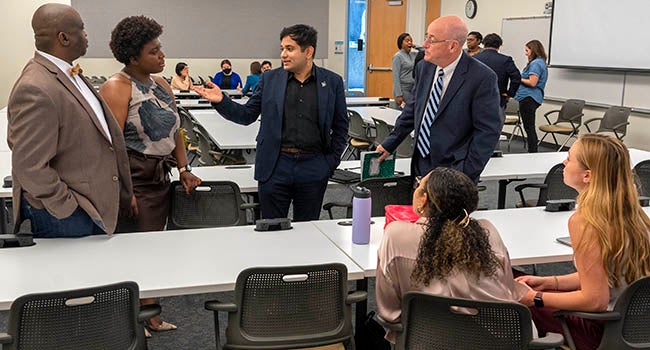 Event attendees discuss topics brought up during the panel portion of the event during a breakout session.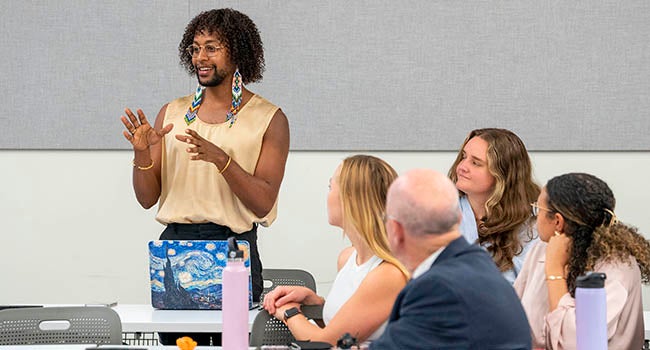 MPAff student Jean Sano Santana asks a question to the panel.
Cantu shared his experience developing the Community Resilience Trust ATX in response to the community's needs at the start of the pandemic in 2020. Through daily Zoom calls to "gain an understanding of each other," a once-disparate group of organizations and community leaders began developing a relationship of trust to achieve a collective mission of making Austin a more equitable city. His model of trust, he explained, consists of three things: open and transparent communication, congruency (between what you say and what you do) and consistency over time. Cantu's recommendation for how to build infrastructure that fosters equity, diversity and inclusion was to "find a network that represents your values; if you can't find one, build that network. Tie other networks together and stop perpetuating silos." Cantu also shared the desire for philanthropists and funders to collaborate among themselves, pool funding and make efforts to avoid past biases.
---
---
An LBJ School alumna, Garrett has been working with the Austin Community Foundation to develop and launch a new Black Impact Fund. During the panel, she emphasized the importance of big foundations leaning into trust-based philanthropy. While working with Austin Justice Coalition (AJC), the organization received a grant from Open Society Foundation to change the narrative of "how police show up in our communities...and where our dollars should be going in terms of funding healthcare or housing." She explained that because both the organization and the funder understood the history of the issue in Austin, as well as how policies have been developed, they were able to form a relationship built on trust. Garrett emphasized the importance of funds for capacity building in grassroots organizations and meeting people where they are to work together as a "family unit" to address significant policy issues facing the city.
Wilson's work with Philanthropy Together centers "people-powered philanthropy," especially though giving circles, and the impact individuals can have on their community. "We have everything we need to give our communities what they need to thrive," Wilson said. "I wish we knew how to view ourselves as philanthropists first, especially communities of color, because that's so important in terms of our legacy and our collective impact." Wilson shared the importance of involving youth in philanthropic practices to learn decision-making skills and think critically about different issues in the community. Wilson shared her belief that millennials are also going to be a critical group in the advancement of more equitable philanthropic practices. "As we think about the future of funding, millennials have to think about how we can also invest in philanthropy in a way that's meaningful to us," she said, noting that people in this age range may be facing other financial hurdles like buying a home, paying off student loans, or raising children, but that even small donations can make an impact when pooled together. "The diversity of funding to support social change is definitely going to come from us."
As the event wrapped up, each panelist shared a final thought about their work in the philanthropic space working within communities of color. "Philanthropic work, for me, is an act of love — it's one and the same," Cantu said in closing. "I invite you to see philanthropy as a way of being, not doing."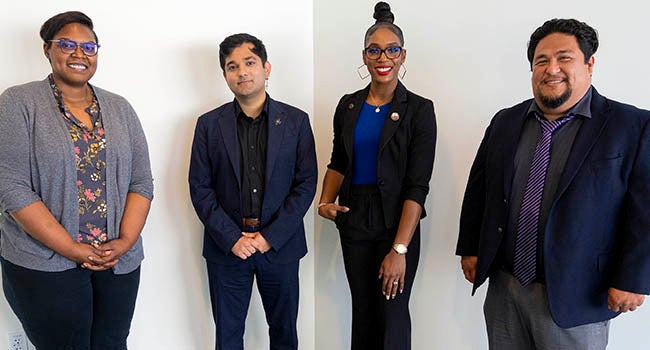 Event panelists pose with moderator Muneeb "Meebs" Aslam (second from left), who is a current MPAff student, member of PACC, and LBJ School GPAC President.