Published:
February 10, 2023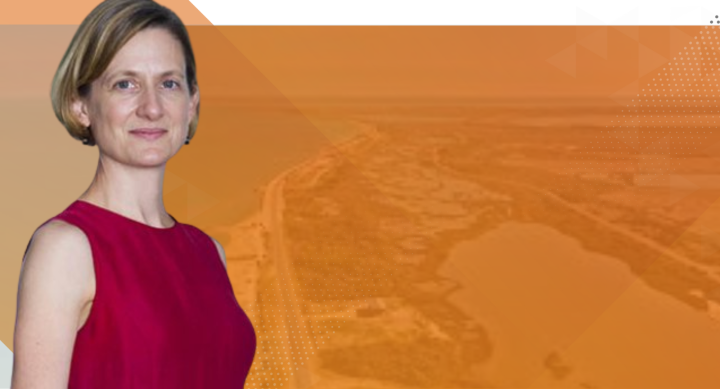 Sheila Olmstead, an environmental economist from The University of Texas at Austin, will look at the economic benefits of controlling water pollution along the Texas Gulf Coast, Puget Sound and Long Island Sound, thanks to a $740,000 grant from the Environmental Protection Agency.  
The research team, led by Olmstead, will look at both water recreation and housing demand to evaluate both the recreational value and amenity value of water quality changes in these three coastal regions over the past 20 years. The team will also compare waterbody types, regions and socioeconomic characteristics of property owners and people participating in water-based recreation. Olmstead's collaborators are at the University of Illinois, the University of Maryland – Baltimore County, and the University of Wisconsin. 
---
"When economists have estimated the benefits of major water quality regulations, in many cases, the estimated benefits are less than the costs," said Sheila Olmstead. 
---
"Having just celebrated the 50th anniversary of the Clean Water Act in October, it is a great time to consider why, when economists have estimated the benefits of major water quality regulations, in many cases, the estimated benefits are less than the costs," said Olmstead. "One potential explanation is that economists' models have failed to capture some important ways in which people value water quality improvements. Building on prior work in which we show that accounting for where people recreate on the water dramatically increases estimates of the impact of pollution control on property values, we hope to provide a more comprehensive estimate of the benefits of controlling water pollution in these three coastal areas in the U.S. that are major recreation destinations and also incorporate large urban housing markets." 
Changes in nutrient pollution and dissolved oxygen have the potential to limit recreational water use and drive down property values. For example, algae can make it unpleasant or difficult to access water for boating and fishing, and some toxic algae blooms can harm people and animals.  
Researchers say there is an economic and environmental benefit to preserving water quality. Across the United States, the beneficial impacts of healthy waterbodies can be extensive. These benefits include recreational uses such as swimming, boating, and wildlife viewing as well as increased property values and reduced drinking water treatment costs. Quantifying these benefits can help support national, state, tribal and local water quality decision-making.  
Researchers expect to publish their findings over the next three years.  
Olmstead, who teaches at the LBJ School of Public Affairs, is one of four grant recipients from four universities for research to refine the measurement of benefits of water quality improvements.  
"At EPA, we know that when we take action to protect and improve our water resources, communities see economic and environmental benefits in return. That's why the Agency is supporting research to improve the scientific basis behind the measurement of these benefits," said Chris Frey, Assistant Administrator for EPA's Office of Research and Development. "The research funding […] will help communities and environmental experts better estimate the costs and benefits of improved local water conditions, especially in underserved and overburdened communities." 
However, there are many gaps in the existing research, such as the valuation of water quality improvements in many areas, the benefits of improvements to coastal areas, and how water quality changes may impact underserved communities. To address these and other research gaps, the funded projects will evaluate economic benefits and costs, including predicting the environmental justice and other distributional consequences of surface water quality improvements nationwide.  
Other grant recipients include researchers from the University of Minnesota, University of Wisconsin and the University of Missouri.