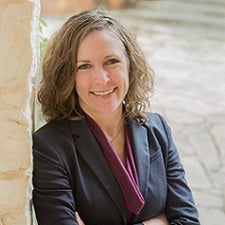 Lecturer
Education:
MPAff, LBJ School, The University of Texas at Austin
Lisa Kirsch is a lecturer at the LBJ School and the senior policy director at Dell Medical School. She conducts health policy research and analysis to support innovations in health care delivery and payment. She holds a Master of Public Affairs from the LBJ School of Public Affairs. Prior to joining Dell Med, Kirsch worked for more than 13 years at the Texas Health and Human Services Commission (HHSC) on Medicaid and Children's Health Insurance Program policy issues.
She served as the chief deputy Medicaid/CHIP director, where she oversaw the policy department and the development and implementation of the more than $10 billion Delivery System Reform Incentive Payment (DSRIP) program under Texas' 1115 health care transformation waiver. Prior to joining HHSC, Kirsch worked for a Texas home health and community care services provider and the Arizona Joint Legislative Budget Committee.