Published:
January 31, 2020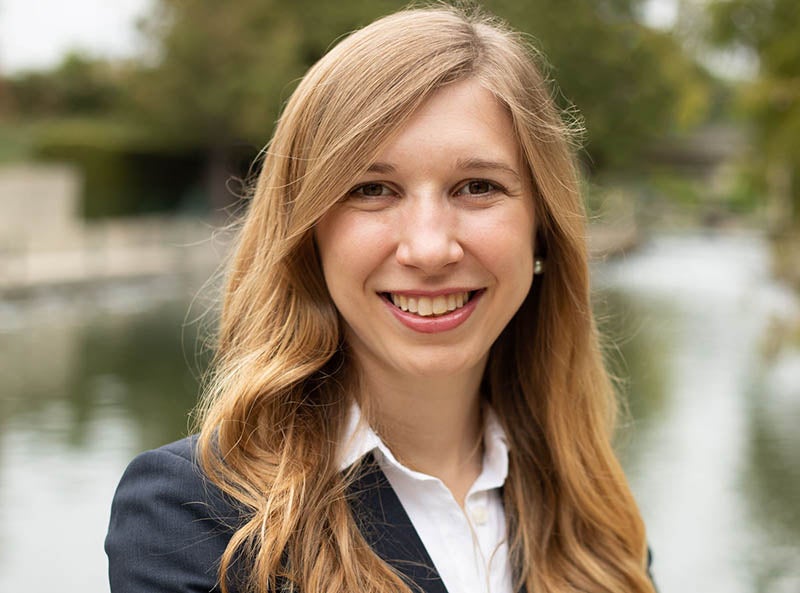 The second-year MPAff student and founder and executive director of the LBJ Women's Campaign School is one of the 60 scholars chosen to be a member of the program's sixth annual class.
Jan. 31 2020 — The Presidential Leadership Scholars (PLS) program has announced that Amy Kroll, a second-year MPAff student at the LBJ School of Public Affairs at The University of Texas at Austin, is among the 60 Scholars chosen for the program's sixth annual class. PLS serves as a catalyst for a diverse network of leaders brought together to collaborate and make a difference in the world as they learn about leadership through the lens of the presidential experiences of George W. Bush, Bill Clinton, George H.W. Bush and Lyndon B. Johnson.
The class was selected after a rigorous application and review process. Scholars were selected based on their leadership growth potential and their personal leadership projects aimed at improving civic engagement or social good by addressing a problem or need in their community.
Kroll is the founder and executive director of the LBJ Women's Campaign School, a newly launched initiative whose our goal is to increase the number of women in elected office and senior campaign staff positions, regardless of party, through training and guided practice. In 2019, she was selected by the European Parliament as one of 100 leaders worldwide to participate in the European Union's Visitors Program. Before her master's program, Kroll spent six years working in Democratic politics in Texas and Washington, DC.
---
"A century after the 19th amendment, women are still underrepresented at every level of elected office," said Kroll. "I'm honored that the Presidential Centers are investing in me to lift up women in politics." —Amy Kroll
---
"A century after the 19th amendment, women are still underrepresented at every level of elected office," said Kroll. "I'm honored that the Presidential Centers are investing in me to lift up women in politics."
Over the course of six months, Scholars will travel to each participating presidential center to learn from former presidents, key former administration officials, business and civic leaders, and leading academics. They will study and put into practice varying approaches to leadership and exchange ideas to help strengthen their impact in their communities. The program kicked off in Washington, DC on Jan. 28.
The latest class joins an active network of 298 Scholars who are applying lessons learned through the program to make a difference in the U.S. and around the world. Examples of these Scholar-led efforts include providing employment and mentorship to veterans, helping adjudicated youth to improve job skills and attain a positive self-image, empowering clinicians to speak with patients about safe storage of firearms, and deploying much needed resources in the wake of natural disasters.
Since the program began in 2015, Scholars have consistently reported remarkable growth in leadership skills, responsibilities and opportunities for impact. For example, 91 percent of Scholars reported their sense of confidence or purpose as a leader changed since beginning PLS, and 96 percent of Scholars indicated their exposure to and appreciation of a wider variety of perspectives increased since beginning PLS.
2020 Scholars:
Elizabeth Adams, senior manager of innovation, Entergy, New Orleans, La.
Gayatri Agnew, senior director, Walmart, Bentonville, Ark.
Anand Annamalai, president, House Medicine, Hermosa Beach, Calif.
Justin Barra, director, education, Chan Zuckerberg Initiative, Alameda, Calif.
Mike Benedosso, business development and partnership manager for AR/VR, Google, Palo Alto, Calif.
Ganesh Betanabhatla, managing partner and chief investment officer, Ramas Capital Management, Houston, Texas
Rachel Brown, senior policy adviser, Bureau of Reclamation, Washington, DC
Karen Caruth, chief business development officer, Inteleos, McLean, Va.
Yoon Choi, chief executive officer, CollegeSpring, San Francisco, Calif.
Michael Cooper, journalist and attorney, self-employed, Raleigh, N.C.
Paul Daugherty, president and chief executive officer, Philanthropy West Virginia, Inc., Morgantown, W.V.
Sloane Davidson, founder and chief executive officer, Hello Neighbor, Pittsburgh, Pa.
Desiree de la Torre, director, community affairs and population health improvement, Children's National Hospital, Chevy Chase, Md.
Mark DeBuse, emergency medicine physician, U.S. Navy, Los Altos, Calif.
Maria DeChellis, vice president, customer engagement, Utilligent, Roswell, Ga.
Mike Dovilla, president, The Dovilla Group, Berea, Ohio
David Duong, director, Program In Global Primary Care and Social Change, Harvard Medical School, Boston, Mass.
Rebecca Feickert, co-founder, Trey Athletes, Irving, Texas
Paul Fermo, associate vice president, The Cohen Group, Pennington, N.J.
Amy Fiedler, cardiac surgeon, University of Wisconsin-Madison, Madison, Wis.
Jarrod Franks, judge advocate, U.S. Navy, Washington DC
Pellagia Gambiza, executive director, Shine on Sierra Leone, Celina, Texas
Adam Gilbertson, vice president, RDO Equipment Co., Laurel, Mont.
Hannah Gordon, chief administrative officer and general counsel, San Francisco 49ers, Santa Clara, Calif.
Monica Gorman, vice president, responsible leadership and global compliance, New Balance Athletics, Inc., Winchester, Mass.
Jodie Grenier, chief executive officer, Foundation for Women Warriors, Carlsbad, Calif.
Al Guarnieri, supervisory special agent, Federal Bureau of Investigation, Washington, DC
Reshma Gupta, medical director of value and population Care, University of California Health, Sacramento, Calif.
HaeSung Han, co-founder and chief executive officer, POETIC, Frisco, Texas
Jerry Hawkins, executive director, Dallas Truth, Racial Healing & Transformation, Dallas, Texas
Kristen Herring, project [fficer, Biomedical Advanced Research and Development Authority, Dumfries, Va.
Reda Hicks, founder and chief executive officer, GotSpot, Inc., Humble, Texas
Jin-Ya Huang, founder, Break Bread, Break Borders, Dallas, Texas
Heather Ichord, human systems lead, Defense Engagement Team, Defense Innovation Unit, Boston, Mass.
Chris Jones, executive director, Arkansas Regional Innovation Hub, Little Rock, Ark.
Maria Kim, president and chief executive officer, Cara, Chicago, Ill.
Priti Krishtel, co-founder and co-executive director, Initiative for Medicines, Access, & Knowledge, Oakland, Calif.
Amy Kroll, founder and executive director, LBJ Women's Campaign School, LBJ School of Public Affairs, University of Texas at Austin, San Antonio, Texas
Dwayne Leslie, vice president and chief compliance officer, Adventist HealthCare, Silver Spring, Md.
Shareefah Mason, distinguished teacher, Dallas Independent School District, Dallas, Texas
Adam McGough, deputy mayor pro tem, City of Dallas, Dallas, Texas
Rasheed Meadows, vice president, TNTP, Jamaica Plain, Mass.
Brett Mosher, pastor of community ministries and executive director of New Braunfels Christian Ministries, Oakwood Baptist Church, New Braunfels, Texas
Josephine Owoeye, assistant dean for student & professional development, University of Pikeville — Kentucky College of Optometry, Pikeville, Ky.
Josh Portzer, naval flight officer, U.S. Navy, Norfolk, Va.;
Zach Posner, managing partner, Innovate.org, Pikesville, Md.
Jon-Michael Rosmann, chief executive officer, SafeNetRX, Polk City, Iowa
Johanna Rousseaux, of counsel, Jones Day, Miami Shores, Fla.
Dasheika Ruffin, Southern regional director, American Civil Liberties Union, Atlanta, Ga.
Tami Silverman, president and chief executive officer, Indiana Youth Institute, Zionsville, Ind.
Jimmy Stanton, senior associate athletics director, communications, University of Oregon, Eugene, Ore.
Kelly Stormer, chief operating officer, National Association of Veteran-Serving Organizations (NAVSO), Newtown, Pa.
Boryana Straubel, executive director, Straubel Foundation, Woodside, Calif.
Raymond Tsai, executive medical officer, The Wonderful Company, Paso Robles, Calif.
Uma Vaidyanathan, research and innovation manager, National Institute of Mental Health; Washington, DC
Sameer Vohra, founding chair, Department of Population Science and Policy, Southern Illinois University School of Medicine, Springfield, Ill.
Alison Williams, chief of staff, Office of the Governor of Arkansas, Little Rock, Ark.
Marvin Wilmoth, managing principal and co-founder, Generation Development Group, North Bay Village, Fla.
Dea Wright, director, Office of Early Childhood Initiatives, City of Milwaukee, Milwaukee, Wis.
Catharine Young, executive director, SHEPHERD Foundation, Alexandra, Va.
About Presidential Leadership Scholars
Presidential Leadership Scholars is a partnership among the presidential centers of George W. Bush, William J. Clinton, George H.W. Bush, and Lyndon B. Johnson. To learn more, visit www.presidentialleadershipscholars.org. For updates about the Presidential Leadership Scholars, use #PLScholars and follow @PLSprogram on Twitter and Instagram.
About the LBJ School
The LBJ School, one of the nation's top public affairs schools, has a unique legacy of tackling the most complex policy problems of our day by creating innovative approaches that make a difference, not only within the walls of academia but also in the public and social dialogue of the world. Advancing scholarship and contributing viable solutions to society is the LBJ School's legacy and its path forward. More than 4,300 graduates are the living legacy of President Johnson's bold and fearless action. For more, visit lbj.utexas.edu.