Published:
April 25, 2023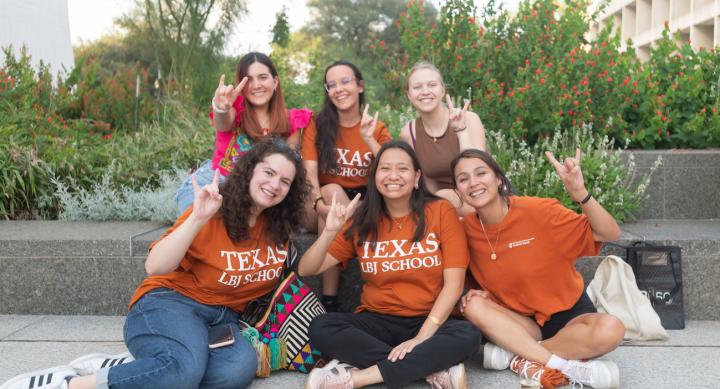 The UT Austin school ranked No. 10 in latest U.S. News & World Report
AUSTIN, Texas—The LBJ School of Public Affairs at The University of Texas ranked in the U.S. News & World (USNW) Report's "Top 10" overall programs for the sixth consecutive year. The new ranking places the LBJ School in the top 3.7 percent of all public policy schools in the nation.               

The definitive name in university rankings released its list of Best Public Affairs Programs on April 25 with the school landing at No. 10 overall. The new list solidifies UT Austin among universities that can claim the most top 10 graduate schools, programs and specialties in the 2023-24 U.S. News edition.
Seven LBJ School programs populated the esteemed listing this year. Specialty rankings for the school remained strong in Environmental Policy & Management (No. 14), Local Government Management (No. 24), Social Policy (No. 18), Nonprofit Management (No. 20), Public Management and Leadership (No. 31), and Public Policy Analysis (No. 11).
This year's rankings mark the first time the school has broken into the top 25 programs for local government management while nonprofit management elevated three posts, and public policy analysis moved up four.
RANKINGS 2024
Overall: #10

Public Policy Analysis #11

Environmental Policy & Management #14

Social Policy #18

Nonprofit Management #20

Local Government Management #24

Public Management & Leadership #31
"It's wonderful to be recognized among our peer institutions for the scholarship and accomplishments coming out of the LBJ School's robust faculty, students, staff and alumni," said LBJ School Dean JR DeShazo. "The dynamic capital city of Austin and state of Texas offer endless opportunities to get your hands on the most important policy challenges in the country."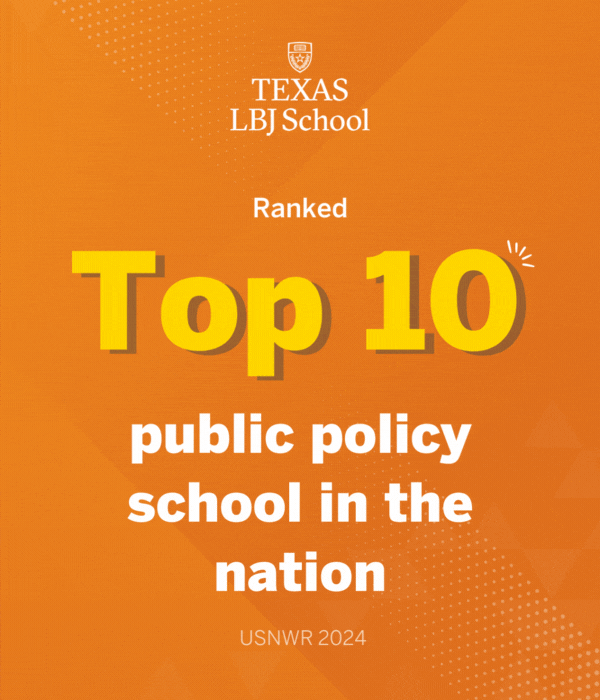 The No.1 overall spot was a tie between Indiana University-Bloomington and Syracuse University. Rounding out the remaining top 10 are Harvard University, UC-Berkeley, University of Georgia, University of Southern California, University of Washington, University of Chicago, University of Michigan-Ann Arbor, and American University.
The rankings of public affairs programs are based solely on peer assessment survey results. In fall 2022 and early 2023, U.S. News surveyed deans, directors and department chairs representing 270 master's programs in public affairs and administration. The lists of schools, individuals surveyed and specialty areas evaluated were provided by the Network of Schools of Public Policy, Affairs, and Administration (NASPAA) and by the Association for Public Policy Analysis and Management (APPAM). More on USNWR's rankings methodology.
"When prospective students are considering their options for graduate school, the Best Graduate Schools rankings are designed to help them identify schools that excel in the program they want to study," said LaMont Jones, senior editor of Education at U.S. News. "With many options available, U.S. News provides a wealth of data in an easy format to help each student make the best decision."
U.S. News & World Report is an American media company that publishes news, consumer advice, rankings, and analysis. It was launched in 1948 as the merger of domestic-focused weekly newspaper U.S. News and international-focused weekly magazine World Report. 
See what people are saying on social: 
Less than 4 years ago, we founded @TheLBJSchool #LBJUrbanLab, now we're rank among the top 25 public policy school for local government management -- first time ever. [1/3] https://t.co/diWSDp7rbl pic.twitter.com/FL5mO14WJv

— Steven Pedigo (@iamstevenpedigo) April 25, 2023
The LBJ Washington Center is thrilled to announce that @TheLBJSchool has been ranked Top 10 by @USNews for the 6th consecutive year! #BestGradSchools Learn more:https://t.co/sTblXCsUVb pic.twitter.com/DhydCSup0p

— LBJ Washington Center (@LBJSchoolDC) April 26, 2023