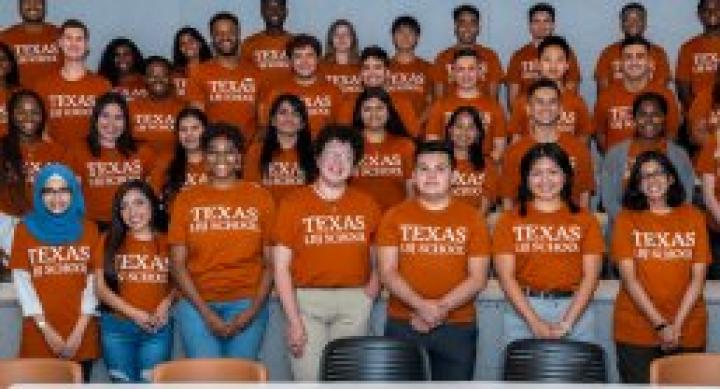 The students see public policy leadership on the horizon.  
 
Their weekend at LBJ School offered hands on training like oral testimony preparation; access to experts working on issues of importance to Texas and the South (voting access and border issues, for example); and networking with several LBJ School alumni and high profile Texan Julián Castro. The students represent 25 universities from across the Southern U.S. 
The LBJ School of Public Affairs welcomed 38 rising college sophomores, juniors and seniors from across Texas, the South and the Southwest July 22 – July 24 to learn about emerging public policy issues of importance to the South and the rest of the nation. The 3-day weekend was a partnership between the LBJ School and the Public Policy and International Affairs Program (PPIA), a not-for-profit that has been supporting efforts to increase diversity in public service for more than 40 years.
Day one of our #PublicServiceWeekend with @naspaa & @ppiaprogram at @UTAustin was a success!#LBJPPIA participants learned about the importance of improving the quality of #PublicService, bipartisan policymaking & civic engagement. pic.twitter.com/NwYq9sihhB

— The LBJ School (@TheLBJSchool) July 24, 2022
Throughout the weekend, undergraduate participants heard from experts and scholars working on and studying voting rights, civil rights, civic engagement, immigration, bipartisanship, and housing and affordability across Texas and the South.
---
"I was deeply impressed by this group of students. They demonstrated a passion for helping others and a commitment to making society more just." – Dean JR DeShazo
---
Former presidential candidate and Secretary of Housing and Urban Development, Julián Castro, headlined the event, delivering a keynote during the Saturday evening dinner and reception. 
Several LBJ alumni also spoke during the weekend, including Victor Sáenz (MPAff '99), Chair of UT's Department of Educational Leadership and Policy; Barbara Kufiadan (MPAff '21), a senior consultant at Accenture; Brencia Berry (MPAff '16), Director of Coalitions and Community Engagement at the Democratic National Committee; Gene Wu (MPAff '04), Texas State Representative (D-Houston); David Marshall (MPAff '00), Director of Membership Development at the Network of Schools of Public Policy, Affairs and Administration; Amy Kroll (MPAff '20), executive director of the LBJ Women's Campaign School; and Estevan Delgado (MPAff '18), the event's main organizer and director of the LBJ School's Office of Justice, Equity, Diversity & Inclusion. 

More than 450 students applied to participate in the 3-day weekend. Students were selected by a committee that reviewed community engagement, academic excellence and a personal statement. 
---
"The LBJ School is committed to reflecting seen and unseen identities in our learning community. By hosting Public Service Weekends, we work to ensure all students know they belong here." – Estevan Delgado, JEDI Director
---
Watch Simone Till, a rising senior from University of South Florida, take over the LBJ School's Instagam account during the weekend 
Who participated