The professor and director of the Energy Institute is part of a group of outstanding practitioners under 40 who are being recognized for their leadership, potential and contributions to their fields.
Dr. Varun Rai, associate dean for research at the LBJ School of Public Affairs and director of the Energy Institute at The University of Texas at Austin, has been honored with a 2019 Young Alumni Achiever Award by the Indian Institute of Technology Kharagpur (IIT). The award recognizes alumni age 40 and under for their creativity, innovation and success in their chosen fields of study and work.
---
"My four years at IIT KGP forever transformed my life and instilled an indelible sense of public service in me." —Dr. Varun Rai
---
"To receive this honor from my alma mater IIT Kharagpur (KGP) is truly humbling, especially since I know that a great number of my fellow KGPians are working selflessly in the service of people across the world," Rai said. "My four years at IIT KGP forever transformed my life and instilled an indelible sense of public service in me. I gratefully thank Prof. Partha P. Chakrabarti, the director of IIT Kharagpur, his team and the board of governors, and dedicate this honor to my great teachers at IIT Kharagpur."
"Varun Rai is an exemplar in his field — a leader in interdisciplinary research combining energy systems, behavioral sciences and public policy, and an intellectual powerhouse devoted to student learning who raises the bar with the high expectations he places on all he does and on all with whom he works," said Angela Evans, dean of the LBJ School of Public Affairs. "He has been an invaluable colleague to so many at the university and has been a force of nature as the LBJ School's associate dean for research."
Congratulations to LBJ Prof, @EnergyUT Dir @raivarun81. @IITKgp has honored Varun with the Young Alumni Achiever Award 2019. This is an extraordinary honor. Congratulations to you, Varun. I am so very proud. AE

— The LBJ School (@TheLBJSchool) June 24, 2019
The honorees were nominated based on recognition they have received as emerging leaders, their contributions, discoveries or creative work in their professions, and their example as role models to current and future students. They were chosen by a combination of peer reviewers, representatives from alumni affairs and the dean, and approved by the Board of Governors. The awards will be conferred during the Institute Foundation Day, Aug. 18, 2019.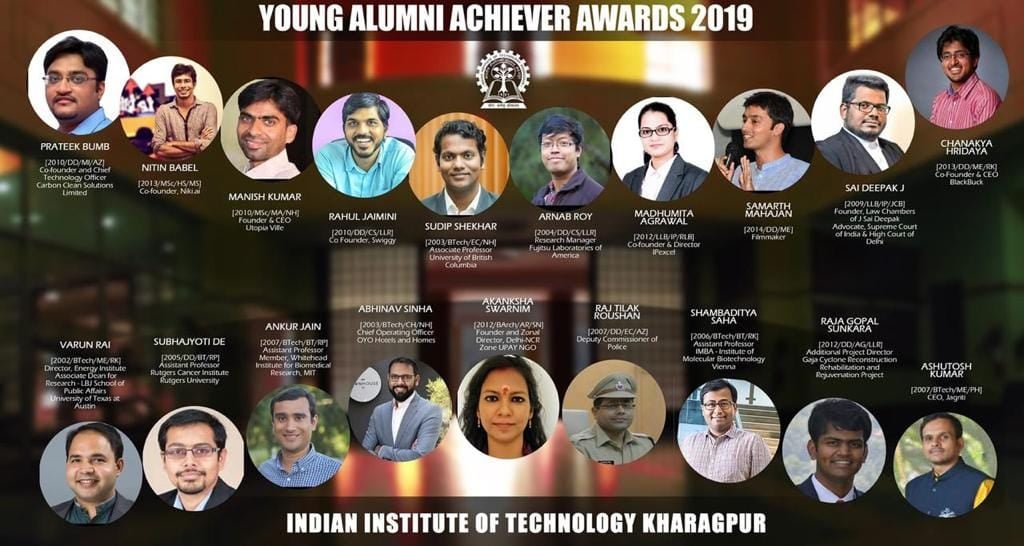 (Photo by IIT Kharagpur)
The IIT Kharagpur Young Alumni Achiever Awards for 2019:
Dr. Varun Rai, director, Energy Institute, associate dean for research – LBJ School of Public Affairs, University of Texas at Austin, USA
Dr. Subhajyoti De, assistant professor, Rutgers Cancer Institute, Rutgers University, New Jersey, USA
Dr. Ankur Jain, assistant professor, member, Whitehead Institute for Biomedical Research, MIT, Massachusetts, USA
Dr. Shambaditya Saha, assistant professor, IMBA-Institute of Molecular Biotechnology, Vienna, Austria
Shri Raja Gopal Sunkara, IAS, additional project director, Gaja Cyclone Reconstruction, Rehabilitation and Rejuvenation Project
Shri Raj Tilak Roushan, IPS, deputy commissioner of police, DCP Zone-4 Office, Ajni, Nagpur City, Maharashtra
Shri Abhinav Sinha, chief operating officer, OYO Hotels and Homes, Gurgaon
Ms. Akanksha Swarnim, founder and zonal director, Delhi-NCR Zone, UPAY NGO, Gurgaon
Shri Manish Kumar, founder and CEO, Utopia Ville, Bhubaneswar, Odisha
Shri Chanakya Hridaya, co-founder and CEO, BlackBuck (Zinka Logistics Solutions Pvt. Ltd., Bengaluru
Shri Nitin Babel, co-founder at Niki.ai, Bangalore
Shri Sai Deepak J, founder at Law Chambers of J Sai Deepak, Advocate, Supreme Court of India and High Court of Delhi, Noida
Shri Rahul Jaimini, co-founder, Swiggy, Bengaluru
Ms. Madhumita Agrawal, co-founder and director, IPexcel, Bangalore
Shri Prateek Bumb, co-founder and chief technology officer, Carbon Clean Solutions Limited, England
Shri Ashutosh Kumar, CEO, Jagriti, Chembur, Mumbai
Dr. Arnab Roy, research manager, Fujitsu Laboratories of America, California, USA
Dr. Sudip Shekhar, associate professor, electrical and computer engineering, University of British Columbia, Vancouver, Canada
Shri Samarth Mahajan, filmmaker, Andheri West, Mumbai
About IIT Kharagpur
The Institute aligns its activities to serve the national interest and seeks to provide broad-based education, helping students hone their professional skills and acquire the best-in-class capabilities in their respective disciplines; to draw the best expertise in science, technology, management and law so as to equip students with the skills to visualize, synthesize and execute projects in these fields; to imbibe a spirit of entrepreneurship and innovation in its students; and to undertake sponsored research and provide consultancy services in industrial, educational and socially relevant areas.
About the LBJ School
The LBJ School, one of the nation's top public affairs schools, has a unique legacy of tackling the most complex policy problems of our day by creating innovative approaches that make a difference, not only within the walls of academia but also in the public and social dialogue of the world. Advancing scholarship and contributing viable solutions to society is the LBJ School's legacy and its path forward. More than 4,300 graduates are the living legacy of President Johnson's bold and fearless action. For more, visit lbj.utexas.edu.