Tell us about your focus of study. What inspired you to pursue it? What drew you to the LBJ School?
I am interested in health policy, especially focusing on children's and women's health care services and access to health care services. During my volunteer experience, I had the opportunity to understand the impact of cultural and financial barriers on children's and women's health conditions. To eliminate the barriers and develop effective policies to help more people receive health care services, I came to the LBJ School to learn how to assess a health care system, put cultural context while developing policy, and provide an evidence-based recommendation to improve the system.
What is your favorite memory from your time here earning your degree?
My favorite memory is spending time at the lobby with classmates to discuss course materials and work on assignments together. LBJ school creates a friendly and encouraging environment for students to share their thoughts and learn from others' cultures and experiences. LBJ school also provides lots of resources for career developments, tips for preparing for the career fair, and opportunities to connect with alumni.
What class or experience left the biggest impression on you?
LBJ school provides lots of opportunities for us to learn and gain experience through working on real-world problems. Through the yearlong Policy Research Project, a core course of MPAff, I had the chance to conduct an economic evaluation for Central Health in Texas and assisting them to expand their pilot program. LBJ school also cooperates with Deloitte to hold the 24-hour case challenge, asking students to analyze a real-world consulting issue and present our solutions to a panel of judges comprised of LBJ faculty and Deloitte leadership.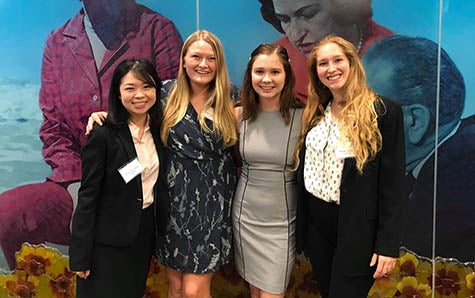 Shu-Ching Tseng (far left) with her teammates in the Deloitte Case Challenge.
What is the most unexpected (non-pandemic) thing that happened to you during your time at LBJ?
LBJ School provides the William & Judith Bollinger International Student Enrichment Fund for international students to explore the culture and the history of the United States. I will always remember my trip to Miami and Ashville sponsored by the Bollinger Fund.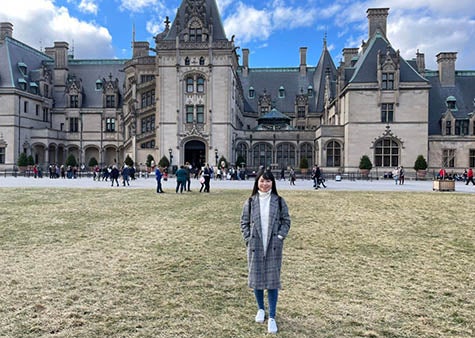 Shu-Ching Tseng at the Biltmore in Asheville, N.C., which she visited on her Bollinger Fund trip.
You experienced a massive shift to your school experience over the course of the last year. What did you discover about yourself during this time?
As classes and internships all move online, there are lots of flexibility for me to schedule my time. I have learned how to better keep mentally healthy and balance my work and life better. Meanwhile, working from home also allows me to try different things at one time, which would not work out if things are in person. For example, I have the opportunity to intern at the office of Sen. [Royce] West and the Meadows Mental Health Policy Institute while still taking classes at the LBJ School during my last semester. This gives me the chance to explore more possibilities of my career path.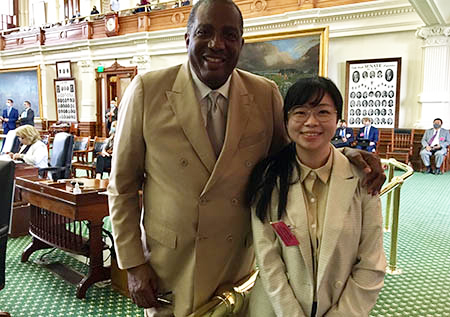 Shu-Ching Tseng with State Sen. Royce West (D-23) at the Texas Capitol.
Tell us about your next steps.
I will stay in Austin, Texas, to devote my skills and knowledge gained from the LBJ School to society. I will continue working on issues related to women's health care and children's welfare.
What is your advice to the incoming class?
Grab every chance to challenge yourself! Be brave to try anything new and open to accept ideas that are the same or different from yours. Although graduate school might be stressful, your classmates are also your company during the journey. And enjoy every moment at the LBJ School.
Welcome to the #LBJAlumni family, Shu-Ching! https://t.co/XvAOIjqdTV

— LBJ School Alumni (@LBJSchoolAlumni) May 19, 2021