Tell us about your focus of study. What inspired you to pursue it?
As an MGPS student, I chose the Security, Law and Diplomacy specialization to focus on courses that would enhance my understanding of U.S. national security. As a Rangel Fellow with the U.S. Department of State and a former Peace Corps volunteer, I knew I wanted to take courses on diplomacy and that this specialization would offer the opportunity to approach U.S. foreign policy through a well-rounded approach. Some of the classes I chose focused on diplomacy, others on defense and the military, and others on strategy and development. These different perspectives helped me gain a whole-of-government understanding to the world the U.S. operates in.
What drew you to the LBJ School?
The flexibility of the curriculum was the biggest draw for me to the LBJ School. Many other graduate programs I was accepted into had extremely strict curriculums, with little to no flexibility in the choice of classes taken. The LBJ School's curriculum immediately stood out for the strength of its core curriculum and the wide range of courses available.
Another plus was the blending of students from both the MGPS and MPAff programs in the same classes. While the issues I work on in my program deal with international affairs primarily, I enjoy the fact that I can take classes alongside the MPAff students and chat with them about the exciting fields they work on like voting rights and renewable energy. Finally, the immense resources UT Austin provides are incredibly prolific. Being able to take classes at some of the other graduate schools, or attend seminars with the research centers like Clements, Strauss, and ISP provide opportunities that cannot be beat.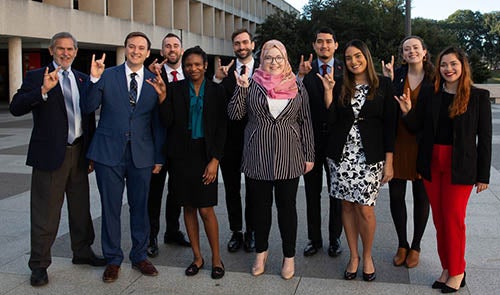 Gabe Cortez (fourth from right) with his 2020 Crisis Simulation team.
What is your favorite memory from your time here earning your degree?
My favorite memory from LBJ would have to be the Crisis Simulation experience. I led a country team delegation during the 2020 simulation, and it was a phenomenal experience. Every student was committed to their role and each team was as dedicated to their country's cause as their real-life counterparts are. Interacting with former ambassadors who served as mentors during the simulation was another plus as they were always willing to share their wisdom based on decades of experience. Preparation was tough, and we ended each day exhausted but also feeling extremely accomplished. I had an incredible team and an amazing time working with them.
What class or experience left the biggest impression on you? What is the most unexpected (non-pandemic) thing that happened to you during your time at LBJ?
Meeting high-ranking officials from the U.S. national security field. Through LBJ events and courses, I had the opportunity to meet and speak with public leaders like Ambassador Susan Rice, Ambassador Samantha Power, CIA Director John Brennan, Treasury Secretary Pete Buttigieg, as well as well-known and respected scholars and academics I strongly admire.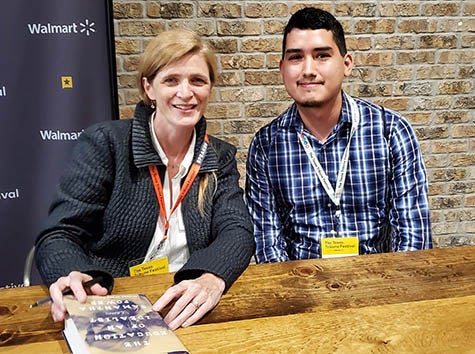 Gabe Cortez and former U.S. Ambassador to the UN Samantha Power at the Texas Tribune Festival in 2019.
You experienced a massive shift to your school experience over the course of the last year. What did you discover about yourself during this time?
For me, the shift to online learning reaffirmed my commitment to my own education as a graduate student. It could have been easy for me and my colleagues to lose interest through Zoom calls or feel sorry for ourselves because of the experiences we would miss in person. Instead, LBJ students, faculty and staff showed incredible resilience through the initial months switching to online learning. The whole school came together as team, supporting one another, demonstrating empathy, patience, and a can-do spirit. I felt even more confident going forward that being in graduate school was not just for the diploma, but for the knowledge and skills I developed along the way.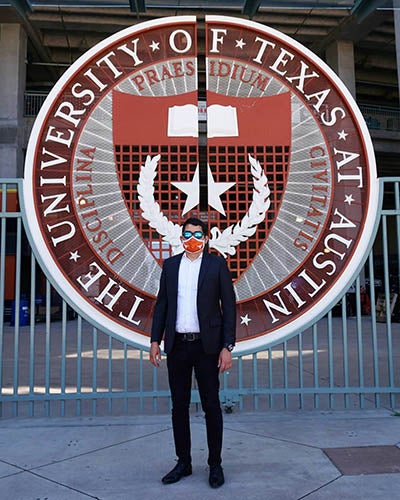 Tell us about your next steps.
Shortly after graduation I will be heading to Washington, DC to begin A-100 (diplomatic training) as a Foreign Service Officer with the U.S. Department of State. The Foreign Service is my dream career, ever since I interned as the U.S. Consulate General Milan during my undergraduate years. I will be entering the Foreign Service as a Political Affairs officer, a role where I will work at a U.S. embassy abroad, writing reports on political developments in other countries and building relationships with leaders and officials from foreign governments to advance U.S. interests.
What is your advice to the incoming class?
My advice would be to research the incredible opportunities available at LBJ and UT. There is so much to learn and so many people to meet it can feel overwhelming at times, and because there are so many opportunities it can be easy to miss taking a class with a professor you might not have known was teaching a class in your policy area. However, do not be afraid to take a class that is outside your field. I knew little about the U.S. intelligence community before coming to LBJ, but I am leaving with several intelligence classes and projects under my belt as they were some of my favorite experiences throughout my time here.
What else would you like us to know about you?
I would just encourage each student to pursue their own path and to not feel beholden to what they think they need to do. My background is as atypical as they come. I went to two community colleges, spent six years acquiring my bachelor's degree, and switched majors three times, yet things had a way of working themselves at. There is no right or wrong path to acquire an education, be yourself, enjoy learning, and cherish the memories and friends you will make along the way!
Welcome to the #LBJAlumni family, Gabe! https://t.co/d7L4Xjtu4B

— LBJ School Alumni (@LBJSchoolAlumni) May 20, 2021