Carolina Mueller — part-time farmer, full-time graduate student at UT's LBJ School of Public Affairs — believes strong local farms are part of making better food systems
When asked about a typical day in her life, Carolina Mueller laughed. "There's not really a typical day, but there's a couple of different kinds of days." She continued: "On the kind of day where I'm wearing my student hat, I get up early, do some reading or writing, maybe listen to a podcast. Then I have Zoom classes or Zoom meetings — lot's of screen time."
"On a completely different day, I drive out to the farm. I check in on our cows. I feed them, fill up their water tanks. I check in to see how the fields are looking, what the pastures are like — are there a lot of weeds that are coming up or are the native grasses looking really good?"
She continues, joking, "They're looking great by the way, in case you were wondering!"
---
An Advocate for Small Farms and Better Food Systems (UT News, April 21, 2021)
---
Being both a full-time graduate student at UT's LBJ School of Public Affairs and part-time local farmer, Mueller has quite an unusual academic and work-life balance.
Before she enrolled at UT, Mueller had a decade of hands-on experience working within food systems or the infrastructures and ways in which food products move from field to table. Typical processes in food systems include growing, harvesting, processing, packaging, transporting, marketing, distribution and disposal.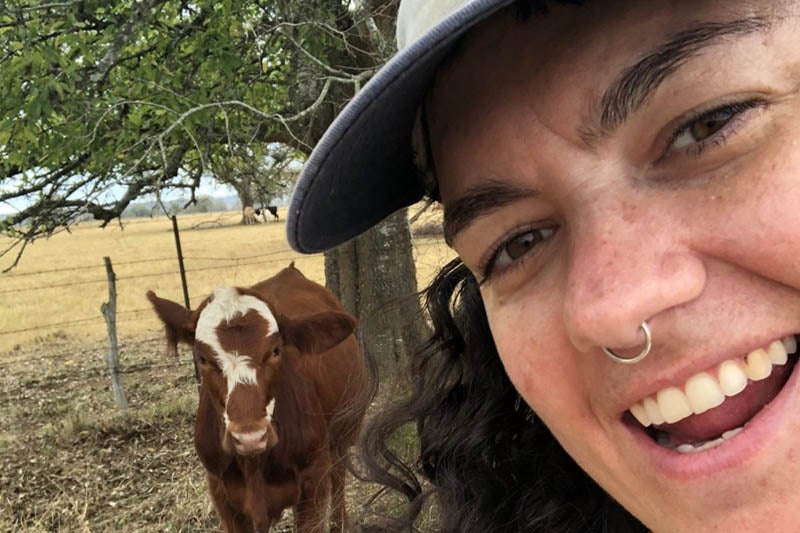 Today, as the president of the Central Texas Young Farmers Coalition and as a legislative intern for the Farm and Ranch Freedom Alliance, Mueller is studying public policy. She chose this field to learn how to shift power in our food systems in order to reshape how people engage with what they eat.
Mueller studied nutritional sciences at Rutgers University before coming to UT. "I got into gardening, cooking and learning more about local food systems. It became really clear to me that it wasn't people's knowledge that was what was preventing them from eating well — rather it was our food systems that were preventing people from having choices or really being able to make the right ones."
Mueller was drawn to the LBJ School for its collaborative nature and caring and thoughtful world-class professors.
"Professors here really understand that their students are complete humans with lived experiences and skills to contribute," Mueller said. "My first year at LBJ I got to learn directly from Raj Patel — one of the top leaders in food systems reform work in the U.S."
---
"The ways our food systems are set up currently and the ways that governments decide on what to invest or what not to investin lead to huge health and environmental outcomes." —MPAff student Carolina Mueller
---
Moreover, Mueller is a doer who puts plans into action, and in her eyes, LBJ is "a community of practitioners" who have not only the knowledge but also the strength and determination to roll their sleeves up to do the work.
For example, during the big freeze in Texas this February, Mueller knew she wanted to help those in need. So she got right to work, helping to launch a GoFundMe for small and medium-sized farms impacted by the winter storms. The campaign had an initial goal of $50,000, which was quickly surpassed, and ended up granting over $121,000 to 112 farmers all over Texas in the first round.
Fast forward to today and the campaign has raised over $200,000 and established a partnership with eight agricultural organizations across the state.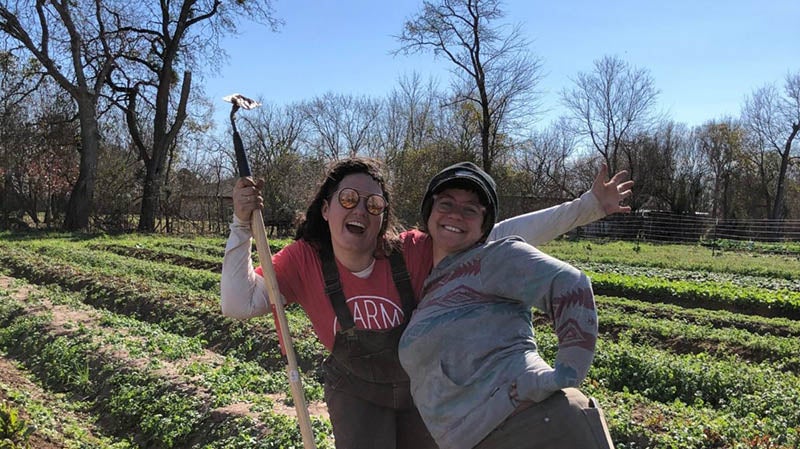 Mueller said this all would not have happened if it were not for what she has learned through LBJ, which honed her skills in collaboration, compromise, research into policy guidelines, and adherence to state and local regulations and rules in a quick and efficient manner.
"Putting that whole process together, being able to make strategic connections and work very collaboratively with these different organizations, having a very clear vision, knowing how to make trade-offs and making sure that we are in compliance with tax and policy codes. … These are not the fun things, but these are things that I would not have been able to navigate without what I've learned at the LBJ School," she said.
Farming and policy, though seemingly different, actually go hand in hand, Mueller said. Policy decisions made decades ago are affecting farmers across Texas — small and midsized ones especially. During the freeze, they were hit hardest yet also lacked the support needed the most.
Mueller believes Texas' prioritization of large-scale industrial agriculture over others means the state is not prepared when extreme climate events shut these systems down.
"There is a quote from Wendell Berry that says, 'eating is an agricultural act.' But I would say even more than that — eating is a political act," she said. "The ways our food systems are set up currently and the ways that governments decide on what to invest or what not to invest in lead to huge health and environmental outcomes."
Even while transitioning to Zoom courses amid her studies, Mueller continues to learn all about the world and its relationship with agriculture and food. She notes how COVID-19 has really highlighted the value and flexibility of more regionalized food systems.
"When we had people making runs on grocery stores and the shelves were empty, people who were able to, pivoted to the local farmers," she said. "We saw people who were selling weekly veggie boxes or community-supported agriculture selling out suddenly. This happened during the freeze also." This showed her that there are some really distinctive strengths in regional markets, Mueller said, and she will remember these experiences and take them with her as she advocates for better policies in food systems and food system infrastructure.
Mueller is graduating with her Master of Public Affairs this May. When asked about what's next for her, she said, "The thing about food systems change is that it's going to take beyond my lifetime because we have a lot of systems to uproot."
It may be a lifetime of work, but today, Mueller is ready and eager to take on those challenges in order to create resilient, accessible food systems where people feel connected to what they eat.
Congratulations to Carolina and all of the 2021 graduates!

You are now part of the #LBJAlumni family! @TheLBJSchool alumni relations team will continue to be a support for you as you go on to change the world.

We look forward to seeing the amazing feats you accomplish! https://t.co/ze8ALfOGAr

— LBJ School Alumni (@LBJSchoolAlumni) May 22, 2021
Carolina Mueller — part-time farmer, full-time graduate student at @UTAustin #LBJSchool — believes strong local farms are part of making better food systems. #UTGrad21 #LBJGrad21 https://t.co/tWm36W23ba

— The LBJ School (@TheLBJSchool) May 17, 2021