Fall 2016 - 60770 - PA388L - Advanced Topics in Management
Leadership as a Catalyst for Community Change
Leadership as a Catalyst for Community Change assumes that a successful leader has the ability to transform fellow citizens of a community into co-creators of a shared vision and co-leaders in the quest to achieve that vision.  A leader is a catalyst for change, guided by core principles such as authenticity, compassion, and empowerment of others. 
In light of this view of leadership, this course enables you to begin or continue being an effective leader in two ways: (1) by articulating and refining your own guiding philosophy of leadership; and (2) by enhancing your capacity to work in concert with others on substantive issues or situations to catalyze change in your community.  
This course takes a broad view of what counts as "community," enabling you to develop the means to influence a community in keeping with your commitments and vision.  Given this focus, the pace and content of this course will be driven, in part, by the individual and collective interests of the students who take the course.
Requirements and Expectations:
Student progress will be evaluated on the basis of performance along the following criteria: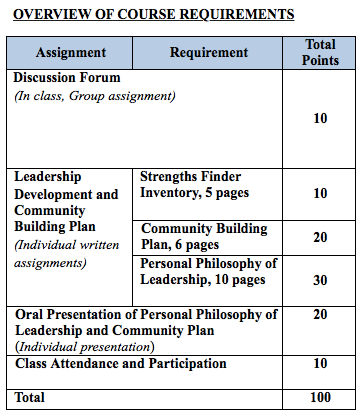 Readings:
Rath, T. (2007). Strengths Finder 2.0.  New York, NY: Gallup Press.
Schmitz, P. (2012). Everyone Leads: Building Leadership from the Community Up. San Francisco, CA: Jossey-Bass.
All other Required Readings for this course will be posted on Canvas.
This class is cross-listed with SW. LBJ is the home department.