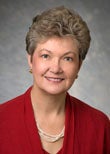 Lecturer; Associate Director, RGK Center for Philanthropy and Community Service
Sarah Jane Rehnborg, associate director for planning and development with the RGK Center for Philanthropy and Community Service and Lecturer at the LBJ School, received her undergraduate degree from Denison University and her master's and Ph.D. degrees from the University of Pittsburgh. In addition to establishing a program of volunteerism and community education at the Western Psychiatric Institute and Clinic in Pittsburgh in the 1970s, Rehnborg established the Institute for Volunteerism at the Community College of Allegheny County in Pennsylvania and was associate administrator of human resources at Pittsburgh's John J. Kane Hospital, a 1,200-bed extended care facility with 14 bargaining units. She has worked as a consultant for the Points of Light Foundation and the Comptroller's Office of the State of Texas, where she participated in the state performance review system examining the role of citizen participation in state government. She has also worked with the Texas Department of Mental Health and Mental Retardation and as a consultant to the Texas Commission on Volunteerism and Community Service, where she was the architect of the first state plan to bring national service funding to Texas.
Prior to joining the RGK Center, Rehnborg was director of community engagement for the Charles A. Dana Center at UT Austin. She has written numerous articles and documents in the field and is the author of "Starter Kit for Mobilizing Ministry," published by the Leadership Network, and "Volunteer Youth Training and Leadership," a comprehensive high school curriculum in service and volunteerism that was later adopted by the state of Maryland.
Rehnborg's research interests include public sector volunteerism, assessment of organizations engaging volunteers and national service participants, and the effective management of volunteers in all settings. She is frequently called upon to facilitate groups and to work with organizations in conflict. Rehnborg teaches courses at the LBJ School in the areas of volunteerism, board governance and civil society issues.
Contact Information
Phone: