Published:
September 24, 2021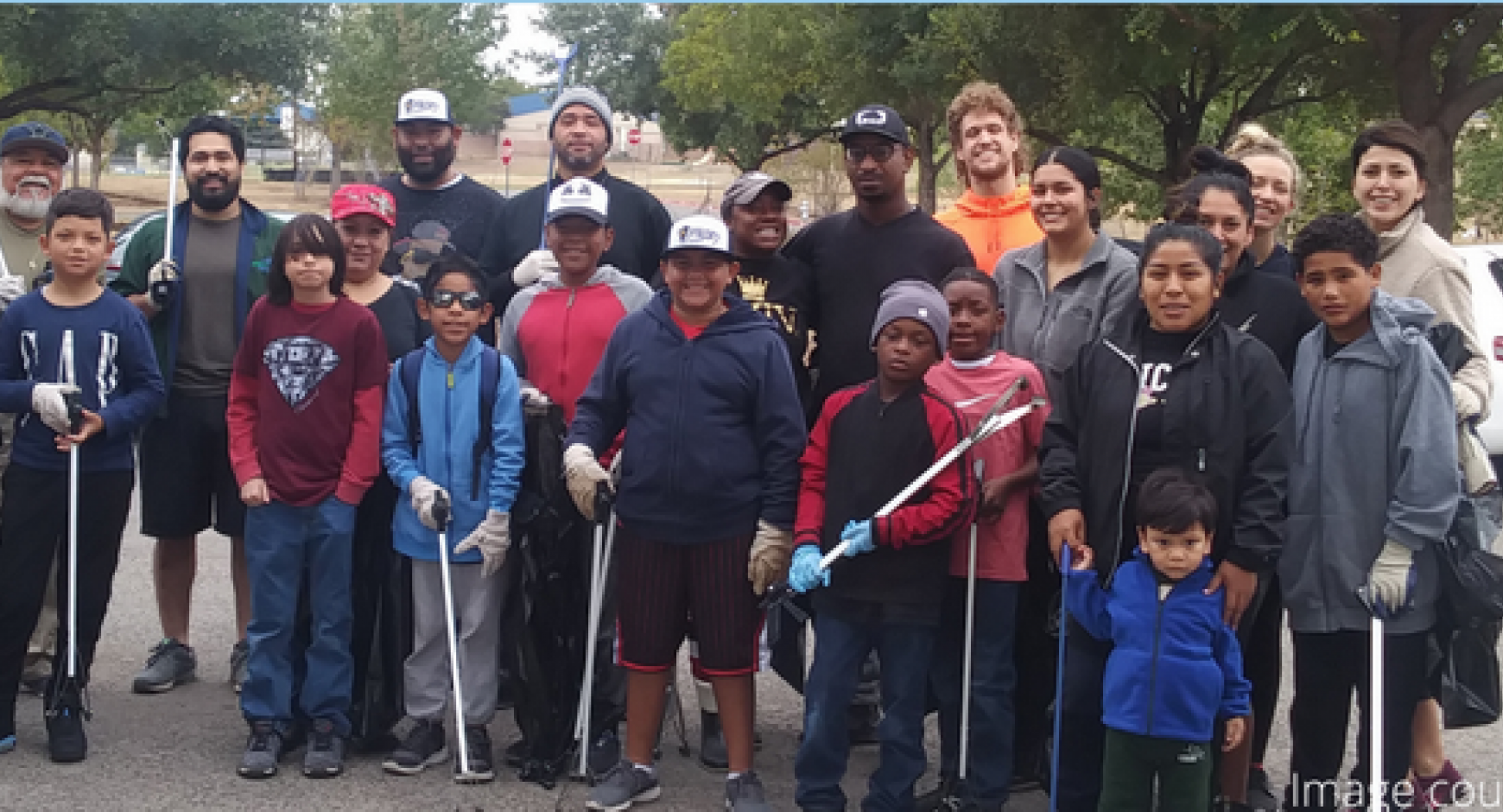 A group from GAVA during a clean-up of the George Morales Recreation Center. (Photo courtesy of GAVA)
The rainwaters in Dove Springs were rising, the clock ticking as flood water rose on residents' property — 1, 2, 3 inches. Frances Acuña stood in the street with residents as they moved the elderly and children out of harm's way and used cars as a barricade to prevent more water from rushing into their homes. Dove Springs residents had been preparing for a moment like this in Climate Navigator trainings, where Acuña taught them how to anticipate and respond to various emergencies. In the trainings on flood preparedness, residents were told to call first responders once waters reached 3 inches in their backyards, and on this rainy day in May 2020, the call was made.
Acuña is the Climate Resilience Lead Organizer for Go Austin! Vamos Austin! (GAVA), a community-led coalition breaking down barriers to healthy living and strengthening neighborhood stability in Austin's Eastern Crescent. But as she stood in deepening waters with her neighbors, Acuña's primary role switched to that of neighbor. As the fire department arrived on the scene, one firefighter approached Acuña, requesting she tell the residents gathering around her to stop blocking traffic.
---
"This project bridges the research and community engagement mission of the RGK Center where we look at the data collected and analyzed through A²SI and use that data to catalyze community action." —Professor Patrick Bixler
---
"It's after 5 p.m., and after 5 I become the resident," said Acuña, who has lived in Dove Springs for nearly 20 years.
Acuña's stomach dropped when a firefighter told her to let nature take its course, and to let insurance take care of the damage. "How could you tell me that?" she asked him. "You know we have been doing everything — residents have been trying to buy flood insurance, they have been training on how to build a kit and how to evacuate — we're doing our part."
In 2019, Acuña's neighborhood of Dove Springs and other areas in Southeast Austin, known as the Eastern Crescent, were redesignated from being in a 500-year floodplain to a 100-year floodplain. As a result, flood insurance premiums have skyrocketed in the area and floods like the ones that happened in 2013, 2015 and 2020 are becoming more frequent and damaging — even deadly.
---
---
According to data from the 2020 Austin Area Community Survey, respondents in the Dove Springs area (78744) reported at higher rates than data gathered from City of Austin survey respondents that flooding events are increasing in their community. The survey was conducted by LBJ School professor Dr. Patrick Bixler and MPAff and MSCRP masters candidate Jessica Jones through the Austin Area Sustainability Indicators (A²SI) project.
In research recently accepted to the International Journal of Disaster Risk and Reduction, A²SI's work mapping climate hazards and community vulnerability highlights the importance of household emergency preparedness**. The map below demonstrates a multirisk assessment of how social vulnerability indicators (i.e., wealth, housing status, language, education) impact an area's hazard risk and vulnerability to climate emergencies like floods, wildfires and extreme heat.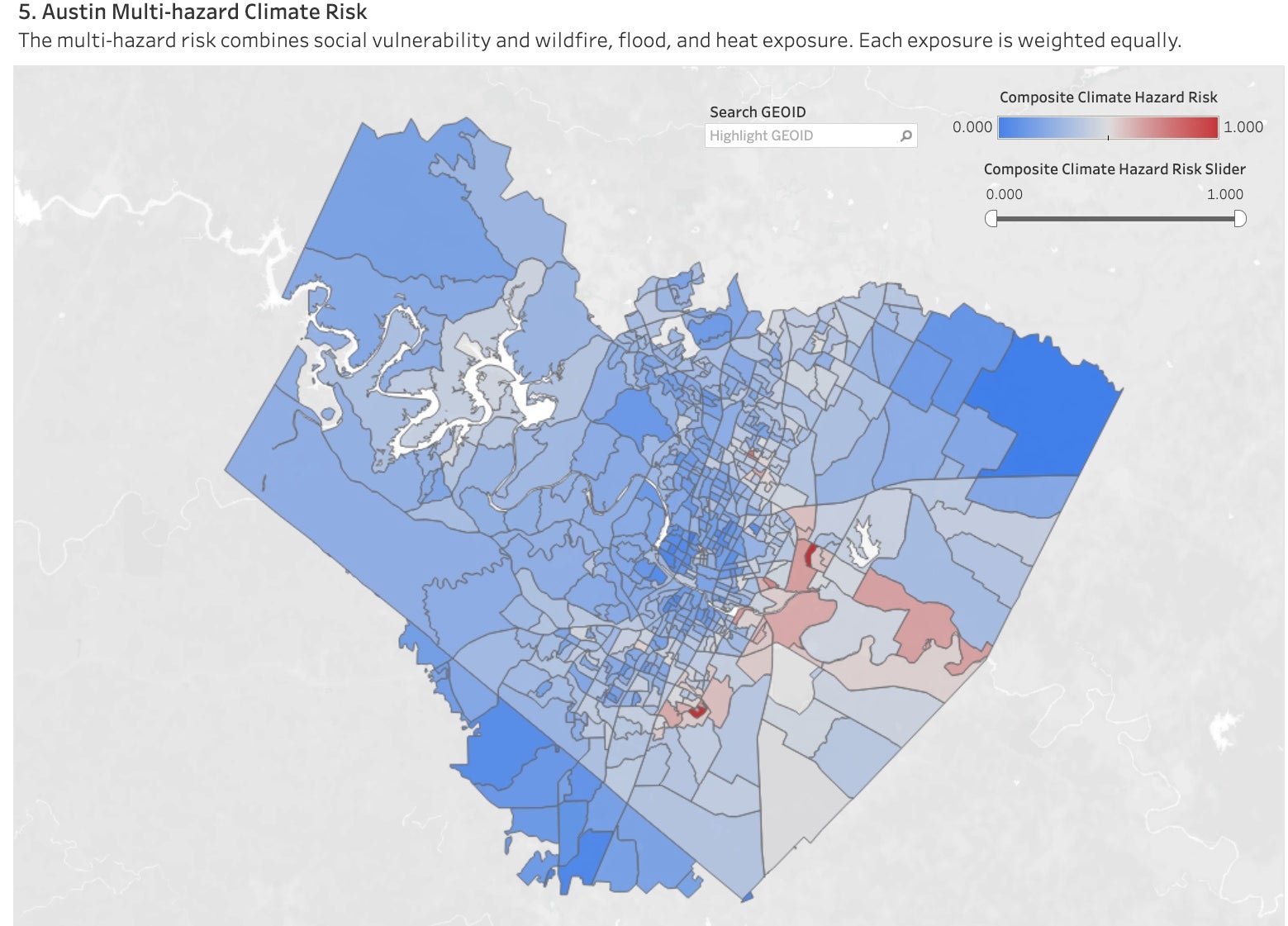 The Austin Area Sustainability Indicators conducted research on Austin's multi-hazard climate risk for disasters like flooding, wildfires and extreme heat.
Read more about the research
.
"We see the gaps in every disaster, where the city doesn't respond," Acuña said. "Whenever injustice happens, you tend to pay more attention." The flooding incident in May 2020 drove her to the edge, she said, and led her to begin crafting the Dove Springs Neighborhood Preparedness Guide in conjunction with The University of Texas at Austin, the City of Austin and other collaborators, including the residents of Dove Springs themselves.
The initiative began as part of Bixler's "Mobilizing the Community and Engaging Volunteers" course through the LBJ School of Public Affairs. At the time, Jones was working with Bixler as a graduate assistant and took on the project over the summer of 2020 as a fellow with the RGK Center's CONNECT program. GAVA had previously worked with CONNECT, which matches UT Austin graduate students to community organizations with a data or research challenge.
"This project bridges the research and community engagement mission of the RGK Center where we look at the data collected and analyzed through A²SI and use that data to catalyze community action," said Dr. Bixler, who is the faculty lead for the CONNECT program and A²SI.
Together, Jones and Acuña researched other cities' neighborhood and household preparedness plans, combining those ideas with established trainings and plans from the City of Austin, the City's Watershed Protection Department, the Department of Homeland Security, Ready Central Texas, Ready.gov and FEMA, in addition to emergency preparedness materials from other cities like Portland and Salt Lake City.
"We as residents have to be responsible for our families, for our neighbors, for each other, but we need to include the City to know where we can meet them in order for everybody to be safe," Acuña explained.
The goal of the collaboration was to pull together and streamline messaging from the City of Austin regarding emergency preparedness while working with residents to fill in the gaps and ensure the guidance would be helpful to people in the communities being increasingly, and disproportionately, affected by climate disasters. The City of Austin worked with Jones, CONNECT fellow Kiki Miller and Acuña, developing a template for the handbook and translating the materials into Spanish.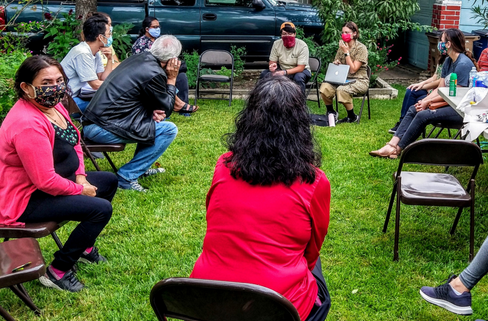 A group of GAVA volunteers, UT professors and students meet to discuss strategies for a grant to improve creek access. (Photo courtesy of GAVA)
"Our hope is that this document will not only help residents be better prepared for flooding and extreme heat within their households, but that the information will be shared between neighbors strengthening community bonds and building social capital in our historically underserved Austin neighborhoods," said Bixler.
Even after publishing the first official copy of the guide, the team is working with neighborhood schools to listen to school staff, students and community residents to help identify gaps and suggestions for further improvements.
Members of the community are invited to an open event this October where the team will distribute copies of the handbook with residents in the Dove Springs area. The team's collaboration with the City of Austin continues as they develop an online portal that can be used by both residents and the city to propose changes, get feedback, and answer questions, in addition to hosting the "living document" of the preparedness guide. The work, Jones said, has inspired her thesis topic.
"I've chosen to focus on emergency preparedness at the household and neighborhood scale, and I'm interested to see how other programs work on the ground," Jones said. "We're still in the early phases of this, so by researching what other cities have done we can learn from them and see if handbooks or guides change the level of preparedness and response within a community."
Left: Jessica Jones, MPAff and MSCRP candidate and CONNECT fellow. Right: The Dove Springs Preparedness Handbook.
CONNECT fellow Miller continues to create a series of one-pagers and infographics based on the preparedness guide that GAVA can share widely and social media and print off for residents to use in emergency situations.
"Working with the GAVA folks has been very rewarding," Miller said. "Frances [Acuña] and Carmen [Llanes Pulido, Executive Director of GAVA] are very passionate about what they do and it inspired me to create beautiful products that would be easy to distribute to residents and be useful tools for GAVA to successfully pursue their mission."
Acuña often invites the residents of Dove Springs to her home for coffee or breakfast, where they discuss needs in the community and the projects GAVA is working on. She moved to the neighborhood when her son was a baby, she says, and many of her neighbors have watched him grow up.
"We're family because we're neighbors, we face the same challenges," Acuña said. "It's an opportunity to build that relationship and trust — they help me, and I help them."
**International Journal of Disaster Risk Reduction, "Boundary crossing for urban community resilience: A social vulnerability and multi-hazard approach in Austin, Texas." R. Patrick Bixler, Ph.D., Euijin Yang, Steven Richter, Marc Coudert