Published:
August 18, 2022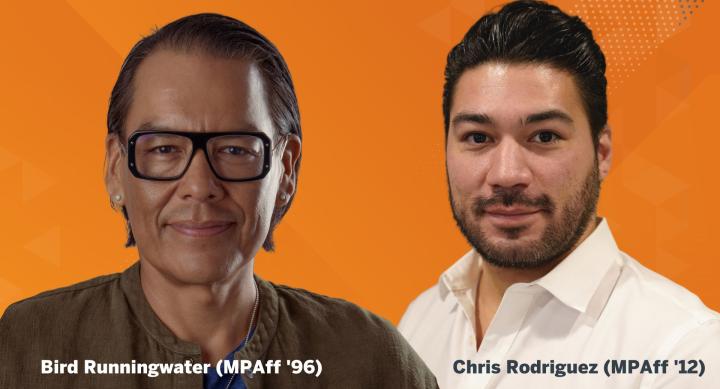 The LBJ School at The University of Texas at Austin has named the winners of the 2022 outstanding alumni awards: filmmaker and producer Bird Runningwater (MPAff '96) and disability advocate Chris Rodriguez (MPAff '12). The school will recognize Runningwater and Rodriguez on September 15 during the LBJ School's community-wide back to school celebration, Picnic on the Plaza.
Distinguished Public Service Award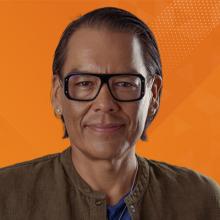 Bird Runningwater, Master of Public Affairs '96
Producer & Filmmaker, CloudWoman Media
Runningwater receives the school's most prestigious alumni honor, the Distinguished Public Service Award, which honors an alumnus who best represents the values on which the LBJ School was founded: action-oriented leadership, dedication to public service and courage. Runningwater has made a transformational impact on amplifying the voices of native and indigenous artists through film and storytelling.
Runningwater belongs to the Cheyenne and Mescalero Apache Tribal Nations, and was raised on the Mescalero Apache Reservation in New Mexico. He is a Producer and Executive Producer for film and television and most recently signed a first look deal to create content with Amazon Studios. He is currently serving as a Co-Executive Producer on the TV show "Sovereign" currently in development with Ava DuVernay, Warner Brothers Television, and Array Filmworks; And, he is an Executive Producer on Erica Tremblay's debut feature "Fancy Dance" currently in production in Oklahoma. He has more projects in development with Showtime Networks and Amazon Studios. Prior to launching his producing career, Runningwater guided the Sundance Institute's commitment to Indigenous Filmmakers for 20 years nurturing new generations of filmmakers through the Institute's Labs and Sundance Film Festival. He also served as the head of the Institute's Diversity, Equity and Inclusion work Institute-wide.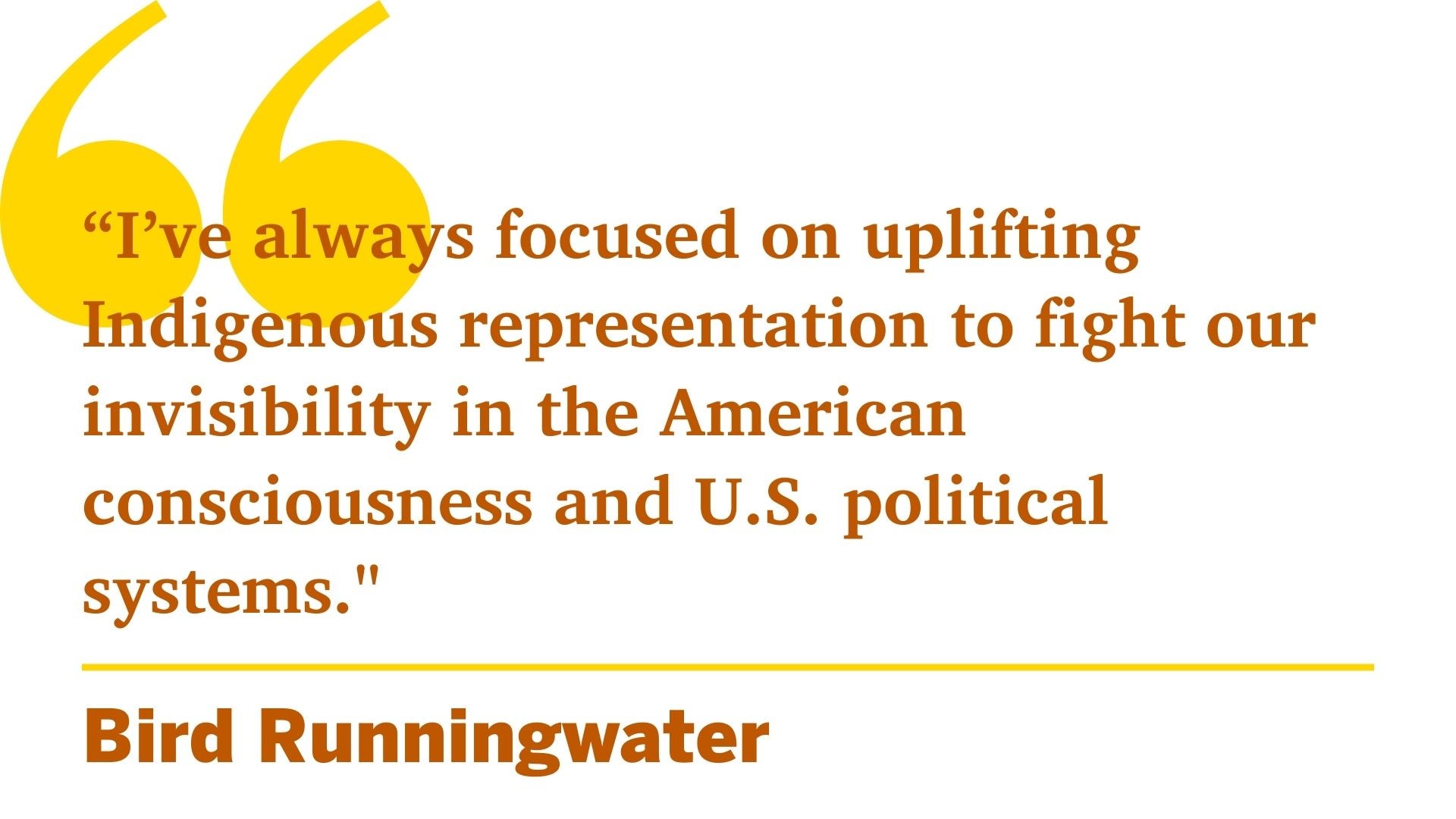 Runningwater is a member of the Academy of Motion Pictures Arts and Sciences and in-chairs the Academy's Indigenous Alliance. He also serves on the boards of directors of Illuminative and the Arctic Indigenous Film Fund. He was recently appointed to serve on the Library of Congress' National Film Preservation Board, and is a past member of the Board of Jurors for the George Foster Peabody Awards. In Time Magazine's 2019 Optimist Issue, Runningwater was listed among "12 Leaders Who Are Shaping the Next Generation of Artists''.
Runningwater began his career in media 26 years ago as a Program Associate for the Media, Arts and Culture Program at the Ford Foundation in New York where he helped fund non-commercial radio, tv and film work across the US and around the world in Africa, Asia, Latin America and Russia. He is a graduate of the University of Oklahoma with degrees in Journalism and Native American Studies, and he received his Master of Public Affairs degree from The University of Texas at Austin Lyndon B. Johnson School of Public Affairs.
The Distinguished Public Service Award was established in 1989. Previous recipients include Shamina Singh (MPAff' 97), founder and president of the Center for Inclusive Growth, the philanthropic hub of Mastercard; Alejandra Castillo (MPAff '98), U.S. assistant secretary of commerce for economic development; Stacey Abrams (MPAff '98), voting rights champion; and Laura Huffman (MPAff '91), president and CEO of the Greater Austin Chamber of Commerce.
Rising Leader Award
Chris Rodriguez (Master of Public Affairs '12)
President & CEO, Ability360
Rodriguez receives the school's Rising Leader Award, which recognizes an alumnus who has improved the quality of public service at all levels of government and civic engagement. Rodriguez has dedicated his career to the well-being of children and adults with disabilities, including those with intellectual and developmental disabilities, those with mental health challenges and those with physical disabilities.
Rodriguez has an extensive history advocating alongside and on behalf of individuals with disabilities on the local, state and national levels. Before becoming the President & CEO of Ability360, Rodriguez served as the Executive Director of Disability Rights Louisiana (DRLA), an organization that aims to empower and advocate for the human and legal rights of people with disabilities. In addition, Rodriguez has held several other positions in the disability advocacy community, including Director of Public Policy for National Disability Institute, Director of Governmental Affairs and Media Relations for the Michigan Protection and Advocacy, and Director of Chapter Services at The Arc of Texas.
Rodriguez received his undergraduate degree at the University of California, Berkeley. He earned his graduate degree in Public Affairs at the Lyndon Baines Johnson School of Public Affairs at The University of Texas, Austin. Rodriguez also holds a graduate minor in Disability Studies. Rodriguez's passion for advocating comes from his experiences as the younger sibling to a person with significant intellectual and developmental disabilities.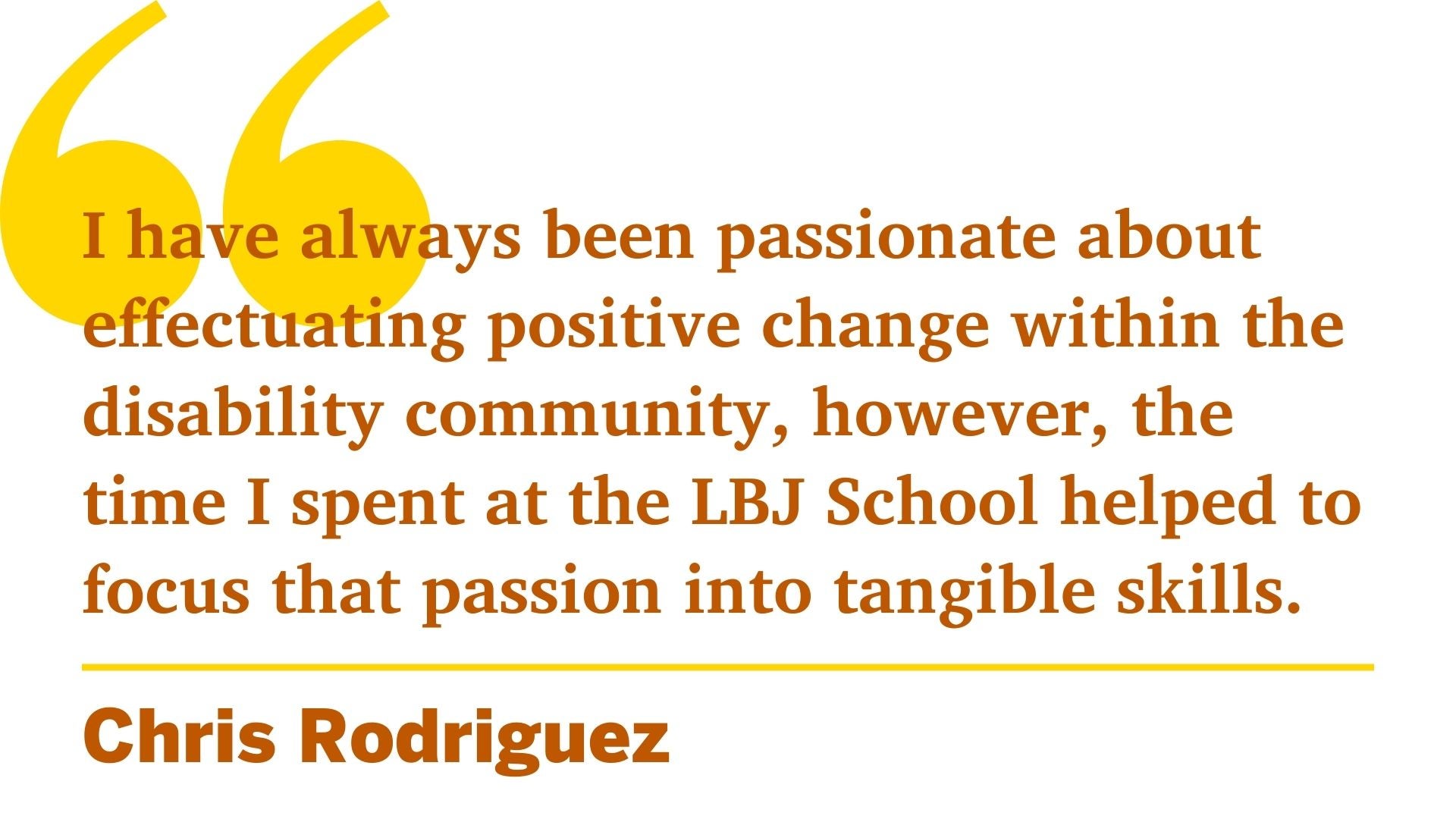 Previous recipients of the Rising Leader Award include Erol Yayboke (MPAff '06), senior fellow with the International Security Program; Lauren Rose (MPAff '10), public policy director at the Texas Network of Youth Services; Rudy Metayer (EMPL '16), president of the Texas Black Caucus Foundation; and Rachel Hoff (MGPS '14), policy director at the Ronald Reagan Institute.
"The LBJ School Alumni Board is incredibly proud of this year's Outstanding Alumni Award winners," said Stephen Niemeyer (MPAff '92), Chair of the National Alumni Board Recognition Committee. "Bird Runningwater has worked to amplify the voices of the indigenous community through film, and Chris Rodriguez has devoted his life to improving services for those with disabilities. Both alums represent the very best of the LBJ community."
The LBJ School extends its thanks to the Alumni Recognition Committee, which includes Stephen M. Niemeyer, Jeff Yorg and Lauren Oertel.
The awards will be presented on September 15 during the LBJ School's community-wide back-to-school celebration, Picnic on the Plaza.