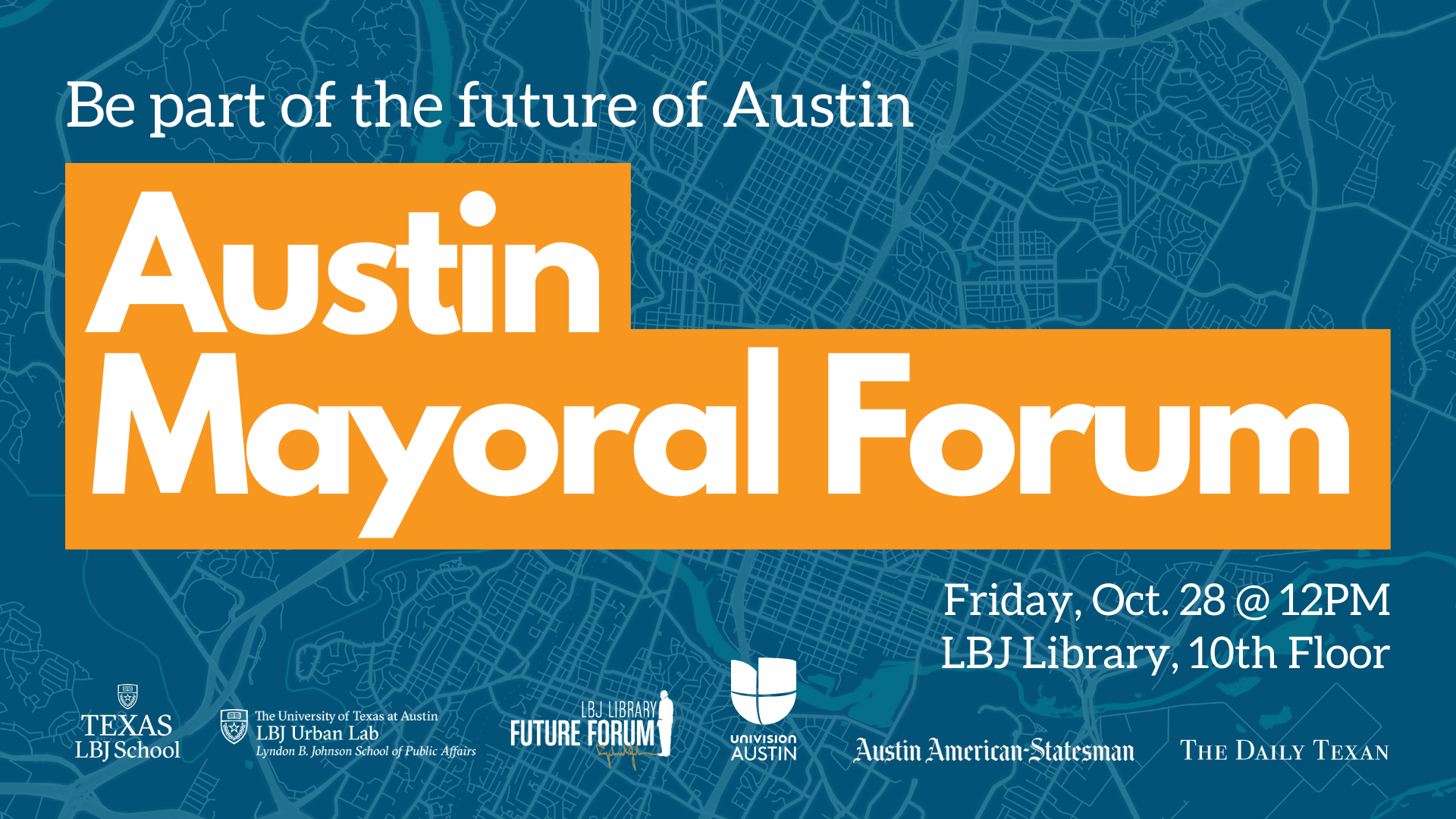 About this event
On November 8, 2022, Austin voters will head to the polls to cast their ballots for the next mayor of the 11th largest and one of the fastest growing cities in the country. Facing growing challenges surrounding affordable housing, public safety, land use, and mass transit, the candidates for mayor will face each other in a thoughtful discussion of the most pressing issues facing young people in Austin.
This event is convened by the LBJ Urban Lab and cohosted the LBJ Future Forum
REGISTRATION IS REQUIRED
---
Candidates

Kirk Watson | Former Mayor and State Senator

For three decades, Kirk Watson has been immersed in public policy, spanning local and state government in Texas. He's led on a wide range of issues including education, health care, transportation, and government transparency.
Elected mayor of Austin at 40-years-old, Kirk helped Austin navigate its first tech boom, driving initiatives that accommodated an influx of people and businesses in ways that addressed affordability, the economy, and things people love about Austin. He did it by bringing different political sides together — leveraging the community's creativity, commitment, and compassion to advance transformative downtown, environmental, transportation, and public safety initiatives.
Kirk was elected state Senator representing the Austin area in 2006. He served until 2020 when he left to become the Founding Dean of the Hobby School of Public Affairs at the University of Houston.
Kirk led the effort to create the Dell Medical School at UT Austin. His successful "10 Goals in 10 Years" initiative also led to the construction of a brand new 21st-century safety net and teaching hospital, built entirely without taxpayer funding. He also led a bipartisan legislative effort both to fund a new Austin State Hospital and to thoroughly redesign the approach to mental health services in Austin and across Texas.

Celia Israel | Texas State Representative (HD-50)

Celia Israel is a Texas State Representative, community organizer, and openly gay Latina. The daughter of working-class parents, she knows firsthand how Austin's affordability crisis affects our families, workers, teachers, students and all who want to make this city home. Celia has a plan to address our city's housing shortage and will also fight to protect women's reproductive rights and invest in a transit system to serve our city and bring our communities together.
Originally from El Paso, Rep. Israel moved to Austin in the summer of 1982 to attend the University of Texas. The City of Austin took her in with open arms and an energy and a community that has inspired her decades of public service. Rep. Israel first organized to elect and then served in the Ann Richards administration, where she learned how to lead with heart and a good sense of humor.
Rep. Israel has served our community on numerous nonprofit boards centered on issues of equity and has served the City of Austin on the Environmental Board, the Police Monitor Board, the 2011 Bond Advisory Commission, and the Robert Mueller Advisory Commission. During her time in the legislature representing House District 50 in Northern Travis County, Rep. Israel has been a known champion for voting rights, transportation safety, and our shared progressive values. Rep. Israel will be the first Latina to serve as mayor of any major US city and Austin's first openly LGBTQ mayor.

Anthony Bradshaw | Security Guard

Anthony Bradshaw was born on October 28, 1959 and has lived in Austin since 1973. He attended and graduated from McCallum High School, here in Austin, TX. Following his time at McCallum High School, he also attended Austin Community College for a short period. Soon after, he stepped on to the gridiron and played Semi Pro football locally for the Austin Assassins.
In 1989, Anthony began PCE, or prestige commercial enterprises; a carpet cleaning company. Also around that time, he began a church. Eternal Power Ministries which later, in 2018, changed its name to Newday Church. At the beginning of 2019, Anthony went on to start another business, Bradshaw Security, which currently serves Austin and all the surrounding areas.

Jennifer Virden | Real Estate Broker

"In 1991, I graduated from UT-Austin with a BBA in Finance. Shortly thereafter, I went to work with Dell. In 1993, I had my first child and left Dell. As a working mom, my business was certified by the City of Austin as a Woman-Owned Business, and for 12 years, I managed over 20 single-family homes in the heart of East Austin, which were part of a City of Austin low-income housing development's lease-to-own program.
In the early 2000's, I started my current real estate and construction business. That was back when you could still submit a hand-drawn sketch and walk out the same day with a remodeling permit. I've come a long way from there. My business has grown over the years and I love what I do. Each client is a VIP to me, and my design/build projects are works of art for me. I'm a stickler for details and perfection.
During my life in Austin, I have been a child, a college-student, a working mom, a business owner, a builder, and a community advocate. Those experiences, combined with my detail and solution-oriented mindset, give me the leadership skills needed to be your next Mayor. If you put your trust in me to lead, build consensus, and get things done, I promise I will do what is best for our city. My mantra is: 'I want to make Austin an even better place than I found it.'"

Phil Brual | Government Major at UT

Phil Brual was raised and educated in South Austin at James Bowie High School. He has two wonderful mothers and an amazing father who is an immigrant from the Philippines, all of whom are deaf and taught him ASL. Phil is a renter here in Austin, sharing a two-bathroom duplex with four roommates. He works three part-time jobs, as well as a legislative internship at the Texas State Capitol. Additionally, Phil is studying Government and History at UT Austin. He has researched legislation, constitution creation, and party demographics on both local and national levels. Many of these issues often compare to what we see in Austin today, both in legal affairs and demographic changes. Phil's work at the Texas Capitol allows him to keep an eye on the state and city-wide issues across multiple departments. Combined with his City Council attendance, Phil stays informed of the whirlwind of changes that Austin faces. Through his experiences, he have quickly and efficiently built his knowledge and understanding of politics, allowing him to skillfully tackle any conflicts that arise.
 
Gary Spellman| Cosmetics Executive

Gary Spellman is the co-founder of Ultimate Face Cosmetics, a vegan, gluten-free, and cruelty-free global beauty brand based in Austin, Texas. Gary built the brand with his wife, Laurie Spellman, on more than 25 years of experience in the professional beauty industry, including roles in sales, management, training, distribution, manufacturing, and salon coordination. Ultimate Face Cosmetics reflects Gary's guiding principles that center around environmental consciousness and giving back to the community.
Born and raised in Massachusetts and the second oldest of seven children, Gary developed a strong work ethic early in childhood growing up poor and occasionally experiencing homelessness. His entrepreneurial spirit enabled him to work numerous jobs to scrape by and pay the bills over the years. While working as a doorman at a top nightclub in Newport, Rhode Island, he met longtime friend John Paul DeJoria, founder of the Paul Mitchell line of hair products and The Patron Spirits Company, at what would be a pivotal change in his personal and professional trajectory.
Gary relocated to Austin in 1997 and continues to work on various projects and charitable endeavors. He founded the annual Peace, Love, and Happiness Ride with DeJoria, which has raised over a million dollars for the 100 Club of Central Texas, benefiting orphans and widows of fallen peace officers. He also serves as a Goodwill Ambassador for Paul Mitchell and Indian Motorcycles.
---
Moderators
Ryan Autullo | Austin American-Statesman

Samantha Greyson | The Daily Texan

Ricardo Rendon | Univisión 62 Austin

Event Details
Date and Time
Oct. 28, 2022, noon to midnight
Location
LBJ Presidential Library, 10th Floor