Published:
March 10, 2023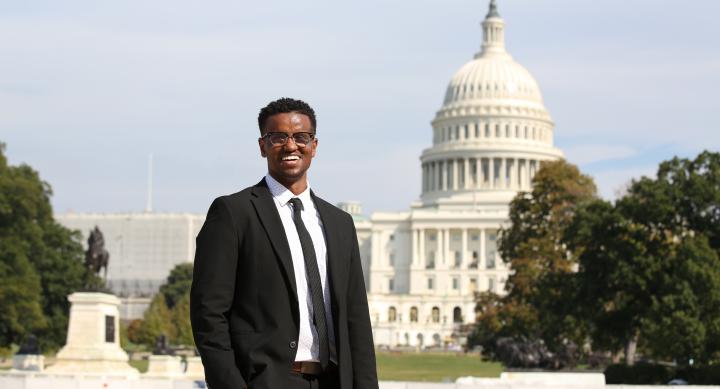 Samer Yousif (MGPS-DC '18) is the CEO of BLCK VC, a nonprofit that equips Black investors with the access, education and community they need to accelerate their careers in venture capital. He is a SXSW 2023 speaker on racial justice and the tech ecosystem space. When he was inspired to action, he said LBJ gave him the policymaking and advocacy tools to be effective.
What was your policy area of focus while at the LBJ School?
SY: Entrepreneurship
Tell us about your experience at the LBJ School.
SY: It was an incredible experience that gave me a deeper understanding of the intersection of public policy, entrepreneurship & capital access, and racial equity.
Tell us about your professional journey after you left the LBJ School.
SY: After leaving LBJ, I went to VentureWell, where I worked on the U.S.Department of State Global Innovation through Science and Technology (GIST) Initiative to build start-up ecosystems in emerging markets. I sourced and funded global startups, supported local incubators, and built out angel investment networks. Through that work, I started focusing on building out the early-stage capital ecosystem for BIPOC Communities in the U.S. I launched the Investors of Color, a coalition of Black, Hispanic, and Asian investors investing into the health, wealth and social mobility of communities of color.
After the protests in 2020 in response to police killings, I was motivated to commit my career to closing the racial funding gap for BIPOC entrepreneurs, so I joined BLCK VC as the first employee in November 2020. At BLCK VC, which is the professional organization for Black investors committed to making the venture industry more inclusive, I've led the development of the organization, launched 5 programs, created the State of Black Venture Report, and coalesced a coalition of organizations and funds committed to changing the industry.
What is one skill you learned at the LBJ School that you still use in your professional career today?
SY: Primarily understanding the policymaking process, efficiently researching policies, and advocacy.
What advice would you give current students as they prepare to graduate and go out into the policy arena?
SY: Network and be creative about your career path. Opportunities come to those that are entrepreneurial and willing to take risks.
What was your most treasured memory from your time at the LBJ School?
SY: LBJ tailgates