Max Sherman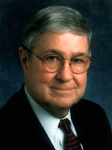 Max Sherman Chair Emeritus in State and Local Government (nonteaching)
Contact Info
512-474-4862
max.sherman@mail.utexas.edu
Max Sherman has policy interests in practical politics, state government, policy development, and ethics in public affairs.

Sherman was Dean of the LBJ School from July 1983 until September 1997. Prior to his appointment at the LBJ School, he was Special Counsel to the Governor of Texas. From 1971 to 1977 he served in the Texas Senate, leaving in 1977 to become President of West Texas State University. He has a J.D. degree from The University of Texas at Austin and a B.A. in history from Baylor University.

Over the years, Sherman has held numerous national and state appointments to boards and committees studying such topics as higher education (management effectiveness and financing), intergovernmental relations, mental health and mental retardation, hazardous waste management, infrastructure needs and financing, and energy and conservation. Here are some of them:

Membership and service on boards: National Academy of Public Administration, Center for Public Policy Priorities, Leadership Austin, Austin Area Research Organization (AARO), Austin Presbyterian Theological Seminary and Humanities Texas.

Leadership positions: Vice President of the Harry S. Truman Scholarship Foundation (2004 to present); President of the National Association of Schools of Public Affairs and Administration (1988-89); President of AARO (1998); National Committee on Innovations in State and Local Government for the Ford Foundation (1985-98); Commissioner with the Government Ethics Center of the Josephson Institute of Ethics (1989-1998); Chair of the Texas Board of Human Services (1994-1999); Founding President of the Foundation for Insurance Regulatory Studies in Texas (1991-present).

Awards: Price Daniel Public Service Award (2005)--Baylor University; Public Administration Educator of the Year (2004)--Centex Chapter of the American Society for Public Administration; Texan of the Year (1999)--Texas Legislative Conference; Austinite of the Year (1997)--Greater Austin Chamber of Commerce; Distinguished Alumnus (1992)--Baylor University.

During his tenure as State Senator, Sherman was recognized by Texas Monthly in 1973, 1975, and 1977 as one of the ten best legislators; the magazine cited his integrity, intelligence, and "genuine sense of public service."
Education
Current Positions
Previous Positions