Ray Marshall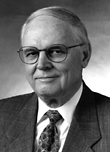 Professor Emeritus and holder of the Audre and Bernard Rapoport Centennial Chair in Economics and Public Affairs (nonteaching)
Contact Info
512-471-6242
ray.marshall@mail.utexas.edu
Ray Marshall has a Ph.D. in economics from the University of California at Berkeley. A member of the UT Austin faculty since 1962, he came to the LBJ School in 1981 after serving for four years as U.S. Secretary of Labor in the Carter administration.
Professor Marshall is a member of the Clinton administration's National Skills Standards Board and the Advisory Commission on Labor Diplomacy. In addition, he is cochair of the Commission on the Skills of the American Workforce, a member of the board of the Economic Policy Institute, and a member of the Commission on State and Local Public Service. He is also chair of the board of the National Center on Education and the Economy and is the President of the International Labor Rights Fund.
Marshall is author of more than thirty books and monographs, including Thinking for a Living: Education and the Wealth of Nations, and Back to Shared Prosperity.
He retired from teaching at the LBJ School in September 1998.
Education
Current Positions
Previous Positions