Leigh B. Boske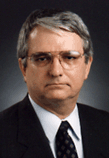 Professor Emeritus of Public Affairs
Contact Info
leigh.boske@utexas.edu
Leigh Boske received his Ph.D. in economics from the University of Pittsburgh. His research focuses on national and international transportation policy issues, the role of transportation and logistics in international trade, and integrated transportation planning. His teaching included courses in transportation, finance, and microeconomics.
Prof. Boske formerly served as Associate Dean for Academics and Research at the LBJ School (1996-2006), and interim Director of the Ray Marshall Center for the Study of Human Resources (1994-1996). He took a leave of absence from the University during the 1993-1994 academic year to serve as Policy Advisor to the Texas Transportation Commission.
Over the years, he has been a member of a wide range of public-service advisory panels and professional associations. Examples include: Executive Committee, U.S.-European "Transatlantic Policy Consortium"; U.S. Comptroller General's "Educators' Advisory Panel"; Institutional Representative, Association for Public Policy Analysis and Management; Coordinating Committee, Organization of American States' (OAS) Inter-American Research and Training Program; and Advisory Group, Public Service Careers Initiative, National Association of Schools of Public Service and Administration.
Prior to his arrival at the LBJ School, he was a Senior Staff Economist at the National Transportation Policy Study Commission of the U.S. Congress. He also previously served as Chief of Economic and Environmental Analysis at the Wisconsin Department of Transportation.
Education
Ph.D. in economics, University of Pittsburgh
Current Positions
Research Fellow, Center for Transportation Research, University of Texas at Austin
Previous Positions
Professor, LBJ School of Public Affairs, UT-Austin (1989-2015)
Sharpe Centennial Fellow, LBJ School of Public Affairs, UT-Austin (1989-2015)
Associate Professor, LBJ School of Public Affairs, UT-Austin (1981-1989)
Assistant Professor, LBJ School of Public Affairs, UT-Austin (1977-1981)
Evaluation of Mexican Transportantion Infrastructure Projects (Study conducted for the Texas Department of Transportation, 2010); Reducing the 'Carbon Footprint' of Global Transportation (Study conducted for the Congressional Research Service, 2008); The Impact of Transpacific Trade on the United States Transportation System and Texas Economy (Study conducted for the Congressional Researcg Service, 2005); Maritime Transportation in Latin America and the Caribbean (study conducted for the Organization of American States, 2001)