Kenneth W. Tolo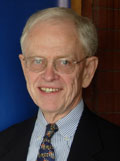 Professor Emeritus of Public Affairs (nonteaching)
Contact Info
301-657-9602
ktolo@comcast.net
Kenneth W. Tolo, who has a Ph.D. in mathematics from the University of Nebraska (Lincoln) and an M.A. in public affairs from the University of Minnesota (Minneapolis), taught at the LBJ School from 1972 until August 31, 2000. In September 2000 he became Director of the Fund for the Improvement of Postsecondary Education (FIPSE) in the U.S. Department of Education's Office of Postsecondary Education in Washington, D.C. In August 2002 he became Executive Director of the National Association of Schools of Public Affairs and Administration (NASPAA), a position he held until December 31, 2004.
From March 2005 through June 2008, Tolo served as the first William J. Clinton Distinguished Professor at the new University of Arkansas Clinton School of Public Service, developing and directing the School's Master of Public Service community service team practicum projects in the Arkansas Delta. Since 2005, he also has served as an international consultant for numerous U.S. Agency for International Development (USAID) and other international donor projects in Asia, the Middle East, and Central/Eastern Europe; his recent work has primarily focused on higher education institutional capacity assessment and development in Indonesia.

From 1979 until 1990, Tolo served as Associate Vice President for Academic Affairs and Research and then as Vice Provost for The University of Texas at Austin. From 1994 to 1997, he served as Senior Advisor in the Office of the Secretary, U.S. Department of Education.

Tolo's LBJ School policy research focused primarily on education, employment, and equity issues. In addition, he frequently worked with international and national government agencies and nonprofit groups on civic education, higher education, and education reform. In October 2005, NASPAA awarded him its Elmer B. Staats Public Service Career Award for a lifetime of "inspiring and encouraging [LBJ School and Clinton School] students to pursue public service careers."
Education
Current Positions
Previous Positions