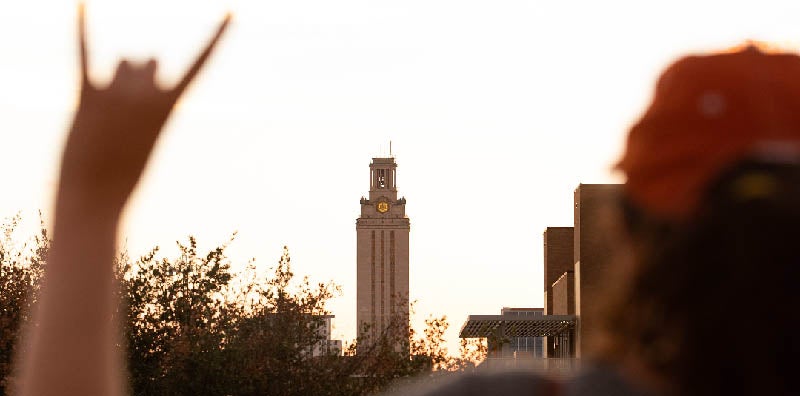 Hook 'em, y'all. (Photo by Callie Richmond)
Admitted Students Weekend is April 5–6. We're excited you're here.
The LBJ School of Public Affairs is welcoming the latest admitted cohort of policy students to Austin — an amazing opportunity to get a feel for the place — and the city — that will prepare them to go out and make their mark in the policy arena.
---
Learn more:
---
See what some of our new admitted students had to say about becoming a part of the LBJ legacy:
*some personal news*

I'm headed to @TheLBJSchool this fall to get my Master's of Global Policy Studies (MGPS) degree. Looking forward to the next chapter in Austin!#HookEm #ATX

— Nick Barracca (@NBarracca) April 2, 2019
Just found out I got into @TheLBJSchool knocked out my undergrad in 3 years, and now I'm going to graduate school!!!

— Mayra (@Mayra_Ixchel) March 30, 2019
Accepted an offer from the LBJ School of Public Affairs at UT. I will be pursuing a Master of Public Affairs starting next fall! @TheLBJSchool pic.twitter.com/S4Xj0BRZe3

— Conner Joyce (@ConnerBJoyce) March 30, 2019
Just spent the past hour writing in-depth responses to a prospective student's ?s abt interning @ #TXLege. I can't count the # of times I have sent emails w genuine ?s abt internships, jobs, orgs, etc only to be ignored. I will always commit time to helping emerging colleagues.

— Ryan Carlino (@rmcarlino) March 30, 2019
"It is with great delight that I announce my acceptance into the LBJ School." pic.twitter.com/ylgyTGGSoX

— The LBJ School (@TheLBJSchool) Feb. 11, 2019
GOT ACCEPTED TO THE @TheLBJSchool!!! IM GOING TO GRAD SCHOOL YALL

— Chanel Brown (@chanelb94) Feb. 8, 2019
I didn't apply to any other school because it was @TheLBJSchool or nothing. Last weekend I received my admission letter. #HookEm #EXATEC pic.twitter.com/66iRXHoZtk

— Jaime A. Cabrera (@JaimeACabrera) April 5, 2019
A few months ago, I shared the story of my sexual assault in college, how it derailed my academic career, and how scared I was of applying to grad school because of the toll it took on my grades.

WELL, GUESS WHO JUST FOUND OUT SHE'S GOING TO @TheLBJSchool THIS FALL? #HookEm pic.twitter.com/RjgQUmjxhQ

— Amanda Clarke (@akclarke_) Feb. 8, 2019