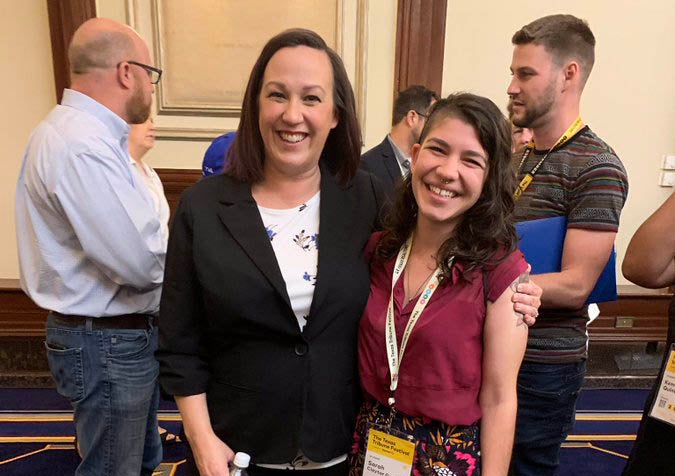 Congressional candidate MJ Hegar met second-year MPAff student Sarah Gonzalez Claytor at the
Texas Tribune Festival on Sept. 28, 2019. (Photo:
Sarah Gonzalez Claytor
)
The LBJ School is proud to have been a sponsor of the 2019 Texas Tribune Festival, an annual buzzworthy event on politics and public policy in the heart of downtown Austin. The 2019 festival, which took place in downtown Austin Sept. 26–28, included panels and keynotes with leading policymakers including House Speaker Nancy Pelosi (D-CA), Sen. Ted Cruz (R-TX) and former U.S. Ambassador to the United Nations Susan Rice.
A team of 30 LBJ School students formed the heart of the festival's social media coverage, live-tweeting and commenting on events throughout the weekend. Scroll through the hundreds of posts on Twitter and check out a sampling of some of the team's work below.
The LBJ School partnered with TribFest to create special Urban Lab programming in addition to co-sponsoring breakfasts that gave students the opportunity to talk to Austin Mayor Steve Adler and former White House Communications Director Jennifer Palmieri. The school also once again presented a special #TribFest19 edition of political Trivia Night at Scholz Garten with MSNBC and NBC News national political correspondent Steve Kornacki, and a fantastic collection of LBJ faculty and alumni appeared as experts on panels:
Programmed in partnership with the LBJ Urban Lab:
A team of 30 LBJ School students formed the heart of the festival's social media coverage, live-tweeting and commenting on events throughout the weekend. Scroll through the hundreds of posts on Twitter and check out a sampling of some of the team's work below. The LBJ student social team was everywhere during the festival, soaking up the discussions and offering up their takes:
I'm at #TribFest19 and it feels like a big @TheLBJSchool and #txlege reunion.

— Laura Gorsky (@lauragorsky) Sept. 27, 2019
Delighted to see two #LBJAlumni on #TribFest19's Taking Heat panel! @RodneyEllis @laurajhuffman #LBJTribFest pic.twitter.com/2Oo0Oirdnq

— LBJ School Alumni (@LBJSchoolAlumni) Sept. 27, 2019
Listening to Admiral McRaven talk about bridging political divides to advise past presidents on major military matters is truly inspiring. It's an honor to have the opportunity to pursue graduate studies @TheLBJSchool with such a world renowned staff. #TribFest19

— Austin Cruz (@auscrz) Sept. 27, 2019
As #climatechange worsens, we have to confront how unfair funding for infrastructure & disaster recovery has made our climate-vulnerable communities even more vulnerable. You CANNOT address climate change w/ out addressing inequality. #climatejustice #takingheat #TribFest19 https://t.co/M2eSRVvmoL

— Rodney Ellis (@RodneyEllis) Sept. 27, 2019
This panel is organized by @lawfareblog and it includes @BobbyChesney, @NicholasRasmu15, Lisa Monaco and Mary McCord#TribFest19 #LBJTribFest pic.twitter.com/8Iht4L8jIg

— Mohamed Abufalgha (@MAbufalgha) Sept. 27, 2019
90 minutes early for @PeteButtigieg and the line is already around the block #TribFest19 @TheLBJSchool pic.twitter.com/IegeAkTpsI

— Dan Matz (@dmmatz) Sept. 27, 2019
Great to see @dallasmayor at #TribFest19 and hear him speak about his vision for #Dallas and cities leading on climate during his one on one session this afternoon! pic.twitter.com/XC6Jnzq6L4

— Laura Huffman (@laurajhuffman) Sept. 27, 2019
Voy a estar hoy y mañana tuiteando desde el #TribFest19 #LBJTribFest. Ahorita estamos con @PeteButtigieg, quien por supuesto apoya el impeachment. pic.twitter.com/zfJz0gVsba

— Alfonso Rojas Alvarez (@alf10087) Sept. 27, 2019
Waited two hours in line to see Mayor @PeteButtigieg at #TribFest19 pic.twitter.com/OsyfOlKUyT

— Austin Cruz (@auscrz) Sept. 27, 2019
"Presidency is not the only office that matters" @PeteButtigieg stresses importance of state and local victories in #election2020 to prevent party driven #gerrymandering #TribFest19 @TexasTribune #redistricting @TheLBJSchool

— Philip Jankoski (@philipjankoski) Sept. 27, 2019
.@SRuhle doing an amazing job asking the right questions to @PeteButtigieg. A very dynamic and constructive panel at #TribFest19 https://t.co/RJZ9bwlR8m

— Jaime A. Cabrera (@JaimeACabrera) Sept. 27, 2019
Skipping Mayor Pete's event to learn about fair elections and counting every vote! #TribFest19 #LBJTribFest pic.twitter.com/37fXQuKQcF

— maggie johnson (@op_variable) Sept. 27, 2019
I LOVED this panel. Thank you @aliciagarza @CecileRichards @aijenpoo for speaking about the incredible work y'all are doing with @supermajority #TribFest19 #LBJTribFest pic.twitter.com/evdkPbUVxb

— Chanel Brown (@chanelb94) Sep. 27, 2019
Discussions of politics and patriotism in the country's binational cities at #tribfest19 featuring @TheLBJSchool professor Ruth Wasem #LBJTribFest pic.twitter.com/bVzRM8vsV3

— Colleen Gleeson (@colleen_gleeson) Sept. 27, 2019
Just arrived at my first #TribFest19 event ! @margarettalev will be interviewing @AmbassadorRice on the state of American diplomacy and foreign policy. #LBJTribFest

— c k a n e (@CKANE24) Sept. 27, 2019
Quick visit to the state capital in between sessions of the Texas Tribune Festival. That's one happy policy nerd. #TribFest19 #LBJTribFest pic.twitter.com/8xBQrTvzMX

— Alyssa Goessler (@GoesslerAlyssa) Sept. 27, 2019
Honored to participate in #TribFest19 ⁦@TexasTribune⁩ discussing immigration in the context of Bi-National Cites. ⁦@TheLBJSchool⁩ pic.twitter.com/QWiaHX8nr7

— Ruth Wasem (@rewasem) Sept. 28, 2019
A lil democratic candidate trivia with @SteveKornacki @TheLBJSchool #LBJTribFest #TribFest19 pic.twitter.com/ccSrM6bsmu

— Brenna Lyles (@brennmlyles) Sept. 28, 2019
... at 8:30am on the last day of #TribFest19, no less. National media may have fallen out of love with @BetoORourke but Texans continue to have a lot of time for him! https://t.co/CjJzDVzN24

— Mark C. Hand (@markchand) Sept. 28, 2019
Look who's hanging ⁦@UTAustin⁩ ⁦@UTexasStrauss⁩ #TribFest19 ⁦@MayorAdler⁩ pic.twitter.com/IPYoLSEsjk

— Victoria DeFrancesco (@DrVMDS) Sept. 28, 2019
Nothing like education policy on Saturday morning! Looking forward to talking about the Future of Education with @evanasmith @drgoffney @MargaretEdu, Mike Morath (@teainfo), and Juliet Garcia (@UTBrownsville) #TribFest19 pic.twitter.com/uYYV7gbkTj

— Jaclyn Le (@JaclynHLe) Sept. 28, 2019
One of the reasons why immigrants come cuz their home countries are not safe and they cannot go back.@TexasTribune @TheLBJSchool @LBJSchoolAlumni pic.twitter.com/1oZcLnzvGx

— Kayee Chow (@kayee_chow) Sept. 28, 2019
"What's one thing that we can do to improve the immigration situation right now?" - @DrVMDS

"I'm not sure, but I know deterrence policies don't work. We saw that clearly in Arizona. It just pushes people further out." - @Perla_Trevizo #WhyMigrantsCome#TribFest2019

— Sam M. Lee (@SamMichaelLee) Sept. 28, 2019
What I am most thankful for today:
• @TexasHouse
• @TexasTribune
• @TheLBJSchool
• @FourPriceTX & @4KarenPrice

I am beyond blessed to be in this city doing and learning what I love. I am constantly surrounded by people who are changing the world and IT. IS. AWESOME.

— Julia Tisch (@jtisch_) Sept. 28, 2019
Highlight of day 1! Thank you @nhannahjones pic.twitter.com/8KMfvXTLjj

— barbara (@Mis_Barbara) Sept. 28, 2019
As a woman in policy school, it's powerful to see women in politics. I'm glad I have the opportunity to see @amyklobuchar at #TribFest19 pic.twitter.com/0ro2jrYRUX

— Madilyn Jarman (@MPJarman) Sept. 28, 2019
Amazing panel. Thank you @RepCuellar and @aogarza for the picture. Que orgullo ver a otro regiomontano @jorge_guajardo en el panel. Nos faltó la foto, Embajador. #TribFest19 pic.twitter.com/zrFLE5D6x3

— Jaime A. Cabrera (@JaimeACabrera) Sept. 28, 2019
"Do you think Bill Barr should recuse himself? (From the impeachment process)," asked @NatashaBertrand
"I think he should resign," answered @JoaquinCastrotx#TribFest19 pic.twitter.com/7x5jEVYLvd

— Juan Pablo Garnham (@jpgarnham) Sept. 28, 2019
.@UTAustin Tent at #TribFest19 is getting heated, and it's not just the weather. Panel on Threat Assessments w @RepMcCaul (TX-10), Frm DHS Sec Jeh Johnson, and @IAmAmnaNawaz @NPR #LBJTribFest @TheLBJSchool pic.twitter.com/SpEwXvudCo

— Nick Barracca (@NBarracca) Sept. 28, 2019
"I think it's important to know how to get things done and knowing how to get things done in Washington helps - but I also there's strength in boldness." @tedcruz @ChrisHayesTV #LBJTribFest19 #TribFest19 pic.twitter.com/wrsXEu9riO

— Brenna Lyles (@brennmlyles) Sept. 28, 2019
Excited for a taping of "With Friends Like These" with @anamariecox and @AndrewGillum! #TribFest19 pic.twitter.com/FtdDH7NOz4

— Jaclyn Le (@JaclynHLe) Sept. 28, 2019
So impressed by the knowledge and detail that @Klonick is bringing to the discussion. Learning about the history of Section 230 and the forced application of aging laws to new technological innovations.

"It's like a petri dish, and now everything's turning green!"#LBJTribFest

— Ashlyn W. Hand (@AshlynWHand) Sept. 28, 2019
@srgreenberg@ @TheLBJSchool #TribFest19. A newly registered voter takes 3 contacts to get them to vote.

— Sherri Greenberg (@srgreenberg) Sept. 28, 2019
"Doing Our Share" moderated by @iamstevenpedigo of The LBJ School Urban Lab with Ashwini Chhabra of Bird scooters, Spencer Cook the City of Austin Manager, @Twapril director of public policy at Lyft, and @VoteViagran of the San Antonio city council at #TribFest19 @TheLBJSchool pic.twitter.com/xjHShdTiAQ

— Austin Cruz (@auscrz) Sept. 28, 2019
Looking forward to hearing about how millennials are embracing politics and activism with @jamestalarico @JudgeHidalgo @BriscoeCain @RandanMarie and moderated by @CharlotteAlter #TribFest19 pic.twitter.com/5yNqr6g5by

— Jaclyn Le (@JaclynHLe) Sept. 28, 2019
Next year at #TribFest2019 can we do panel mashups, w/ @SenatorNichols & @TerryCanales40 talking to the shared mobility panel about meaningful transpo solutions, like changing roadway design & congestion pricing?@lyft @AustinCityMgr @iamstevenpedigo @BirdRide @VoteViagran pic.twitter.com/cUVmQbgD8S

— Jay Blazek Crossley (@JayCrossley) Sept. 28, 2019
Former Ambassador to the United Nations @SamanthaJPower on what she would change about the institution:

"There are 3 things I'd change about the UN: 1) President Xi 2) President Putin and 3) President Trump. "

#TribFest19 pic.twitter.com/pnTtLkyw0c

— Jade (@JadeDeeV) Sept. 28, 2019
I just got to meet Ambassador @SamanthaJPower and thank her for speaking to us about her experience as a woman in foreign policy here at #TribFest19. Day: made. #LBJatTTF pic.twitter.com/8vFtT6Iv2S

— Brittany Horton (@bhorton314) Sept. 28, 2019
#TribFest19 was awesome. But, damn I am tired. Great few days. Thank you @evanasmith for a terrific partnership exploring big issues impacting #cities.

— Steven Pedigo (@iamstevenpedigo) Sept. 28, 2019
Highlight of #TribFest19: meeting @mjhegar and getting to tell her how much I love her policies & politics. Lots of young ppl lining up to talk to her, with one young woman saying, I love how angry you are.

We're riled up and ready to knock on doors for you! pic.twitter.com/w99KZLGhZ1

— Sarah Gonzalez Claytor (@lapetite_syrah) Sept. 28, 2019
Wow! This was the best way to end #TribFest19! @JulianCastro is a former falculty member of the @TheLBJSchool. We were all so exited to get a picture! #LBJTribFest19 Thank you Julián!

On that note, I'm signing out pic.twitter.com/D3A5ZdfhFr

— barbara (@Mis_Barbara) Sept. 29, 2019
"We must pursue the facts further to see if it violates the constitution which I believe it did." @SpeakerPelosi

— Jonathan Du (@Jonathan_Du_) Sept. 29, 2019
I'm at #TribFest19 with @jtisch_!

Just a couple @TheLBJSchool students having the time of their lives!!!

(Our buttons say we an educated voter and a green voter pic.twitter.com/jrFtsOqo8y

— Tynan Holt (@tynan_holt) Sept. 28, 2019
Had a blast at #TribFest19! Thanks to @TheLBJSchool for sending this policy nerd to @TexasTribune's amazing gathering of wonks, nerds, and leaders. Catch me and @marthafur at #tribfest22 talking about queer #Latinx folks in politics and policy pic.twitter.com/uNu6MEs0RX

— Sarah Gonzalez Claytor (@lapetite_syrah) Sept. 29, 2019
And that's a wrap on #TribFest19! Thank you all for following along. I was in policy wonk heaven. #LBJatTTF #policywonkintraining pic.twitter.com/Mm2HJLHaey

— Brittany Horton (@bhorton314) Sept. 29, 2019