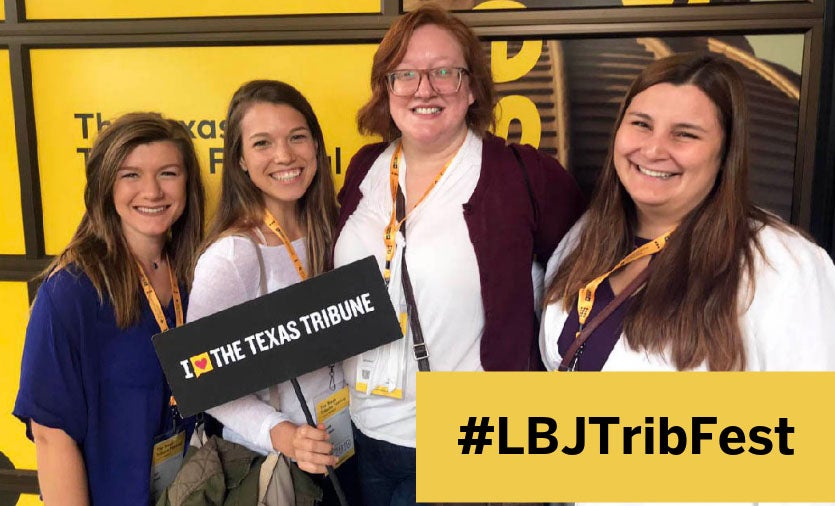 LBJ students Kat Sisler, Annie Henson, Terri Parlett and Lucia Montes at the 2018 Texas Tribune Festival. (Photo by
Kat Sisler
)
The LBJ School is a proud sponsor of the 2019 Texas Tribune Festival, an annual buzzworthy event on politics and public policy in the heart of downtown Austin. The 2019 festival, which will take place in downtown Austin Sept. 26–28, will include panels and keynotes with leading policymakers including House Speaker Nancy Pelosi (D-CA), Sen. Ted Cruz (R-TX) and former U.S. Ambassador to the United Nations Susan Rice.
The LBJ School has partnered with TribFest to create special Urban Lab programming and many LBJ School faculty and alumni are featured experts on panels. Check out the LBJ School-sponsored events below or see the full schedule and download the festival app.
The school also will co-sponsor student breakfasts on Sept. 27 and 28 as part of Students at the Fest. On Sept. 27 at 8 a.m., students can join Jennifer Palmieri, former director of White House communications for President Barack Obama, at the CapMetro Project Community Office, and on Sept. 28 at 8 a.m., they can enjoy breakfast tacos and coffee with Austin Mayor Steve Adler at The University of Texas at Austin Tent on Congress Avenue. And at 6:30 p.m. on Friday, Sept. 27, the LBJ School presents a special #TribFest19 edition of political Trivia Night at Scholz Garten with MSNBC and NBC News national political correspondent Steve Kornacki.
LBJ School panelists and programming include:
Steven Pedigo, director of the LBJ Urban Lab
Moderator: No Man's Land, Friday, Sept. 27, 2 p.m., The Driskill Hotel, Citadel
Moderator: Doing Our Share, Saturday, Sept. 28, 2:30 p.m., The University of Texas at Austin Tent
Programmed in partnership with the LBJ Urban Lab: